Press Statement
Three journalists detained while covering protests in the Maldives
30 Mar, 2015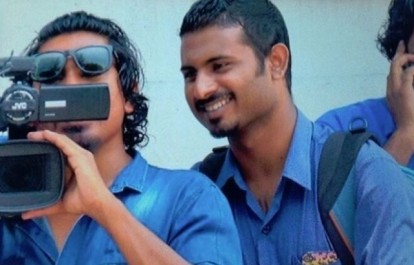 The International Federation of Journalists (IFJ) and the Maldives Journalists Association (MJA) strongly condemns the arrest and detention of three journalists while covering the opposition demonstration on the nights of March 24 and 25, 2015 in Male, the capital of the Maldives.
The IFJ calls on the Maldivian government to immediately release the detained journalists.
On March 24, Mohamed Niyaz, a cameraman for Channel One TV was arrested, while on March 25, Mohamed Wisam and Adam Zareer, media workers for Raajje TV, which is known for its pro-opposition stance, where arrested while covering an opposition demonstration in Male. Each were arrested 'for obstructing police duties'.
The Maldivian Police accused Niyaz of obstructing police duties by aiming the camera light directly towards the police officers, while he was filming. All three were produced to the Criminal Court, and each were remanded in custody for five days but no charges were filed against them.
RaajjeTV had issued a statement on March 26 stating that the arrest was "an obstruction of rights guaranteed under the Constitution including the rights to freedom of information and freedom of press". The network also called for the immediate release of both its journalists.
Raajje TV said: "Over the past month, Wisam and Zareer have been working tirelessly in covering the various protests and activities held in Malé City, in difficult circumstances and often under the threat of violence."
The MJA believes that the arrests are part of a continuing trend in the country to intimidate the media and journalists. Earlier this month, the Criminal Court had decided to deny some journalists entry to the hearings involving former president and opposition leader. The latest of those, Misbah Abbas, Mohamed Afzal and Muiz Ibrahim were denied entry on March 13.
Jane Worthington, the acting director of the IFJ Asia Pacific, said: "The arrest of three journalists for doing their job is a violation of media freedom. The Maldivian government should immediately release the detained journalists and work to establish a media environment that is free from threats and intimidation."
The IFJ added: "The continued threats and intimidation of journalists across the Maldives is an attempt to silence opposition voices, which only works to weaken press freedom and the country's democracy."
Photo: RaajjeTV senior cameraman Adam Zareer (L) and RaajjeTV senior journalist Mohamed Wisam (R). Photo: RaajjeMV
Written By

IFJ Asia-Pacific
The IFJ represents more than 600,000 journalists in 140 countries.
For further information contact IFJ Asia-Pacific on +61 2 9333 0946
Find the IFJ on Twitter: @ifjasiapacific
Find the IFJ on Facebook: www.facebook.com/IFJAsiaPacific
Comments