Nepal
Trauma and Journalism Training after Earthquake Experience
31 Mar, 2016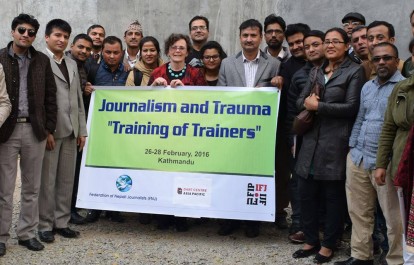 On April 25, 2015, I was one among a thousand people at the Academy Hall, Kathmandu enjoying a dance on the national song. The chief guest of the program was the then Speaker Subas Nemwang and the program was just about to become formal when the earthquake struck. The earthquake ended all formality turning the nature informal. The building we were in didn't collapse, but there a chaos in which the strong and lucky escaped quickly whereas a few were injured in the wayward escape attempts.
When I was out, the city was already screaming. When people were running around to save their lives, I started taking photos. Someone shouted: 'The Dharahara has fallen down trapping many.' I ran towards it watching buildings falling down at Bhotahiti and people screaming for help. How could I capture the photos of people in great pain, some of whom are crying from inside the rubble?
I started panicking myself. I couldn't connect calls to family. I didn't know what happened to my old parents, or office. The screaming, the siren of ambulances, and the injured people made me dizzy. Dharahara, the famous nine-story tower of Kathmandu, was missing, and instead the sky was clouded by dust raising from its rubble. I took a few photos and ran to the office as there was no public vehicle. At office, the phone and the internet was not working. How do I post the news?
***
From February 26 to 26, 2016, I was invited to participate in a three-day training on trauma and journalism organized by the Federation of Nepali Journalists (FNJ) with support from the International Federation of Journalists (IFJ) and the Dart Center Asia Pacific. Journalists from 10 affected districts were the participants of the training conducted by Australian psychologist Cait McMohan and Sri Lankan expert Amatha Perera.
During the training, I thought, if I had been able to receive such training before the earthquake, had I done something differently? If I had done something differently, then wouldn't that has changed some results? I am an earthquake survivor myself. If I had been known things before, may be I could have been able to manage rightly the 'source of happiness' when I was being traumatized myself from reporting on traumatized population or may be I could have changed by daily activities while I was moving non-stop to provide relief to victims.
These questions were in my heart all the time during the training. A journalist must be ready for any situation. To learn from experiences to change the future actions should be out motto. As Einstein said: 'doing the same thing over and over again and expecting different results is insanity.' We are always living within the possibility of natural disasters, so the training proved to be encouraging for changing some of the action in case of similar disaster in future.
Psychological wounds are more damaging than bleeding wounds. Since we are always reporting on people who have faced psychological wounds, we need to be sensitive, simple and patient. Journalism is a sensitive profession which leaves us no space to do even minor mistakes.
Trauma and journalism is a new territory for Nepali journalists. I felt the three-day training was useful with important lessons on trauma, self-care, peer support, and trauma journalism. As food, clothes and shelter are basic needs, timely information is also important. Everyone can perform in normal situation but working on information with tension and risk needs a lot of courage, skills and self-confidence.
In the aftermath of the earthquake, we were focused on taking notes of information and presenting them to public. But facts alone don't draw right picture of the situation, we need to put knowledge and context to the facts which could then help people to overcome the trauma. It's also important to inform people about possible risks, dangers and support. We discussed all of these during the training.
After the earthquake, when the Indian media asked injured fighting for life 'how are you feeling now', it became viral over social media and people lamented their lack of sensitivity. During the training, we also discussed the style of speaking and dressing as we learned that when people are suffering they are more likely to be aggressive. As journalists, we need to question sensitively as the interviewees may forgot the question but wouldn't forget the style of questioning. They will understand quickly it we were respecting them or dominating them.
We also discussed the need to remain unemotional while showing the sympathy within the concept of 'wear a raincoat'. We decided: 'To be sympathetic doesn't mean similar experience but to respect the feelings and emotions of others'. We learned that if a survivor gets aggressive, it's not the anger but rather reaction to the situation; and if there is no response to our questions, it's a response itself.
Overall the three-day training was effective and useful for us. The training left us with knowledge that needs to be implemented and shared, for which it provided us some encouragement and some challenges.
The author is editor-in-chief of Sajha Post, originally from Dhading district, which is one of the worst affected districts in the earthquake.
Written By
Comments