Attacks on Media
Trolls Target India's Media Women
20 Jul, 2016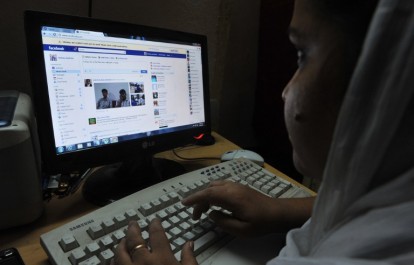 India's Minister for Women and Child Development, the sassy Maneka Gandhi, recently sparked debate by asking trolled women to send complaints to her Ministry. She said the Ministry would interface with the Police and the Cyber Crimes Cell to help them get redressal. Trolling and stalking online have become huge problems for both men and women on social media. Politicians are routinely at the receiving end of online abuse. Journalists are also getting targeted, particularly TV anchors. Women journalists get some of the worst abuse.
Much of politics today is played out on social media. The government, led by the Prime Minister and his office, increasingly uses social media to announce various initiatives and react to political developments. Ministers compete in actively publicizing their work on the net.
There is a darker side to this use of social media. Offensive tweets and facebook posts have posed a problem for some years now and in recent times political parties have established armies of trolls to systematically take on and decimate opponents. The ruling Bharatiya Janata party's trolls even have a name. They are derisively called 'Bhakts' or followers. The Bhakts, many of whom operate under anonymous monikers or false names, launch abusive attacks on twitter. Such tweet attacks go into hundreds of tweets at the slightest of provocations. In response, counter armies have been hired by other political parties to denigrate opponents and tomtom their own achievements.
The anonymity of the net encourages people to make outrageous allegations and threats online that they would avoid in a face to face interaction. Facebook, Twitter, and other social media platform providers are reluctant to act and stop abuse, citing both the dangers and problems of policing the net. Indian police's Cyber Crimes Cell rarely acts on complaints. However, police in various parts of the country have been quick to misuse the law and arrest some social media users on the flimsiest of grounds, including teenagers, professors and other unlikely victims who made a provocative comment or shared a cartoon on the net! The Supreme Court last year struck down a controversial section of the law that permitted arbitrary arrests for such posts.
However, people who face online abuse usually have no recourse. TV anchor Rajdeep Sardesai of India Today threatened to stop using social media after declaring that he was sick of dealing with the trolls. Anchor Raveesh of ND TV has just written an open letter to a former editor, who is now a Minister, complaining about the trolls – and how their threats are upsetting his mother!
Women, whether they are politicians, actors or journalists get the worst of it online, with rape and murder threats being commonplace. Those who are young and attractive, besides being opinionated, are specially targeted.
In recent months some women journalists, such as ND TV's high-profile editor and anchor Barkha Dutt have lodged formal complaints with the police after they received death threats. Kerala TV anchor Sindhu Suryakumar also lodged a complaint after she received numerous threatening phone calls and online messages. Five men were arrested on her complaint. Anchor and writer Sagarika Ghosh has long faced troll trouble. The recent launch of Rana Ayyub's controversial book on communal riots has made her a target of serious abuse.
Freelance journalist Swati Chaturvedi has lodged a police complaint alleging sexual harassment and defamation. She writes, "Journalists especially women are hunted for sport, abused, slandered and hounded by trolls who hunt in hyena-like packs….I was incredulous the first time I faced a lynch mob on Twitter. Because I refused to keep quiet when these anonymous paid handles called me, among the printable things, a "prostitute", I was branded an "abuser"."
The Women and Child Ministry's initiative to curb social media misuse has occasioned several angry TV debates among women actors, anchors, and other journalists. Some argue that policing the net could lead to censorship. Others who argue for action believe the Ministry's move may not work, given the lethargy of both the bureaucracy and police. Skeptics believe the Ministry acting as an ill-equipped intermediary will only slow down action on complaints. Others are more sanguine. Meanwhile, the online wars are as heated as ever.
Sujata Madhok is an Indian activist and developmental journalist specializing in women's issues. She is the IFJ India researcher for the recently published report 'In The News' and is a regional gender coordinator for SAMSN. In 2010, Sujata went on to become The First Woman President of the Delhi Union of Journalists. You can follow her on twitter @sujatamadhok
Written By
Comments