Press Statement
TV presenter slaughtered in Bangladesh
28 Aug, 2014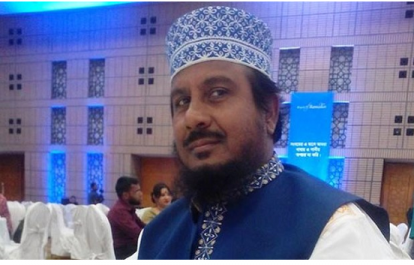 The International Federation of Journalists (IFJ) and the Bangladesh Manobadhikar Sangbadik Forum (BMSF) deplore the slaughter murder of a television host in Dhaka on Wednesday night, August 27.
Maolana Nurul Islam Farooqi, who hosted two programs, Shantir Pothe and Kafela, on 'Channel i' television was slaughtered at his residence at East Razabazar. More than half-a-dozen youths allegedly entered the house in the pretext of talking about Hajj pilgrimage, but then proceed to tie up all members of his family before killing Farooqi in his bedroom.
According to reports, Farooqi was also the presidium member of political Islami Front and affiliated with Ahle Sunnat Wal Jamaat and also the Khatib of High Court Mazar mosque.
The motive behind the murder is yet to be determined. However, Farooqi's supporters reportedly said he had received death threats before for opposing militancy in Bangladesh.
Dhaka City police said they were investigating whether the murder was due to the TV programs Farooqi hosted or due to personal animosity or rivalry over other matters.
Farooqi was married with three sons. The IFJ and the BMSF express condolence to his family.
Jane Worthington, the IFJ Asia Pacific deputy director said: "This is a hideous and cold-blooded murder that demonstrates the volatile environment in Bangladesh and also the gruesome way that opposition voices are dealt with."
"The spike in violence against media workers in Bangladesh this year is extremely disturbing and we again call on the Bangladesh government and authorities to fulfil their obligations to bring justice to Farooqi's family for this horrendous act. The killing of media workers without justice only serves to fuel a climate of impunity and must be dealt with as an extreme matter of urgency."
Written By

IFJ Asia-Pacific
The IFJ represents more than 600,000 journalists in 140 countries.
For further information contact IFJ Asia-Pacific on +61 2 9333 0946
Find the IFJ on Twitter: @ifjasiapacific
Find the IFJ on Facebook: www.facebook.com/IFJAsiaPacific
Comments