Pakistan
I tweet but am very selective and very careful
16 Mar, 2017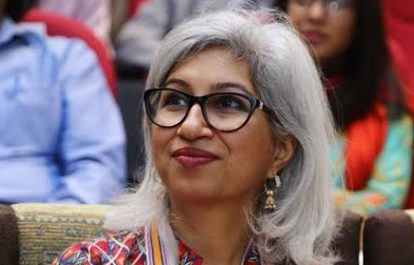 If technology has made it easier to harass women in general and journalists in particular, it has also given women space to break the silence and talk about it. They will find they have a whole army behind them to back. For example, the #shoutingback or Everyday Sexism Project. Tanzeela Mazhar, who recently went public about her ordeal of sexual harassment at PTV and then resigned, took to social media when she was couldn't find herself being heard. Digital Rights Foundation has also started a cyber harassment helpline.
Unless someone carries out a survey in Pakistan, it would be difficult to say whether women journalists are targeted more than men. But we do know that no one is spared….not even parliamentarians.
Recently when online rights activists went missing (all men) a campaign to smear them was carried out online and they were slapped with blasphemy cases. One finds that secular voices and dissent are being smothered. Another female journalist was bullied, and threatened because she did a story on the enforced disappearance of a female journalist. 
Hate speech and online misogyny need to be moderated. There is need to understand what is acceptable speech and online conduct. It's of utmost importance but then the people moderating should be well trained and know the fine line that people often cross when banter becomes harassment.
Take for example that Twitter has changed from anti–censorship to online safety. From its earlier position: "because of these principles [freedom of speech], we do not actively monitor and will not censor user content except in limited circumstances" to its newer stance of: "there are some limitations on the type of content and behaviour that we allow".
Many people think that because the online space provides a cloak of anonymity, they can stoop to vulgarity/misogynistic threats and behaviour when provoked. By imbuing social media with moral values and some rules and regulations, a certain responsible and informed discussion can ensue.
In terms of institutional responses to harassment, I think foremost is to plaster the anti harassment law in all media houses as required by law which I am told many media offices have not carried out. But more than that, every newspaper or the larger media bodies should have one social media policy document with emphasis on zero tolerance for harassers. The policy handbook should be distributed among all staff members and discussed every few months to refresh everyone.   
Help lines are a good idea as women won't feel so isolated given the societal mindset (of which women are a part) and women often showing less solidarity with their cohort and blaming the victim.  
Just like in the actual world where women who have remained silent for too long are now coming out, online abuse has to be made public. Shaming, naming and outing them is one way. In fact it is much easier to find evidence of sexual harassment/abuse online than in the real world. Public humiliation will make many cower and disappear. 
The author, Zofeen T. Ebrahim, is a freelance journalist based in Karachi and is also the Pakistan editor for The Third Pole  
​
Written By
Comments