Press Statement
Two Afghan journalists killed, five injured in back-to-back suicide bombings
06 Sep, 2018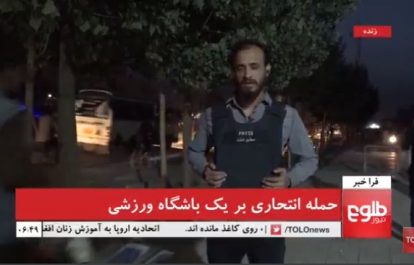 Two television journalists were killed and another five injured in a brutal twin blast in Afghanistan's capital, Kabul, on September 5. The International Federation of Journalists (IFJ) joins its affiliate the Afghan Independent Journalists Association (AIJA) in strongly condemning the  suicide attack and calls for the strongest retaliation from the Afghanistan government in tracking down those responsible.
Journalist Samim Faramarz and cameraman Ramiz Ahmadi of TOLO News lost their lives as they reported at the scene of an earlier suicide attack. The initial bombing targeted an evening sporting event at a wrestling gym in the Qala-e-Nazer area of Kabul, also known as the sixth district. The journalists were killed when a second explosion, an hour after the initial blast, is alleged to have specifically targeted first responders at the scene. Farmarz had been reporting live from the scene for TOLO just minutes before he was killed in the second blast.
The twin attacks killed at least 25 people and injured 80 others. The Islamic State is reported as claiming responsibility. Among the wounded were five other journalists also reporting at the scene of the sports club explosion – Amanullah Farhang of 1TV, Khaled Nekzad, Sayer Yunusi and Hussain Rastemanish of Khurshid TV, and Jamshid Ahmadi of Maiwand TV.
Faramarz, 28, worked at TOLO News for three years, reporting on a range of beats. Ahmadi, 23, worked as a cameraman for four years and was pursuing law degree at a private university. TOLO News in a statement said that their death was a great loss to the television channel and Afghanistan media. TOLO News director Lotfullah Najafizada said: "Samim and Ramiz were great journalists… were extremely well liked and well respected."
AIJA said the Afghan journalist community had already endured the "heavy casualty" of losing 13 journalists in the past five months alone as it strongly condemned this direct attack on media in the second blast.
Farmarz and Ahmadi are 14th and 15th media workers to be killed this year, making Afghanistan the world's deadliest country for journalists. Nine journalists were killed in another twin blast attack in Kabul on April 30, while four others journalists were killed in separate incidents, according to IFJ records.
IFJ General Secretary, Anthony Bellanger, said: "The IFJ demands that all the light be shed on this new massacre. The targeting of the first responders of suicide attacks is a repugnant attack on those endeavoring to help and report on a tragedy. Too often in Afghanistan journalists are risking their lives simply by reporting in the public interest, in their workplaces and on the street. The IFJ supports its affiliate AIJA and emphasizes the urgent need for the Afghan authorities to do their utmost to track down those who target media workers and bring an end to the carnage."
The IFJ offers condolences to the families of Farmarz and Ahmadi; and stands in solidarity with Afghanistan's media community at their darkest hour of mourning.
Comments