Press Statement
Two journalists charged in the Maldives
08 Apr, 2016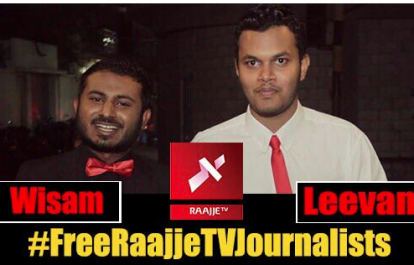 The International Federation of Journalists (IFJ) strongly criticises the recent criminal charges against two journalists of the Raajje TV. The IFJ calls on the authorities to immediately review the charges.
Mohamad Wisam and Leevan Ali Naseer from the opposition-aligned Raajje TV have been served a summon notice to present themselves on criminal court on charges of obstructing the discharging of police duties last year. On November 2, 2015, they were arrested as they reported on the police and military attempts to defuse a bomb found near the Presidential Palace. Wisam was also arrested on March 25, 2015 during anti-government protests, and he is still facing charges for that incident.
Wisam has been asked to appear in court for a hearing on April 14 and 17, while Naseer has been ordered to pick up his summon from the criminal court. Raajje TV chief operating officer Mohamed Fiyaz was also arrested in November 2 along with Wisam and Naseer, but is yet to be charged.
Wisam and Naseer were among 18 journalists arrested on April 3 following peaceful protests in Male. Maldivian journalists organised a protest against recent attacks on press freedom in the Maldives, including the draft defamation bill and the shutdown of Haveeru. 
Raajje TV has expressed shock and object to the decision to pursue criminal charges claiming that the journalists were vigilant in their duties as reporters to bring facts to the public. In a statement, it said: "The Raajje TV sees these acts as direct attacks on journalism and believes this is a clear indication that the government has no interest in protecting the rights of the journalists, and instead uses state institutions as tools to threaten free media in the Maldives."
"Raajje TV calls upon state institutions to ensure that all activities to narrow and disrupt freedom of the press are brought to an immediate end… Raajje TV urges the Maldives' authorities to immediately and unconditionally withdraw the charges brought against our journalists."
The IFJ said: "The IFJ is deeply concerned by the declining press freedom situation in the Maldives and the charges on journalists indicate towards the weakening of democracy. The IFJ urges immediate review of the decision to ensure that journalists performing professional duties are not prosecuted under criminal charges."
Written By

IFJ Asia-Pacific
The IFJ represents more than 600,000 journalists in 140 countries.
For further information contact IFJ Asia-Pacific on +61 2 9333 0946
Find the IFJ on Twitter: @ifjasiapacific
Find the IFJ on Facebook: www.facebook.com/IFJAsiaPacific
Comments