Press Statement
Violence against journalists escalates in Nepal amid political unrest
04 Sep, 2015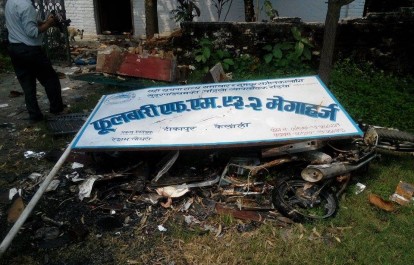 The International Federation of Journalists (IFJ) joins its affiliates the Federation of Nepali Journalists (FNJ) and the Nepal Press Union (NPU) in expressing concern over the escalating violence against media and journalists in ongoing political unrest in Nepal. The IFJ calls on the state's security forces and protesting groups to end the attacks on media workers and journalist who are simply doing their job covering the political unrest.
On September 2, Krishna Humagain, editor of Jhapa daily, Arundhara, in eastern Nepal was attacked by a group of strike enforcers while he was covering the general strike. Police were present at the scene of the attack, but did not intervene for the protection of chairman of the NPU Jhapa committee. He received minor injuries and received medical treatment at a local hospital.
Similarly on September 2, the protesting groups in Kailali manhandled Binod Paudel, the editor of Mission Today daily, in his office; and warned of an arson attack to journalist, Pujan Biswokarma, of Radio Pratibodh, in Tikapur, Kailali for not giving favorable coverage to their activities.
On September 1, the protesters in Biratnagar in eastern Nepal vandalized the vehicles of Makalu TV and Himalaya Times daily which were being used by journalists to cover the general strike. On same day in Birgunj city, police attacked Jagat Rai while he was returning home from work. They reportedly attacked Raifor disobeying curfew despite him holding out a curfew pass.
Protests broke out across Nepal, especially in south of the country, over proposed federal structuring in the draft constitution. In a protest in Tikapur, Kailali on August 24, protesters demanding a separate federal state killed 8 policemen and a minor. Violence broke out in other cities with 24 protest-related deaths were recorded last month in Nepal.
An FNJ team visited Tikapur of Kailali and Nepalgunj of Banke in west Nepal and concluded that journalists are under attack from both state and anti-government protesters, as well as state security officers. The team listed out a number of incidents, including an arson attack at Fulbari FM on August 25 that resulted in the radio station having to close for indefinitely. Station managers of Ghodaghodi FM, Dhangadi FM, Paschim Today FM and Kailali FM have also been attacked over last two weeks.
The FNJ also stated that the local dailies Mission Today, Pipalbot, Margarekha, Kohalpur Times and News Namaste; and two radio stations Radio Pratirodh and Kohalpur FM in Tikapur remain closed due to round-the-clock curfew and widespread threats to media workers and journalists. The FNJ said that the threats have also forced journalists to exercise high level of self-censorship.
Ujir Magar, the FNJ General Secretary who also headed the FNJ team that visited the western Nepal, said in a statement: "The FNJ demand the legal punishment to all those involved in attacking journalists and ensure safe environment for journalists to perform their duties and media to run".
The FNJ and the NPU have demanded security for journalists to exercise the press freedom.
NPU General Secretary Ajaya Babu Shiwakoti, in a statement, said: "The NPU is deeply saddened by the incidents of attacks on media and journalists and urge all the agitating groups to ensure journalists can freely report, print and broadcast truths and move freely for the professional duty."
The IFJ said: "The IFJ is seriously concerned by the escalation of violence towards the media and journalists in Nepal and urge the government of Nepal to ensure the safety and security of the journalists. The IFJ also urges protesting groups to respect the rights of journalists to exercise their professional duties and refrain from threatening and attacking the media."
Photo: The Fulbari FM office after the arson attack. Credit: Surya Mani Gautam/FNJ
Written By

Nepal Press Union
Nepal Press Union Anam Nagar, GPO Box No - 19033 Kathmandu, Nepal Telephone: 015244746
Comments