Press Statement
What happened to Zeenat Shahzadi?
18 May, 2016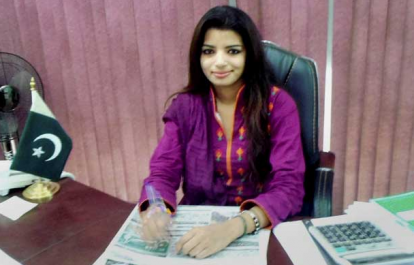 The International Federation of Journalists (IFJ) expresses grave concern for Pakistani journalist Zeenat Shahzadi who has been missing since August 2015. The IFJ demands Pakistan's authorities to take immediate action to find her kidnappers and reveal the status of investigations into the disappearance of the young woman reporter.
Zeenat Shahzadi, a journalist for the Daily Nai Khabar and Metro News in Lahore, disappeared on her way to work in an auto-rickshaw. Police are understood to have registered a case against 'unknown men', but to date, no developments have been made public. Zeenat's family alleges that she was targeted by Pakistan's Special Forces for her reporting.
The IFJ and its affiliate the Pakistan Federal Union of Journalists (PFUJ) have been aware of the case since October 2015 but at the request of the family did not make the case public.
According to reports, Zeenat's older brother Latif said that prior to her disappearance, Zeenat had been investigating another disappearance – that of Indian engineer Hamid Ansari. Ansari went missing in November 2012, after he entered Pakistan illegally. She had moved an application with the Supreme Court in Pakistan human right's cell and had also sent an application to the Commission of Inquiry on Enforced Disappearances. She was due to appear before the Commission on August 24. Following the disappearance of Zeenat, the Pakistan ministry of defence revealed  that Ansari was in the custody of the army and awaiting a trial in military courts.
Nine months on, the tragedy for the Shahzadi family has worsened. In a devastating turn of events, Saddam, Zeenat's younger brother took his own life in March 2016. Zeenat's mother, Kaneez Bibi, said he was not able cope with the loss of his sister.
On April 3, 2016 Hina Jilani from the Human Rights Commission of Pakistan said that in March alone, 86 cases of missing people were registered with the Commission, which was demanding a thorough probe into Shahzadi's disappearance. Jilani said: "Disappearance of Shehzadi is shamelessness. Now a 24-year-old woman has been picked up without a warrant. Is this the new trend to pick up young women? We want to know what her crime was and why she is missing without a warrant?"
The IFJ said: "This is an absolute disgrace that a young female journalist has gone missing and yet there is no sign of action from Pakistan's authorities. Meanwhile, Zeenat Shahzadi's family have been left to suffer their daughter's unknown fate with devastating personal consequences for her family. The Pakistani government must open an investigation into the disappearance of Zeenat Shahzadi, and provide a brief to her family and the public regarding information they have obtained. Shahzadi has now been missing for nine months, with little to no action from the local authorities or government."
The IFJ has also called on the government to investigate any possible links between the special forces or military in Zeenat Shahzadi's disappearance and the connection with the Hamid Ansari case.
According to the IFJ Without A Trace website which documents the cases of missing media workers across the Asia-Pacific region, Shahzadi is now the eleventh media worker missing in the region, and the second female.
Written By

IFJ Asia-Pacific
The IFJ represents more than 600,000 journalists in 140 countries.
For further information contact IFJ Asia-Pacific on +61 2 9333 0946
Find the IFJ on Twitter: @ifjasiapacific
Find the IFJ on Facebook: www.facebook.com/IFJAsiaPacific
Comments