Right to Information
When Knowledge is Power
30 Sep, 2016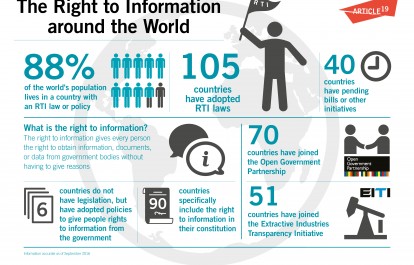 The Right to Information in most countries of South Asia has been won after protracted struggles by the media and civil society activists. To mark September 28, the International 'Right to Know' Day, Laxmi Murthy traces this history and outlines the challenges.
In June 2016, Sri Lanka became the seventh country in South Asia to enact a law guaranteeing the Right to Information, fructifying a campaign by journalists, academics, lawyers and activists that began more than two decades ago. The People's Alliance government voted into power in 1994 had put forth a media policy that recognised the public's right to know, but the civil war and the authoritarian regime of Mahinda Rajapakse ensured that the law remaining only a proposal. The new Sirisena government that took over in early 2015 was committed to enacting a law that would ensure accountability in governance in Sri Lanka.
While the right to freedom of expression has been codified in several Constitutions in the South Asian region since several decades, establishing the public's specific right to information has been a part of a more recent trend to hold governments accountable.
Interestingly, Pakistan, under its military dictator General Pervez Musharraf was one of the first countries in South Asia to promulgate a legal provision as early as 2002: The Freedom of Information Ordinance. It was only later, in 2010, that the 18th Amendment inserted Article 19A into the Constitution of Pakistan, giving citizens the "Right to Information" as a legally defensible right. Yet, the long list of exemptions, particularly those relating to 'national security' as well as the unwieldy process continue to undermine its efficacy.
Likewise, Bangladesh's Right to Information Ordinance issued by the caretaker government and ratified in 2009 by an elected government is focussed on fighting corruption in public office. However, lack of awareness, coupled with the atmosphere of fear of challenging vested interests has led to the law not being used to its full potential.
The Maldives passed the Right to Information Act (RTI) on January 12, 2014, as part of its move to enhance good governance and transparency. Yet, like in Nepal, where the Right to Information Act was passed back in 2007, civil strife and government instability have side-lined the citizen's right to know.
Afghanistan's Access to Information Law 2014 was signed into force by President Ashraf Ghani, but its implementation in a country wracked by armed conflict and where corruption is rampant remains a challenge.
In Bhutan, the only country in South Asia to not have a law, the Right to Information Bill was passed in the Lower House of Parliament in 2014. However, the Bill has reached a dead-end, much to the dismay of Bhutan's tiny media community that is vigorously lobbying for the passage of the Bill. Despite premium placed on Gross National Happiness, ignorance is not bliss, it would seem.
India's Right to Information Act (RTI Act) of 2005 which replaced the Freedom of Information Act, 2002, has seen some spectacular successes in uncovering not only local level corruption, but also scams of huge magnitude. The 'Adarsh Society' scam where politicians and government officials misused housing allotments came to light through RTI applications; another recent expose was the 'telecom scandal' over the illegal allotment of 2G bandwidth. In the first three years of the enactment of the law, more than two million RTI requests were filed.
Lack of political will and streamlined mechanisms that allow for Information Commissioners are similar officials to maintain autonomy hamper the full exercise of these rights. Consistent vigilance by civil society and a movement to realise the Right to Information can ensure that these laws do not remain on paper alone.
In a region where the shadow of colonialism still hangs heavy in the shape of archaic laws on sedition, official secrets, national interest and public security, robust public debate and intellectual input into vigorous campaigns by the media, civil society, lawyers and academicians, will ensure that the laws are implemented to their fullest.
When Did South Asians Get the Right to Information?
Afghanistan, Access to Information Law 2014
Bangladesh, Right to Information Act 2009
Bhutan, Right to Information Bill (Passed only in Lower House, 2014)
India,  Right to Information Act 2005
Maldives,  Right to Information Act 2014
Nepal, Right to Information Act 2007
Pakistan,  Freedom of Information Ordinance 2002
Sri Lanka, Right to Information Act 2016
Written By
Comments