Pakistan
Why BOL matters to Pakistan's journalists
17 Jun, 2015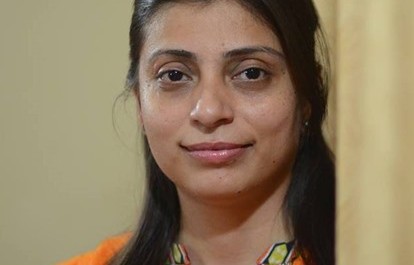 Journalist Sidra Dar is determined to stay on the job at beleaguered Pakistani media company BOL despite the controversy. Here she explains why.
 As Federal Investigation Agency (FIA) expands their investigation into Pakistan's fake degree scandal at BOL TV's parent company Axact, it was telling that Nisar Ali Khan, Pakistan's Interior Minister, said: "Once the media go after anybody only God can help the poor, no matter how innocent he is". This is an admitted fact in Pakistan society. I've seen a lot of ups and downs even though I haven't been in this line very long, but what I've experienced now during this episode is totally unexpected and hard to believe.
At my first employer GEO, I learnt a lot during my two and a half year tenure. It was a privilege to work with so many people who contributed to make GEO a successful organization and media house. In order to fulfill my journalistic duties I owe thanks to every single person, whether they be a producer or the person who assigned me a particular job and also the valiant camera operators whose devotion made me tough enough to overcome, at times, very demanding circumstances. They were my strength and my guide when I just entered this field and from my first story going into a very dangerous area.  They gave me a lot of confidence and technical details which eventually proved very helpful.
When the PTI was protesting and doing Dharna (sit in protests) in every big city against election rigging. There was a big Dharna in Shahrah e faisal, where workers of the Tehreek e insaaf attacked GEO journalists. At that time we took refuge on top of our DSNG van. My cameraman, my engineer, my producer also my driver were all together standing on the roof of the van and the angry workers were shouting, throwing cans and bottles at us and using abusive language against me and my family. At that point in time I understood the true value of teamwork. Even my family was not worried about my well-being because they were satisfied that I was around good people who could protect me.
Later when a particular political party and the army were active together against GEO and when GEO questioned the army, it felt as though all the media were on the other side and we were alone. We were out in the field working even when our transmission was suspended by the government and people used to shout seeing the DSNG van with the GEO logo on it. I received many calls from private numbers repeatedly threatening me to leave the channel but I felt my obligation towards my colleagues in this time of crisis.
When BOL arrived on the media scene and began advertising jobs in newspapers and on social media in 2014, a lot of big names shifted camps. These were undoubtedly some of the most reputed names of the media industry in Pakistan.
There were many reasons why they wanted to go to BOL. The biggest factor was because that they wanted to speak openly without any hesitation. Secondly, they felt that journalists were being deprived of their due rights by the owners of media corporations.
For years, people in Pakistan's media industry have been working in the same pay scale without any raise or increment. The long wait for salaries was adversely affecting their lives and the owners didn't seem to care. Whenever they asked for a raise, the standard reply was that company was running at a loss. They couldn't even pay salaries on time! But when media workers could see the famous anchors getting all the perks and privileges, they heard of new anchors being hired at exorbitant salaries and they knew the top people around bosses were having parties, they got disillusioned and confused. They began to wonder when their own life is going to change.
So when BOL promised timely salaries and better working environment, journalists were attracted. Of course, everyone has a right to better life and prosperous future for their family. If bosses can have a lavish lifestyle with all the privileges for their family, then it's only natural that ordinary employees also aspire to move their families out of a rented apartment to a self-owned house and to have their children educated in a reputed school or college here in Pakistan, if not abroad. Obviously they also want enough amounts in their bank accounts to help them when they get old.
Journalists working on the field are like the soldiers of our country who, despite unfavorable conditions, perform for their duties with dedication. Some more learned and intellectual minds would argue here that soldiers gets paid for their duty as they sit in cool cozy offices, while camera operators at the site of a bomb blast are expected to get in close and get unique and exclusive footage to increase their channel's ratings.
Meanwhile executives get their salaries raised every other month without even asking and it seems the higher the increment, the more work you demand from the junior employees. The families of the employees do not ask anything from them, only to get their monthly salary in time so that utility bills, school fees or house rent can be paid.
When you understand this scenario, you understand that these people had no choice but to merge themselves with a new organization. I hear from many people how they were part of the founding team in media companies with a huge emotional attachment to the organization, but they had no choice but to leave for the sake of their families. Sadly, nobody cared or even bothered to stop them doing so.
Now at the time of crisis some reputed and well established names have left BOL. Is their decision right or wrong? Although they are financially stable and independent in their decision, they have termed it a "voice of their conscience". But what about those who followed them here? Should they accept the reality as it is? Some might think that I may also leave, but I feel obliged toward my colleagues who have remained with me through thick and thin. Now it's my duty to return the favor.
It seems now that all the media has come together to try and turn the Axact fake degree scandal into BOL's defeat. But actually this is a war between the owners and bosses of media houses and the ordinary journalists who dared to think about a future; who demanded self-respect and tried to get out of the "yes man circle". They tried to do something creative to make a change. By creating this situation, the powers that be are trying to tell us that you all "better stay in your limits".
Right now we don't need your tweets, status updates or philosophies. We will fight this war till the last moment.
Sidra Dar is a reporter working with Bol Network. Her original blog written in Urdu can be found here
photo courtesy: Sidra Dar
Written By
Comments