Attacks on Media
Woman Journalist Attacked by Interviewee
11 May, 2016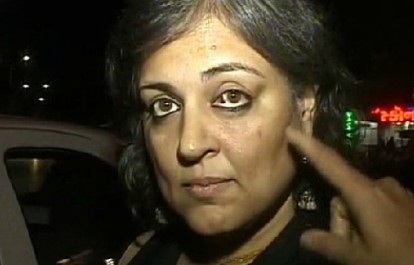 Violence has become pervasive in India during the past few years. Several cases of violence, rape and gang rape have filled up media pages. Media persons too have been targeted violently, most often vindictively.
Recently a senior media woman Revati Laul, was attacked by the criminal she went to interview in Ahmedabad. The gutsy journalist is writing a book on the convicts of the 2002 mass carnage in Gujarat state.
"Suresh, alias Richard, assaulted me when I was interviewing him at his residence for my book," said Revati Laul. "He was very violent and punched me and banged my head on the wall," she alleged. "It was the worst experience I have faced. Probably I should not have gone to his residence, I felt on hindsight. However I did not want to miss this opportunity when he was here on parole."
Revati managed to escape with the intervention of Suresh's neighbours and his son. She was moved to the government's New Civil Hospital for medical examination. She later filed an FIR at the Vejalpur police station near her home.
The courageous scribe says, "Suresh who was on parole got angry when I politely asked him if he would share some information regarding his past and his family."
Suresh Jangadi Dedawala alias Richard was amongst the 33 persons convicted for their role in the massacre at Naroda Patia by the Supreme Court appointed Special Investigative Tribunal. As many as 97 persons, mostly women and children, belonging to India's Muslim minority, were killed and several maimed. Suresh was the only person among the accused who was convicted for gang rape. Worse, he slit a pregnant woman Kausar Banu's belly, extricated her feotus and killed it with a sword.
Suresh belongs to a Denotified Tribe (DNT) called Chharas, as do the majority of those convicted in the case. "This community of perpetrators interested me, so I spoke to Prof. Devy who has been working with this community for close to two decades. He introduced me to some people of this community who were very helpful. These people refuse to identify with Suresh and his companions, as they do not support their violent methods."
"I found Suresh very interesting for my book as he had married a Muslim woman who belongs to the community he has been convicted of massacring." The couple lived together for two decades.
Revati recalls that she was exposed to the riots and their aftermath in 2003 when she was posted to Ahmedabad by the NDTV news channel. This was just a year after the carnage. She reported on and interacted with several people variously involved in the riots – victims, perpetrators, officials, politicians and lawyers. "However I could not capture all the stories then," she explained. After leaving broadcast journalism, she made some films, worked for print media and eventually quit full-time work to take up independent journalism. The idea for the book lived in the back of her mind.
"Two years back I decided to write a book on the people who perpetrated the violence in Gujarat," she says. Identifying with the victims, Revati believes, would not help to get at the root causes of the carnage. She hence decided to talk with the perpetrators. She has spent the past year researching the subject, trying to understand the motivations behind the violence.
It has not been easy leaving the security of her home in Delhi, learning fluent Gujarati and trying to understand the customs and culture of the sensitive state. Her work rakes up violent events many people would rather forget. India's Prime Minister Narendra Modi was then Chief Minister of Gujarat and many held him responsible for not controlling the riots. Several senior Gujarat police officials are accused of complicity in the riots and are still entangled in lawsuits. Some of those convicted of the crimes are powerful people, such as former Cabinet Minister Dr Maya Kodnani and Bajrang Dal leader Babu Bajrangi who were held guilty of murder, arson and also supplying arms to the perpetrators.
Revati is determined to complete the assignment that she has taken on and meet the challenges ahead of her. She is convinced that the Gujarat riots must not be forgotten.
(The author of this post, Tanushree Gangopadhyay, is based in Ahmedabad, Gujarat, India.)
Picture Courtesy: NDTV
Written By
Comments