Afghanistan
'You and this loss will never be forgotten': The deadly realities of media work in Afghanistan
15 May, 2018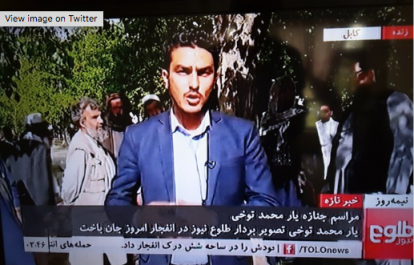 When video journalist Yar Mohammad Tokhi took his morning ride to the privately-owned TV station in Kabul where he worked, he may have been thinking about his upcoming wedding. He may have been looking forward to a day of photography, followed by an evening with his soon-to-be bride.
But it was not to be. Not long after the Tokhi arrived at the scene of an attack in central Kabul, ready to film, a suicide bomber joined a crowd of journalists and blew himself up.
Tokhi returned home dead in an ambulance. His colleagues from TOLO T.V. were with him throughout his final journey.
Tokhi was one of nine media staff killed in the April 30 blast which marked the worst single day for Afghan journalists since the U.S. and its allies toppled the Taliban regime in 2001.
The suicide bomber had arrived at the scene much as many of them had, with a camera in his hand. In today's Kabul it is nearly impossible to tell who might be a friend and who might be an enemy.
Those covering the news have became the news,Rip mates #kabul pic.twitter.com/MmE0sZ2Cee

— Awais Abbasi (@AbbasiAwa) April 30, 2018
All told, 26 people lost their lives in the two bombings that occurred at the site, in relatively quick succession. ISIS claimed responsibility for the blasts.
A tenth journalist, BBC reporter Ahmad Shah was shot dead by unknown gunmen later in the day in the eastern province of Khost, according to the BBC.
'The ring that didn't keep the promise'
Yar Mohammad Tokhi, 54, had been a loyal employee of TOLO TV, the country's largest independent broadcaster, since it first went on air in 2004. His job was to document Afghans in their joy, and, as was all too common, in their grief.
What a painful day. What a hard job. What a dark time in Kabul. @TariqMajidi is covering the funeral of his colleague: Yar Mohammad Tokhi.
RIP Tokhi Sahib. RIP the great man. You and this loss will never be forgotten.#Kabul pic.twitter.com/3FU3IqELwa

— Jalil Pazhwak (@Jalilpa) April 30, 2018
Tokhi's modest salary was the sole source of financial support for his mother and sister, both of whom are seriously ill.
According to his colleagues at TOLO, he was also engaged to be married. The day before his death, he and his fiancé were looking to book a venue in Kabul for their wedding in the coming weeks.
And the ring that didn't keep the promise. This is the engagement ring of Yar Mohammad, a @TOLOnews cameraman, who had promised his fiancée to get married next month. He was amongst the dead today. pic.twitter.com/XLMkLUsqnf

— Tahir Qadiry (@tahirqadiry) April 30, 2018
Tolo TV has suffered deadly attacks on staff in the past. In January 2016, the Taliban group carried out an attack on staff of the station in Kabul, claiming seven employee's lives.
'I no longer hear you!'
Another victim of the attack was 26-year-old Ghazi Rasuli, a reporter at the private 1TV station, who was associated with a new generation of aspiring politicians in Afghanistan.
خدایا نمی توانم باور کنم..!#غازی_رسولی_خبرنگار تلویزیون یک، همسنگر خوب مان نیز در حمله انتحاری امروز در شش درک جان باخته است. pic.twitter.com/rNBq6RsU7s

— KarimAmini (@KarimAmini1) April 30, 2018
Oh god, I can't believe. We lost our good colleague, Ghazi Rasuli, in today's bombing.
Our friend, Ghazi, is not with us anymore. I knew him since a long time ago. We were classmates in the first year of journalism faculty at Kabul University. He was dreaming to manage a big media.

I no longer hear you!
Rasuli worked at 1TV for four years, but his ultimate aim was to become the country's foreign minister, according to a friend.
غازی رسولی سخت تلاش می کرد، تا وزیر خارجه شود!

او در تلویزیون یک گزارش های را که سایر گزارشگران از تهیه آنها عاجز می شدند، پیش قدم می شد و تهیه می کرد.
با تاسف غازی رسول دیگر در میان ما نیست. https://t.co/57vzeV9GTk

— Ahmad Nazari (@AhmadNazarii) April 30, 2018
He was pushing to become foreign minister. He used to work on stories that others were unable to do. Unfortunately, he is no longer with us.
While Western journalists posted to Afghanistan tend to receive extra compensation for the dangers of working in the country, Afghan journalists typically work for lower pay, and often without insurance. 1TV cameraman Nowroz Ali Rajabi was also killed in the blast.
A colleague of Mr. Rasuli claimed on social media that he had not received his salary in the past few months:
…Afghan journalists are treated like slave by managers of media. All of the dead journalists had only 20,000 Afghani ($350) salary per months. Worse, they got paid after 4-5 months. For example, Mr. Rasuli used to complain about low payment…
Reporters and photographers from the AFP and Radio Free Europe also died in the blasts. Among them were AFP photographer Shah Marai, Mashal TV journalists Saleem Talash and Ali Saleemi; and journalists Maharram Durrani, Sabawoon Kakar, Abadullah Hananzai from Azadi Radio, which is part of US-backed Radio Free Europe/Radio Liberty.
(This article by Ezzatullah Mehrdad originally appeared on Global Voices on May 7, 2018.)
Written By
Comments