Press Statement
Afghanistan: Journalists injured in roadside bomb explosion
01 Sep, 2020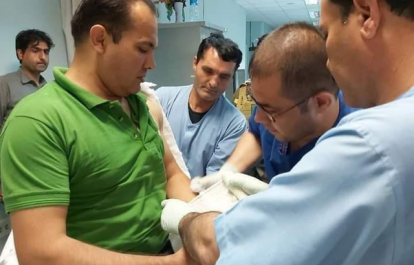 Journalists Mohammed Bashir Ansari, Abdul Aziz Karimi and cameraperson Najib Faryad were injured in a road-side bomb explosion at Chahar Bulook district of Balkh province in Afghanistan on August 28. The International Federation of Journalists (IFJ) and its Afghan affiliate the Afghan Independent Journalists Association (AIJA) condemn the targeted attack and urge the government of Afghanistan to take strong measures to ensure the safety of journalists.
The bomb exploded when the vehicle carrying Mohammed Bashir Ansari, reporter for Arianana News, Abdul Aziz Karimi, reporter for 1TV, and Najib Faryad, cameraman from Arianna News was stuck. The vehicle was a part of an Afghan military convoy passing through the Chahar Bulook district of Afghanistan. The journalist's team was returning from their work on a documentary project in northern Afghanistan.
According to AIJA, Mohammed Bashir Ansari had fractured bones in the shoulder area and the other journalists were also injured. The injured journalists were taken to 209th Shaheen corps army hospital for the treatment.  In the explosion, two members of the Afghan security forces were also injured.
Abiullah Mujaheed, Taliban spokesperson claimed the responsibility for the bombing, however, denied that the journalists were deliberately targeted. Balkh province is known for the insurgency between Taliban and Afghan force. On May 30, a roadside bomb killed Khurshid TV journalist, Zamir Amiri and technician Shafiqullah Zabih in Kabul.
Afghan Independent Journalists Association (AIJA) said: "We condemn the brutal attack on the journalists. We urge Government of Afghanistan to take necessary measures to ensure safety of journalist."
The International Federation of Journalist (IFJ) said: "The series of the assaults, targeted attacks and killing of journalists presents a grim picture for press freedom and the safety of journalists in Afghanistan. We urge the Afghanistan government to prioritise the safety and security of the journalists."
Written By

IFJ Asia-Pacific
The IFJ represents more than 600,000 journalists in 140 countries.
For further information contact IFJ Asia-Pacific on +61 2 9333 0946
Find the IFJ on Twitter: @ifjasiapacific
Find the IFJ on Facebook: www.facebook.com/IFJAsiaPacific
Comments