Press Statement
Bangladesh: Journalist assaulted reporting on Covid-19 relief embezzlement
27 Apr, 2020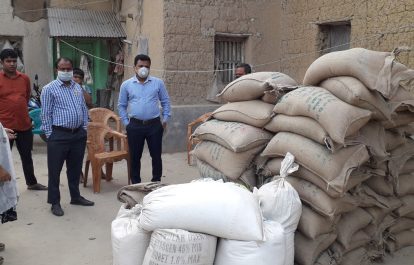 Sajal Bhuiyan, the Narsingdi district correspondent for SA Television was punched, kicked and beaten by men wielding batons while collecting information on the alleged relief rice embezzlement in Bangladesh. The International Federation of Journalists condemns the attack and urge authorities to hold the perpetrators accountable. 
Sajal was brutally assaulted while investigating Amirganj Union Parishad chairman, Nasir Uddin Khan's alleged embezzlement of rice in Narsingdi, 50km north-east of Dhaka on April 23. Reports allege Khan misappropriated public rice marked for distribution as part of the Bangladesh government's program to assist poorer households during the Covid-19 lockdown.
Abdul Baten, a reporter from Asian TV accompanying Sajal who avoided the attack, rescued Sajal and took him to Narsingdi District Hospital for treatment. Sajal sustained severe injuries to his head and had his mobile phone and camera stolen. Raipur police are currently investigating Nasir Uddin Khan.
Baten said, "'After interviewing many poor people, we phoned the chairman for his comment and asked us to go to his office,' where Khan's men allegedly attacked Sajal.
Currently, four Journalists who have reported on the alleged embezzlement of Bangladesh's relief rice are accused of breaching the Digital Security Act by authorities.
Bangladesh Manobadhikar Sangbadik Forum condemns the series of violations against journalists covering the alleged rice embezzlement scam.
IFJ said: "The attacks and silencing of journalists covering the alleged relief rice embezzlement in Bangladesh undermines press freedom, democracy and the ability of citizens to hold governments to account. The IFJ condemns the attack and calls on authorities to protect working journalists." 
Written By

IFJ Asia-Pacific
The IFJ represents more than 600,000 journalists in 140 countries.
For further information contact IFJ Asia-Pacific on +61 2 9333 0946
Find the IFJ on Twitter: @ifjasiapacific
Find the IFJ on Facebook: www.facebook.com/IFJAsiaPacific
Comments