Attacks on Media
Circle of Impunity
08 Nov, 2016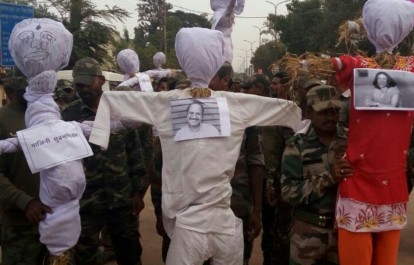 Malini Subramaniam, freelance contributor for online news website Scroll.in, was based in Bastar, Chhattisgarh. She reported on human rights violations perpetrated by the police, security forces and vigilante groups and brought to the fore incidents of sexual violence against women, incarceration of minors, the shutdown of schools, extrajudicial or 'encounter' killings, and threats against journalists in the state. Labelled as a Maoist, she was subjected to repeated interrogation, hounding, surveillance and harassment by police and members of a state-backed vigilante group, the Samajik Ekta Manch. In February 2016, members of the Manch gathered outside her house, chanting death threats and instigating her neighbours to attack her. Stones were pelted at her house, damaging her car. Soon thereafter, police detained her domestic help and landlord for questioning. The continuing intimidation and potential danger to those close to her led Subramaniam to decide to leave Bastar. Malini Subramaniam is one of the four recipients of the 2016 International Press Freedom Award by the Committee to Protect Journalists. In this blog, she analyses the factors that contribute to impunity for those who commit crimes against journalists.
Watching the video clip shared by a fellow journalist ran shivers up my spine. On October 25, the police lit six effigies one after the other amidst chants of 'murdabad' (death unto them) and 'naxal samarthak ko goli maro' (shoot down Naxal sympathisers).  Effigies of researchers Nandini Sundar and Bela Bhatia, activists Manish Kunjam, Soni Sori, and Himanshu Kumar and this writer were lined up next to one another. The effigies made of hay, wrapped in white cloth with some adorned with bright-coloured kurtis could be identified with the pinned-up photographs.    Mine had only my name.
Effigy burning, as an act of protest, is by now a common sight and not so disturbing to most Indians, as it is the most commonly used tool to register protest.  What was perhaps more horrifying was watching this act executed by a group of men in uniform – smiling while carrying the effigies out of the thana (police station), bringing them to the square a little farther from the thana, torching them and jumping, poking and beating the fallen effigies.  This frenzied act in full public view was repeated across the seven districts of Bastar division.  The scale and pattern of the event reflected execution of an organized plan of intimidation.
The effigy burning was a reaction to the status report submitted by the Central Bureau of Investigation (CBI) to the Supreme Court of India holding the Chhattisgarh Police responsible for the acts of arson, loot and rape in the villages of Tadmetla, Morpalli and Timmapuram of Sukma district, Bastar division of Chhattisgarh in May 2011.  The CBI charge-sheeted seven police constables, erstwhile Special Police Officers (SPOs) and held 23 persons (most of them members of the state-sponsored vigilante group Salwa Judum), responsible for attacks on human rights activist Swami Agnivesh, who had attempted later in the month to reach the villages with relief material.   Nandini Sundar and Manish Kunjam were the petitioners in the case.
The current Inspector General of Police of Bastar Division, S R P Kalluri, who controls all the seven districts, was the then Senior Superintendent of Police (SSP) in Dantewada district, under whose command a contingency of 451 personnel was deployed to those villages.  And it is during this police operation between March 11-16, 2011 that three women were reported raped, three men killed and over 250 houses burnt. The CBI report after five years of investigation has recorded that 323 Special Police Officers (SPOs)/policemen, 114 personnel of Commando Battalion for Resolute Action (CoBRA) and 30 personnel of the Central Reserve Police Force (CRPF) participated in the operation.
"Creating an atmosphere of doubt and trying to break the morale of the police who are taking care of internal security is unfair and anti-national," the IG lashed out at the petitioners while addressing a press conference on October 23, soon after the Supreme Court took note of the CBI's final submission.  Such statements from senior police officers are enough cue to the accused policemen to take law into their hands and run amok, knowing well that the police under the current IG will protect it.
Orders from above
Manish Kunjam, one of the petitioners and former Member of the Legislative Assembly MLA from the Communist Party of India, held a press meet a day after the effigies were burnt. A bunch of goons forcibly entered and ransacked his office and threatened him.  The police when contacted reached the place to place their arms around them to lead them out.
Such bonhomie is not uncommon in places like Bastar, where the police can unleash terror against professionals, activists and journalists who bring to light human rights abuses, through their propped vigilante groups and provide impunity against any complaint against these vigilante groups.
Senior police officers, such as SRP Kalluri, who is equally held responsible in the CBI report was defiant in the press meet in Jagdalpur, "Whatever happened was under my instruction. If any action is to be taken, it should be taken against me as I was the SSP then…the FIR clearly states the police went under the instructions of the SSP.  I am responsible…….mein koi kayar nahin hun "(I am not a coward), he bragged.  His audacity comes from the cover he gets from his seniors and the government.  This does not stop here.
On November 1, this year the Prime Minister, Narendra Modi, landed in Raipur to participate in the State Foundation Day where he is received by none other than IG Bastar, SRP Kalluri.  Photographs of him shaking hands with the PM went viral among his fan club of members from the vigilant group who probably felt a sense of extended security.  Kalluri promised to wipe out Maoism in a period of two years and the PM gave him the green signal.
That seals the cycle of impunity.  No one can touch him – not a CBI report and not the Supreme Court – however incriminating the report may be on the role of the police and its senior officers.
Pattern of intimidation
This collusion works well in Bastar.  Put together a bunch of small time criminals Subba Rao, Sampat Jha, Salwa Judum leaders, Soyam Mooka, P Vijay who have cases against them, traders and aspiring politicians, Manish Parakh and such others who need police protection to cover their petty crimes, who will willingly collude, thus enabling the police to do exactly what they want to without having to soil their hands.
So when my house was attacked in February this year as a threat "to mend my ways" and  write only what does not "tarnish the image of the police", I made the rounds of the Collectorate and the SP office meeting officials the next day, February 8,  to file a complaint.  They were away in a 'surrender function' along with the very same people I was filing my complaint against; the police refused to file the First Information Report (FIR), the first step in pursuing a criminal case. They wanted to first discuss the matter with the SP, who cut my repeated phone calls when I tried to speak to him of the attack the previous evening.
On February 10, an Investigation Officer reached my house to record my statements.  Guided by my lawyers, I had insisted upon Section 153 (wanton provocation with intent to create rioting), Section 427 (mischief causing damage to property),Section 441 (criminal trespass) of the Indian Penal Code (IPC). Instead the FIR, lodged after 48 hours, had Sections 451 (house trespass) and 427 (mischief and causing damage to property) of the IPC were filed against unknown persons.  No offence was recorded against Manish Parakh, Sampat Jha and Subba Rao, key members of vigilante group Samajik Ekta Manch (SEM or Forum for Social Unity) against who I had filed my complaints.  The seriousness of the matter was completely watered down by not only applying weak sections of the IPC, but filing them against unknown persons despite my identifying them.
Ironically, the enquiry that was set in motion was primarily to identify those who stood by my complaint and threaten them, rather than take action against those who attacked me.  The women from my neighbourhood who gave statements corroborating my complaint were threatened in the foulest of language by the female investigating officer. Finally attempts to meet the Chief  Minister by Scroll.in News Editor to look into the matter of harassment of journalists as a violation of the freedom of press in the state resulted in the visit of the IG, Kalluri and the SP, RN Dash, who spent an hour defending  the members of the SEM sending veiled threats to withdraw the complaint: "after all you are  a minority in this town", Kalluri said as he stood up to leave, throwing one last glance at all of us sitting there and this included the lawyers Shalini Gera and Isha Khandelwal from the Jagdalpur Legal Aid Group who were giving pro bono legal support to Adivasis (tribals) who were rounded up, detained, illegally confined and jailed by the police and Bela Bhatia, researcher and human rights activist, who had gathered that evening to take stock of the frenzied two-week campaign that was being spread across the town in Jagdalpur preparing ground for mob lynching.
What followed their visit, once they realized they were unable to threaten us to silence, were enhanced pressure on our landlords to evict us and illegally detaining my domestic help, a single mother, to sign statements against me.  With eviction notices served by our apologetic landlords, we had no option but to leave the town.
Thanks to the wider media pressure mounted on the government and the police which compelled them to disband the vigilante group, Samajik Ekta Manch.  However, anticipating such compulsion, the quickly created another one, Action Group for National Integration or AGNI, which means 'fire' in Hindi,  with the same members.  So, not only does the FIR hang fire since February 9, 2016 with no action against those accused, but the 'game of threats' by the same players with complete impunity continues. Soon after my departure, two more journalists- Prabhat Singh and Deepak Jaiswal – local stringers were arrested. While Jaiswal was arrested on a seven-month old complaint filed by a school principal for trespassing, obstructing public servants, and assaulting a public servant, Singh was arrested under Section 67 and 67A of the Information Technology Act for "publishing and transmitting obscene material in electronic form".
Before this two journalists, Santosh Yadav and Somaru Nag, were already sent to the prison.  Nag was arrested for allegedly being a Maoist sympathiser. He was held for alleged banditry, arson and criminal conspiracy under the IPC and the Arms Act. After spending one whole year in the prison, Nag walked a free man when no charge against him could be proved.  Yadav on the other hand is still struggling for bail. Arrested for alleged association and supporting the banned CPI(Maoist), he is held under the Chhattisgarh Special Public Security Act and the Unlawful Activities (Prevention) Act, draconian laws that makes seeking bail extremely difficult.  (Blackout in Bastar – Human Rights Defenders under threat, Amnesty International, 2016)
Unless the cloak of impunity enjoyed by key decision-makers is withdrawn, in this case the senior most police officer of Bastar division, who has been found to be responsible for acts of human rights violations by the government machinery (the CBI), human rights violations will pile up, free and independent reporting will suffer, efforts of human rights activists to bring out facts and truth will be hindered.
Photo credit: Sheikh Tayyab
Written By
Comments