Press Statement
#EndImpunity: India
02 Nov, 2020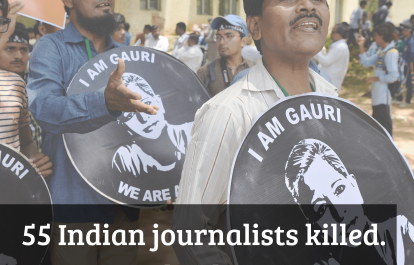 India, the world's largest democracy, has a grim record of 55 journalists killed between 2010 and 2020. Of the long list of murders and targeted killings, just one and only one case has been resolved. The remainder lie largely cold, waiting for authorities either unwilling or incapable (or both) to deliver adequate investigations at the outset, let alone bring perpetrators to justice.
The end result of this inaction is that India's media remains under grave threat through intensifying harassment and intimidation both online and offline – with perpetrators brazen in the knowledge that they can elude punishment. They know this because the record tells them so.
Justice delayed as perpetrators continue to evade capture
The high-profile assassinations of Gauri Lankesh and Shujaat Bukhari in 2017 and 2018 respectively, shook India's journalist community, brutally and clearly sending a message that journalists could not hide in the light, no-one was safe. Their crime was to ask the questions and tell the stories that powers didn't wish told.
Eminent journalist and activist Lankesh was brutally murdered outside her Bengaluru residence on September 5, 2017. Since the attack, 18 suspects have been arrested, including Rishikesh Dewerkar in January this year. He had evaded capture for a year and a half.
In June 2018, Shujaat Bukhari, the respected founder and editor of Rising Kashmir newspaper, was shot along with two bodyguards outside his office in Srinagar, after publishing a piece welcoming the Indian government's suspension against alleged terrorists during the month of Ramadan. Bukhari had approached a former chief official for increased security after suffering an assassination attempt in 2006. Despite the high-profile nature of the attack and the fact that four suspects were identified by police, significant delays have ensued. One suspect was killed in a shootout but the rest remain at large, creating widespread tension and media backlash. To date, no charges have been laid.
Institutional entrenchment of impunity
Many of the accused involved in the killings and attacks in India are from government agencies, security forces, political party members, religious sects, student political groups, criminal gangs and local mafias among others.
The nexus between political power and the law-enforcing administration is often very strong and underscores the impunity that accompanies these cases.  In other cases, investigating agencies are either indifferent or complicit. The result is a very poor rate of conviction. The International Federation of Journalists observes that although police investigations are underway in many cases, these are shoddy, terribly sluggish and inconclusive.
Jyotirmoy Dey, a senior journalist affiliated with Midday newspaper, was killed in Powai, in Central Mumbai on June 11, 2011, achieved justice only after an absurd seven year wait. An Indian court convicted and sentenced gangster Chhota Rajan and eight others to life imprisonment for murder and criminal conspiracy.
On July 15, 2012, well-known investigative journalist and associate editor of the Arunachal Times, Tongam Rina, was shot by unknown gunmen as she entered her office in Itanagar. Despite authorities' assurances that the perpetrators would be brought to justice, Rina has yet to give her statement in court over eight years later. According to media reports, it took police a year to file a charge sheet against three accused assailants. Now it seems that critical evidence has allegedly 'gone missing'.
Misuse of Law
Aside from killings and attacks, Indian media workers have been plagued by protracted legal battles over their news reporting, investigative journalism, social media posts. Almost every state in India has fallen foul to the weaponising and twisting of existing laws such as sedition to silence critics through false charges and accusations. Among them is Delhi-based journalist Siddique Kappan, who was on his way to meet the family of a gang-rape victim on October 4, 2020, when he was arrested near Hathras in Uttar Pradesh. A day later he was charged with sedition under India's draconian anti-terror Unlawful Activities (Prevention) Act or UAPA. Between March and September, a media watchdog report said, 55 journalists in India "faced arrest, registration of FIRs, summons or show cause notices, physical assaults, alleged destruction of properties and threats" for reporting on COVID-19.
Despite the IFJ recording 68 media rights violations including arrests, killings, attacks, censorship harassment, misuse of law, particularly the sedition law, and economic pressure in India from January to October, 2020, too few cases are prosecuted due to poor police investigation or the indifference of authorities to the crimes committed.
More deaths to the tally
2020 saw another three journalists' names added to the country's long death tally. Shubham Mani Tripathi, a journalist with Kampu Mail, was fatally shot in the largest, and now widely considered most dangerous, state of Uttar Pradesh on June 19. It was a suspected retaliatory attack for his critical news coverage regarding sand-mine disputes.
Amid the increased number of media rights violation and low rate of justice delivery on crimes against journalists, IFJ Indian affiliates the Indian Journalists Union (IJU) and the National Union of Journalists (NUJ-I) continue to monitor and push India's government to bring an end to the injustice.
The IJU President Geetartha Pathak said: "A big question mark hangs on India, the world's largest democracy, boasting of press freedom. The rising attacks, harassment, intimidation of journalists and unprecedented attempts to suppress truth, by the powers-that-be are stifling the fourth estate like never before. Journalists have lost their lives, are being imprisoned, forced to fight long legal battles among other forms of persecution while carrying out their duties. Justice eludes and a nagging fear of reprisal lurks in the media today. In effect, the citizen's right to information and form an informed opinion, critical to any democratic society, is being violated. The IJU has been vociferous in its criticism of the gagging of the media, has been demanding a safe environment for the journalists and demands from the Modi government that it must respect the freedom of the press and allow the fourth estate to function independently. Remember, action speaks louder than words!"
The NUJ-I President Ras Bihari said: "NUJ- India is worried about the increasing attacks on journalists in the country. Attacks on journalists have increased in the country during the COVID19 pandemic. Atrocities on journalists in Punjab, Uttarakhand, Chhattisgarh, West Bengal, Uttar Pradesh, Maharashtra, Madhya Pradesh, Rajasthan and Tamil Nadu states have been increased lately. We urge the government to take urgent action to address the impunity on crime against journalists in India."
Written By

IFJ Asia-Pacific
The IFJ represents more than 600,000 journalists in 140 countries.
For further information contact IFJ Asia-Pacific on +61 2 9333 0946
Find the IFJ on Twitter: @ifjasiapacific
Find the IFJ on Facebook: www.facebook.com/IFJAsiaPacific
Comments