A Journalist's Guide to Combat Cyber Harassment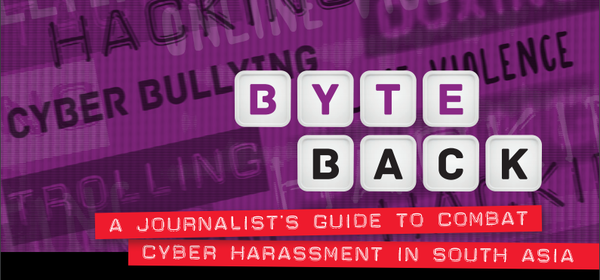 Freedom of expression is a vital human right that we fight for every day in our media. Yet for women journalists in South Asia who dare to speak out and express their opinions, trolling and abuse are almost a given.
In 2015, during the UN campaign to eliminate violence against women, the IFJ's Gender Council highlighted the 'damaging and rapidly increasing incidents of cyber-bullying and threats to women in the media and the ways women journalists are targeted – often for simply being women in the profession'. So too, the Organisation for Security and Cooperation in Europe (OSCE) report 'New Challenges to Freedom of Expression: Countering Online Abuse of Female Journalists' released in February 2016, said that women journalists, bloggers and other media actors are 'disproportionally experi­encing gender‑related threats, harassment and intimidation on the internet which has a direct impact on their safety and future online activities'.
Back in 2013, a study of verbal and online abuse in India called "Don't Let It Stand" found that women journalists had recognised the predominant mindset of trolls and online harassers. In return for expressing themselves online, they faced threats of rape and murder, personal and professional attacks, stalking and surveillance. Yet they had also developed responses and were exposing the ideological biases, misogyny and hatred that permeated their attackers' messages.
However, too often, the 'trolled' find themselves silenced by self-censorship or driven out of debate. Senior media veterans have been known to quit Twitter after a spate of virulent abuse. Others have preferred to temporarily opt out of social media interaction when personal attacks, rape or death threats are made to them or their families, or when personal details or locations have been leaked online.
This is not a future for a robust media environment online. When the voices of women journalists go missing from legitimate public spaces online, we all lose.
This is why the IFJ and its affiliates are taking action to Byte Back against trolling and harassment. This is a guide to provide support and advice based on shared experience of others worldwide and includes handy links to other research and IFJ resources.
With courage, wit and sheer determination, we've seen many journalists demonstrate how to take on trolls, call them out, respond to patently false information and posts, factual distortions, propaganda and misogyny. They have flagged trouble-makers who, through incessant trolling, attempt to deliberately misdirect online conversations and derail healthy debate. It is true there are many ways to take this fight back.
Importantly, this guide is also a call to solidarity for all media workers, to join together in this fight for freedom of expression and safety online.
You can download the guide here.