IFJ Byte Back Campaign: Fighting Online Harassment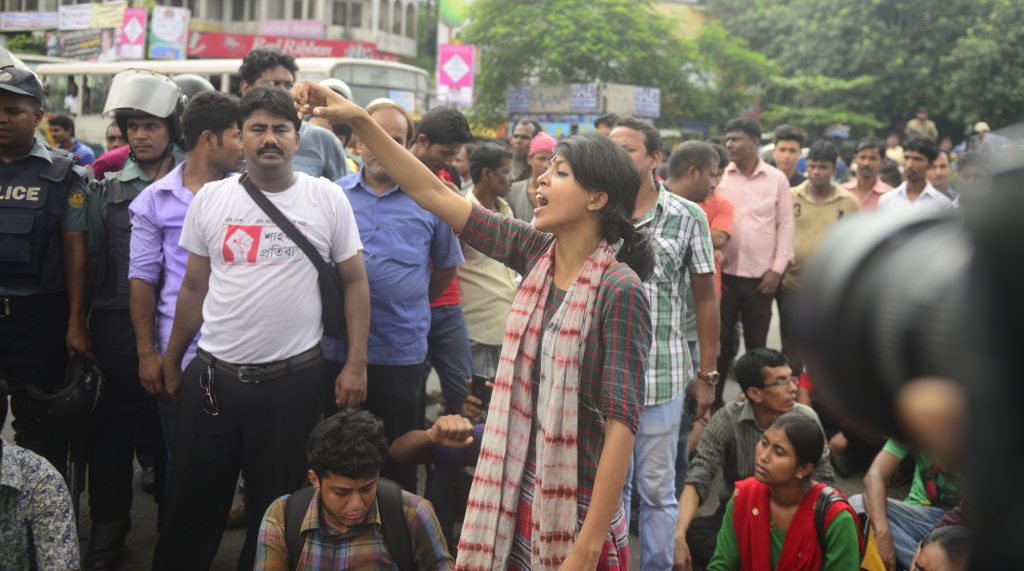 The virtual world mirrors the 'real' world, where women journalists are harassed, excluded and subjected to abuse for their work. Online abuse – a form of gender discrimination and violence against women – must be prevented to enable women to confidently express themselves in the digital space without nasty repercussions.
On International Women's Day, March 8, 2017, the South Asia Media Solidarity Network (SAMSN) and IFJ, representing unions and press freedom organisations, call for strong action to stop cyber-bullying and online harassment of women journalists.
Journalists of all genders; their unions; media houses; moderators of social media platforms; the public and governments must take firm steps towards ensuring women's rightful place in the digital world, without harassment, abuse and cyber-violence. Only then can a diversity of information, analysis and opinion co-exist contribute to building healthy and vibrant democracies in South Asia.
Join the IFJ ByteBack Campaign!
What is online harassment? [PDF]

Download campaign resources and graphics here

Spread campaign messages with hash

tags #DontTroll and/or #DefendMyVoiceOnline and mention @ifjasiapacific for our retweet

Resources to raise awareness with solid evidence and data: 

Here is what our IFJ affiliates and their members have to say about the fight against online harassment of women in the media [VIDEOS]
Join our mail list here
IFJ Documents
South Asian Editors Speak Out Against Online Harassment
Prominent editors from India, Pakistan and Sri Lanka discuss the ever-growing menace of online trolling and abuse of women journalists and what action can be taken to stop it.
SAMSN Blogs on Online Harassment
Campaign Resources
Campaign videos by SAMSN members
Social media resources to share
Download more social media sharing graphics here.

From the Media
Pakistan govt urged to provide secure environment to womenA resolution passed on International Women's day underlined the fact that information-technology-related violations, abuses, discrimination and violence against women, including women human rights defenders, such as online harassment, cyber-stalking, violation of privacy, censorship and the hacking of e-mail accounts, mobile phones and other electronic devices, with a view to discrediting them and/or inciting other violations and abuses against them, are a growing concern.
The Indian woman's guide to 4 types of online trollsThe perfect targets for online trolls are successful and opinionated women, who wear what they want and stand up for what they believe in.
What Studying the Impact of Surveillance on Women Can Teach Us About Power A new research project that examines the impact of surveillance on women offers wider answers about the relationship between data, power and autonomy.
More from the media here.

See the IFJ Byte Back Campaign happening across the Asia-Pacific here
Resources
Gendering Surveillance A new report hopes to make more concrete the multifaceted ways in which widespread surveillance shapes and harms our lives. Gendering surveillance deepens and sharpens the debate, allowing us to move it forward in new and profoundly empowering ways.
The Report of the Best Practices Forum on Online Abuse and Gender-Based Violence Against Women and Girls The report by Internet Governance Forum 2015 found that online abuse and gender-based violence have to be studied keeping in mind offline/physical environments, and potential repercussions in offline/physical environments. The Report suggests that relief and redress to victims of online abuse must be prioritised over criminalisation.
Challenging Patriarchy through the lens of Privacy This special briefing by the Privacy International for International Women's Day, 2017 explores concerns related to online privacy, surveillance, women's rights and gender.
More resources here.