Press Statement
India: Journalist booked for sharing Covid-19 allegation against hospitals
07 Aug, 2020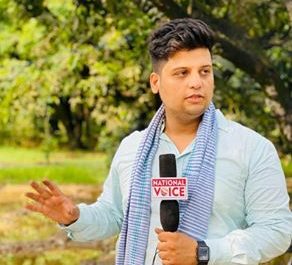 Sankalp Neb, a journalist from Saharanpur district, Uttar Pradesh was booked for allegedly sharing an unverified Twitter post suggesting negative Covid-19 reports had been manipulated with a positive spin by district health authorities. The International Federation of Journalists and its Indian affiliates the Indian Journalists' Union (IJU) and the National Union of Journalists India (NUJ-I) condemn the harassment of Neb and call for the withdrawal of the complaint.  
The tweet screenshot shared by the journalist Neb in a WhatsApp group on August 2 mentioned that Covid-19 negative reports were intentionally shown positive in the interest of private hospitals in the district. The screenshot further accuses the district health authorities hatching conspiracies to serve private hospital's interests to receive government funding. It alleged the suspected involvement of the district's Chief Medical Officer (CMO), BS Sodhi, in the 'scam'.
The chief medical officer filed a complaint against the journalist on August 3. The First Information Report (FIR) registered under various sections of the 'Epidemic Disease Act' and the 'IT Act' accuses the journalist of defaming authorities without any substance.
Neb claimed that he merely re-posted the screenshot. He also advised he had been previously targeted for his past news reports that were critical to the state's administration.
Neb is one of an increasing number of journalists in India being targeted for stories critical to the government's handling of Covid-19. Under the cover of the pandemic, the Indian government has introduced restrictions on expression, resulting in a growing number of legal cases and summons against journalists in India.
The president of IJU, Geetartha Pathak, said: "Registering FIR against journalists for their critical reports instead of issuing clarifications has become a common trend in India. We call on the authority to withdraw the case against the journalist."
 The President of NUJ-I, Ras Bihari, said: "The government officials in India are targeting journalists to hide their faults and mistakes. Government should immediately issue a guideline to stop officials' arbitrary actions to hide their wrongdoing."
 The IFJ said: "The IFJ urges the Uttar Pradesh government to immediately withdraw the FIR against the journalist."
Written By

IFJ Asia-Pacific
The IFJ represents more than 600,000 journalists in 140 countries.
For further information contact IFJ Asia-Pacific on +61 2 9333 0946
Find the IFJ on Twitter: @ifjasiapacific
Find the IFJ on Facebook: www.facebook.com/IFJAsiaPacific
Comments