Press Statement
India: Police attack and detain three Kashmiri journalists
14 Dec, 2020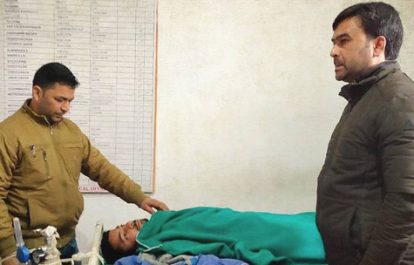 Police manhandled three Kashmiri journalists as they covered election polling in South Kashmir on December 10. The International Federation of Journalists (IFJ) and its Indian affiliates the Indian Journalists Union (IJU) and the National Union of Journalists India (NUJ-I) condemn the journalists' arbitrary attack and the ongoing persecution of media workers in the region.
Fayaz Lolu, a stringer with ETV Bharat; Mudasir Qadri, a stringer with News 18 Urdu; and Junaid Rafiq, of V9;were beaten by the senior superintendent of police (SSP), Anantnag Sandip Chowdary, in the Srigugwara area of South Kashmir. The journalists were all covering the District Development Council elections in the Anantnag district of Jammu and Kashmir on December 10. During the attack, the journalists were thrashed and slapped after interviewing voters who complained that polling was not beginning at the scheduled time. Voting did not commence until 8.30am, an hour and a half later than the organised start time of 7.00am.
The journalists allege their equipment, including mobile phones and microphones, were confiscated. Police escorted them to Srigugwara's police station where they were detained for almost two hours. During their detention, journalist Rafiq complained of breathlessness and was taken to a nearby hospital where he was placed on oxygen support.
Kashmiri journalists are routinely arbitrarily intimidated, harassed, attacked and faced legal action by authorities and security officials. On September 19, thecyber wing of the Jammu and Kashmir Police summoned and abused Auqib Javeed, a Kashmir based journalist, over a news report about police intimidation of social media users. Similarly, on July 31, Qazi Shibli, the editor of news portal The Kashmiriyat, was detained, while Fahad Shah, editor of news portal Kashmir Walla, was summoned on May 20. Srinagar police also filed separate investigations or First Information Reports (FIR) against Kashmiri photojournalist Masrat Zahra and journalist Gowhar Geelani on April 18 and April 21 respectively. Cyber police in Srinagar questioned journalist Peerzada Ashiq on April 19 in relation to the journalist's news articles.
The IJU secretary general Sabina Inderjit said: "This highhanded attitude of police is unacceptable and the IJU demands an inquiry into the incident and stern action if the culprits are found guilty. Elections are bedrock of democracy and any attempts to browbeat media covering these is tantamount to making a mockery of the exercise." 
The NUJ- I president Ras Bihari said: "The NUJ-I will send a fact finding committee to investigate the case and appeal to the Governor to set up a high level judicial committee to probe the incident and punish the guilty police officers for assaulting journalists."
The IFJ said: "The IFJ continues to document a disturbing series of attacks and harassments against media workers and journalists in J&K territories.  We urge security officials and authorities to cease these attacks and intimidation of media workers and remind authorities of their responsibility to respect journalistic independence."
Written By

IFJ Asia-Pacific
The IFJ represents more than 600,000 journalists in 140 countries.
For further information contact IFJ Asia-Pacific on +61 2 9333 0946
Find the IFJ on Twitter: @ifjasiapacific
Find the IFJ on Facebook: www.facebook.com/IFJAsiaPacific
Comments