Press Statement
India: Police detain Kashmiriyat editor Qazi Shibli
03 Aug, 2020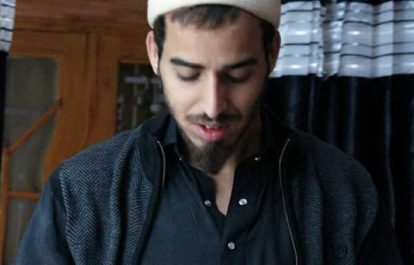 Qazi Shibli, the editor of news portal The Kashmiriyat, was detained at Shergarh police station in Srinagar on July 31 following a lengthy interrogation by the cyber police. The International Federation of Journalist (IFJ) and its Indian affiliate, the Indian Journalists Union (IJU)  condemns the harassment and detainment of Qazi Shibli and urge authorities to immediately release the journalist and editor.
Jammu and Kashmir police in Srinagar summoned Shibli on July 30, asking him to present himself to the cyber division on July 31 for questioning. After the interrogation, Shibli was transferred to the Shergarh police station. His relatives waited nearly eight hours outside the cyber cell, but Shibli was not released. No reason has been given for his detention.
Prior to the police summoning, Shibli had received threats from callers from unknown numbers for his news reports, including reports on  local police officials. Journalists and the media fraternity have condemned his arrest and have taken to Twitter with the  hashtags #journalismIsNotACrime and #ReleaseQaziShibli.
This is not the first time Shibli has been targeted by authorities. He was arrested in July 2019 under the draconian Public Safety Act and imprisoned for more nine months following his news reports revealing the additional deployment of government forces in Kashmir ahead of revocation of Jammu and Kashmir's special status and the extended communications shutdown in August 5, 2019.  He was imprisoned in Bareilly Jail in Uttar Pradesh.
Earlier this year Fahad Shah, editor of news portal Kashmir Walla, was summoned by Srinagar cyber police station on May 20.  The  police in Srinagar have also filed separate investigations or FIRs against Kashmiri photojournalist Masrat Zahra and journalist Gowhar Geelani on April 18 and April 21 respectively. And, cyber police in Srinagar questioned journalist Peerzada Ashiq on April 19 in relation to the journalist's news articles.
The IJU president Geetartha Pathak said: "We demand immediate release of Qazi Shibli , the editor of the news website The Kashmiriyat . Authorities must allow independent journalists to do their work."
The IFJ said: "The IFJ condemn the series of attacks and ongoing harassment  of journalists in India, particularly in Jammu and Kashmir.  IFJ calls for the  immediate release of Qazi  Shibli and demand that authorities stop persecuting journalists for doing their jobs."
Written By

IFJ Asia-Pacific
The IFJ represents more than 600,000 journalists in 140 countries.
For further information contact IFJ Asia-Pacific on +61 2 9333 0946
Find the IFJ on Twitter: @ifjasiapacific
Find the IFJ on Facebook: www.facebook.com/IFJAsiaPacific
Comments