Press Statement
Journalists injured in media attack in Pakistan
07 Mar, 2016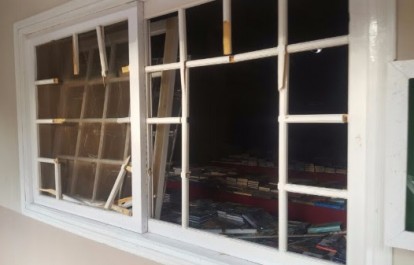 The International Federation of Journalists (IFJ) joins its affiliate the Pakistan Federal Union of Journalists (PFUJ) in strongly condemning the attacks against the media at the Hyderabad Press Club, and other attacks in Lahore and Karachi on Friday, March 4. The IFJ demands an investigation into the incidents and swift action from the Pakistani government to secure the media environment in Pakistan.
On Friday, protests, rallies and sit-ins were held across Pakistan against the execution of Mumtaz Qadri, the killer of Pubjan governor Salman Taseer. In Hyderabad, Jamiat-i-Ulema Pakistan (JUP) and Pakistan Sunni Tehreek organised rallies outside the Hyderabad Press Club. During the rally, demonstrators stormed the press club premises, attacking staff and members, ransacking the offices and torching a number of motorcycles. A number of members had to jump walls and fences to escape the attack. Press Club president, Ali Ahmed was beaten up during the attack, while a cameraman from 92-News Qasim fractured his leg and several others were also injured trying to protect the premises. Several calls were made to police, however no officers attended.
In Lahore, rallies held near Anarkali turned violent to the media, with DSNG vans of Abb Talk and Aaj News channel damaged. The offices of Aaj News were also damaged. A number of media workers were also attacked, including PFUJ Lahore-based leader, Rana Azeem, who sustained injuries that required hospital treatment. The protesters allegedly targeted the media for not covering the funeral of Qadri, following his execution on March 2.
There were also reports of attacks against media workers and equipment in Karachi, and Faisalabad.
The PFUJ president Rana M Azeem and secretary general Amin Yousuf said: "It is highly unfair to attack journalists. Journalists, cameramen and photographer are not responsible for any type of censorship."
PFUJ said that PEMRA and the government were responsible for the attack on working journalists. As they have blacked out the coverage of the protesters in the media while the working journalists are being harshly beaten by the protesters. PFUJ lamented PEMRA Chairman and the government for not taking any steps to provide security to the working journalists.
The IFJ said: "The situation facing the media in Pakistan continues to raise serious concerns for the local and international media community. The continued and systematic attacks on the media across Pakistan are only further weakening the media environment and press freedom in the country, and creating unstable working conditions for journalists. The failure of the authorities to take action and address to entrenched culture of violence continues to enable future attacks."
Photo: Damaged to the Hyderabad Press Club. Credit: Amin Yousuf 
Written By

IFJ Asia-Pacific
The IFJ represents more than 600,000 journalists in 140 countries.
For further information contact IFJ Asia-Pacific on +61 2 9333 0946
Find the IFJ on Twitter: @ifjasiapacific
Find the IFJ on Facebook: www.facebook.com/IFJAsiaPacific
Comments