Press Statement
Karachi Press Club and journalists violently attacked by mob
28 Mar, 2016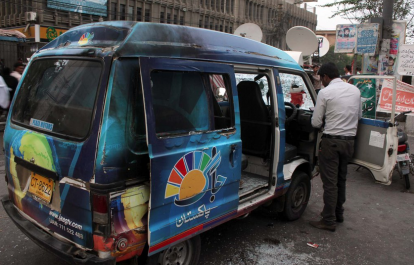 The International Federation of Journalists (IFJ) joins its affiliate the Pakistan Federal Union of Journalists (PFUJ) in strongly condemning the targeted attack on the Karachi Press Club and journalists in Pakistan. The IFJ demands an immediate investigation into the attack, and punishment of those responsible to ensure such incidents are not repeated in future. 
On Sunday, March 27, dozens of assailants stormed the Karachi Press Club (KPC), attacked journalists, grabbed cameras, and tried to set the KPC and a DSNG van of Jaag TV on fire with the petrol. The mob comprising of 60 to 70 people violently attacked media staff from Jaag TV and Channel 92, as journalists remained stuck inside the KPC building. The attack in Karachi came after a similar mob attack on the Hyderabad Press Club on March 4.
According to reports, the attack broke out after a number of religious groups complained about a media blackout on the coverage of their activities. The groups were observing chehlum, a religious day of mourning, of Mumtaz Qadri, assassin of former Punjab governor Salman Taseer, who was executed in early March.
PFUJ President Rana Azeem and Secretary General Amin Yousuf demanded that the government take action against the miscreants. In a statement, the PFUJ said: "Journalists will not cover major events until action is taken against the attackers. The PFUJ demands assurance of safe working conditions, not just the hollow condemnation from the government."
The IFJ said: "The situation the media in Pakistan continues to face is raising serious concerns for the local and international media community. The systematic attacks are only further weakening the media environment and press freedom in the country, and creating unstable working conditions for journalists. The failure of the authorities to take action and address to entrenched culture of violence continues to enable future attacks."
Written By

IFJ Asia-Pacific
The IFJ represents more than 600,000 journalists in 140 countries.
For further information contact IFJ Asia-Pacific on +61 2 9333 0946
Find the IFJ on Twitter: @ifjasiapacific
Find the IFJ on Facebook: www.facebook.com/IFJAsiaPacific
Comments