Press Statement
Maldivian TV station forced to suspend broadcast fearing military crackdown
09 Feb, 2018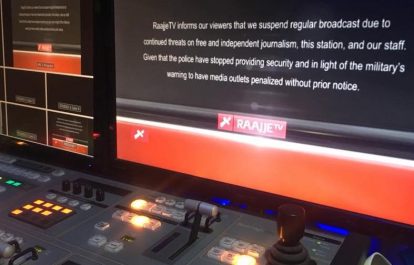 The International Federation of Journalists (IFJ) is deeply concerned over the deteriorating state of press freedom in the Maldives amidst political turmoil. The suspension of Raajje TV's broadcasts on February 8 does not portend well for dissenting voices in the ongoing crisis. The IFJ urges the Maldivian authorities to adopt measures to ensure the freedom of the press and guarantee the fearless operation of media.
The opposition aligned Raajje TV suspended its regular broadcast due to increased harassment, threats and intimidation as well as an unsafe environment for journalists to report freely and independently. The TV station's decision came after a warning by the Ministry of Defense and National Security alongside the withdrawal of security provided to the station by the Maldives Police.
The Ministry in a statement on February 8, warned of action by the armed forces on parties found to have published or aired content that impacted national security without a prior notice. Pointing out that there was a state of emergency declared by President Abdulla Yameen on February 4, the Ministry said 'there was uptake on individuals propagating and sharing information that is detrimental to national security' adding that 'live shows and programs on media programs create chaos, confusion in public and create discord within the society'.
Earlier on February 4, Abdul Raheem Abdullah, the deputy leader of the ruling Progressive Party of Maldives (PPM), had called on the security forces to immediately shut down Raajje TV accusing it of giving airtime to opposition leaders.
In a statement, Raajje TV said: "RaajjeTV has been forced to suspend regular broadcasts, following a new warning by the military… While the station wishes to continue services, we were forced to suspend regular broadcasts due to increased harassment, threats and intimidation, especially as we do not believe that there is a safe environment for our journalists to report freely and independently and without fear."
The IFJ said: "The IFJ is deeply concerned over the circumstances forcing Raajje TV to suspend its regular broadcasts in the Maldives. The IFJ also condemns the warning by the Ministry of Defense and National Security to the citizens and media that undermines the freedom of expression and journalists' rights. The move represents an attempt to silence critical voice important in the time of political crisis that the Maldives is currently going through. The IFJ urges the authorities in the Maldives to respect press freedom and adopt measures to ensure free media."
Written By

IFJ Asia-Pacific
The IFJ represents more than 600,000 journalists in 140 countries.
For further information contact IFJ Asia-Pacific on +61 2 9333 0946
Find the IFJ on Twitter: @ifjasiapacific
Find the IFJ on Facebook: www.facebook.com/IFJAsiaPacific
Comments