Press Statement
South Asia: SAMSN members urge South Asian governments to support UN Convention on the safety of journalists
02 Nov, 2022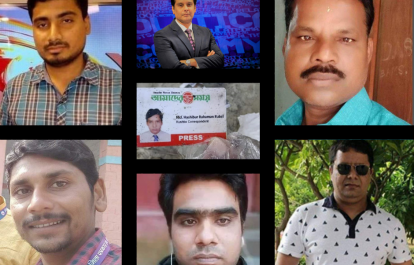 Despite political promises and continuing advocacy efforts, journalists and media workers in South Asia face numerous safety and security threats, with impunity allowed to run rife for incidents of attack, harassment, intimidation, censorship, detainment, and murder.
In 2022, the IFJ has documented the killings of eleven South Asian journalists. Most recently, on October 24, Pakistani senior journalist Arshad Sharif was shot dead by law enforcement in Kenya after fleeing Pakistan. Sharif had been living in hiding after allegedly receiving death threats for his critical reporting.
Five other Pakistani journalists have also been killed in 2022, including senior journalist and president of the Shorkot Press Club, Muhammad Younis, who was killed by two gunmen in the Punjab province on August 27, Ifitkhar Ahmed, who was shot to death outside a mosque in Charsadda on July 2, Ishtiaq Sodhoro, who has shot outside his house in Kumb on July 1, senior journalist Zia-Ur-Rehman Farooqi, who was killed by armed assailants in Punjab's Khanewal district on April 28, Capital TV crime reporter Hasnain Shah, who was gunned down by an unidentified armed group on January 24.
In Bangladesh, journalist Hashibur Rahaman Rubel was found dead in a river in his home district of Kushtia on July 7. DBC News journalist Abdul Bari was found with stab wounds on his neck and stomach near Dhaka's Hatirjheel Lake on June 8, while Cumilla district newspaper reporter Muhiuddin Sarka Nayeem was shot on the India-Bangladesh border on April 13.
In India, Odisha reporter Rohit Biswal was killed by an improvised explosive device on February 5, while Subhash Kumar Mahto was shot by unidentified assailants outside his home.
In response to the ongoing violence faced by journalists and media workers, the IFJ and SAMSN and are campaigning for South Asian governments, journalists and media workers associations and media rights groups to support an International Convention on the Safety and Independence of Journalists and Other Media Professionals with the United Nations. Read the draft convention and download the Q&A and briefing paper at the attached links.
SAMSN said: "It is deeply disturbing that crimes against journalists and media workers are often left unaddressed and unresolved, despite calls for action by SAMSN members and other media rights organisations. It is now more important than ever to address the pressing issue of impunity for crimes against journalists and media workers. We urge South Asia governments to support the UN Convention on the safety and independence of journalists and other media professionals."
The IFJ said: "Impunity for crimes against journalists and media workers is one of most significant issues facing the media in South Asia. Supporting the UN convention is critical to unsettling dangerous and harmful patterns of violence against journalists in the region. The IFJ strongly condemns the ongoing impunity of crimes against journalists and calls for all perpetrators of these crimes to be brought to swift justice.
SAMSN members
Afghan Independent Journalists Association (AIJA)
Afghanistan National Journalists Union (ANJU)
Federation of Media Employees Trade Unions (FMETU)
Federation of Nepali Journalists (FNJ)
Free Media Movement (FMM)
Indian Journalists Union (IJU)
Journalist Association of Bhutan (JAB)
Maldives Journalist Association (MJA)
National Union of Journalists, India (NUJ-I)
Nepal Press Union (NPU)
Pakistan Federal Union of Journalists (PFUJ)
Sri Lanka Working Journalists Association (SLWJA)
Written By

IFJ Asia-Pacific
The IFJ represents more than 600,000 journalists in 140 countries.
For further information contact IFJ Asia-Pacific on +61 2 9333 0946
Find the IFJ on Twitter: @ifjasiapacific
Find the IFJ on Facebook: www.facebook.com/IFJAsiaPacific
Comments