Press Statement
Sri Lanka: Journalist charged with 'false claim' of abduction
25 Mar, 2021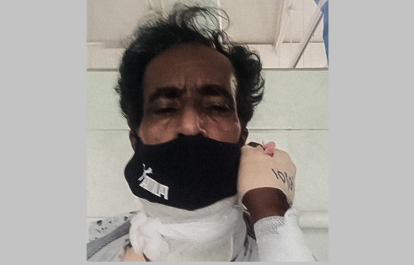 Sri Lankan journalist Sujeewa Gamage, who was arrested by police for allegedly making 'false claims' about his own abduction, was granted bail on March 19. The International Federation of Journalists (IFJ) and Sri Lankan affiliate the Free Media Movement (FMM) call on Sri Lankan police to cease arbitrary arrests of  journalists in the country and demands an impartial investigation into the Gamage case.
Police from the Colombo Crime Division (CCD) detained 62-year-old Gamage on March 17 for allegedly making 'false claims' that unknown assailants abducted and tortured him on March 10. Gamage was arrested after being released from a hospital where he was being treated for burns and injuries allegedly received during his abduction.
According to Gamage, on March 10 armed assailants forced him into a black car, covered his face with a black bag and took him to an unknown house for interrogation. During the interrogation, he alleges he was beaten and burned with a heated iron rod. Reports suggest the journalist was abducted due to his possession of a data card containing controversial information. The assailants were alleged to have stolen two pen drives and a data card from the journalist before leaving him in the Wellampitiya area of Colombo District.
Sri Lankan police reject the journalist's story, claiming Gamage lied about his abduction and torture, and arrested him for making fake claims and said that he faked his own abduction and torture. Gamage denied the police allegation in court. Speaking to reporters  after being granted bail, Gamage said he told the Magistrate under oath that the police forced him to make a false confession.
The FMM said: "The Free Media Movement considers both the abduction, torture by assailants and arrest by police as a serious threat to the safety and security of journalists and calls on the government to conduct a prompt investigation into the incident and disclose the truth."
The IFJ said: "Making arbitrary arrest against  journalists, especially those who report being abducted and tortured by assailants is not only against the rule of law but also against the humanity. The Sri Lanka government needs to conduct an impartial investigation in the case and punish the guilty party."
Written By

IFJ Asia-Pacific
The IFJ represents more than 600,000 journalists in 140 countries.
For further information contact IFJ Asia-Pacific on +61 2 9333 0946
Find the IFJ on Twitter: @ifjasiapacific
Find the IFJ on Facebook: www.facebook.com/IFJAsiaPacific
Comments