Press Statement
Uttar Pradesh journalist dragged behind motorcycle for exposing corruption
16 Jun, 2015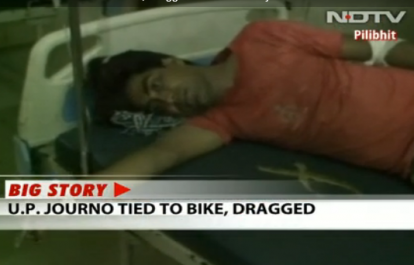 The International Federation of Journalists (IFJ) joins its affiliate the Indian Journalists Union (IJU) in condemning a brutal attack on journalist in Pilibhit of Uttar Pradesh, India on Sunday June 14. The IFJ is seriously concerned by the increasingly attacks on journalists in Uttar Pradesh and calls on the local and national government to take immediate action.

Days after the horrific murder of journalist Jagendra Singh, an attempt was made on the life of stringer Haider Khan. Khan was working for a local TV station in Pilibit district and, at the time of his attack, was reporting on a land usurpation case. Khan was following up on a tip-off to an accident, but when he arrived at the scene he was attacked by a group who tied him up and dragged him behind a motorcycle till he lost consciousness.
According to reports, he was left to die but was spotted by some locals and taken to police station and then to a government hospital for treatment. His condition is listed as critical. A First Information Report (FIR) had been lodged against four attackers and arrests have been made.
In a statement, IJU President, S N Sinha; Secretary-General, Amar Devulapalli; and Press Council of India (PCI) member K Amarnath said that the attacks were taking place in Uttar Pradesh with alarming frequency with the connivance of the ruling party politicians and the mafias that support them.
According to the National Crime Bureau statistics, Uttar Pradesh accounted for 72 per cent of the total crimes committed against journalists in India in 2014. Not a single person has been arrested in relation to these cases, the Times of India reported.
The IJU said: "The attack is most unfortunate, as it came just a week after journalist Jagendra Singh was burnt alive by some policemen and henchmen of a minister. We demand a thorough inquiry into the two incidents, one killing and another brutal attack, involving journalists."
The IFJ said: "The IFJ strongly condemn this attack and voices serious concern for the safety and well-being of journalists and media workers in Uttar Pradesh. The state is fast becoming a dangerous place for journalists with a developing culture of impunity for attacks against journalists. The time for action is now"
Written By

IFJ Asia-Pacific
The IFJ represents more than 600,000 journalists in 140 countries.
For further information contact IFJ Asia-Pacific on +61 2 9333 0946
Find the IFJ on Twitter: @ifjasiapacific
Find the IFJ on Facebook: www.facebook.com/IFJAsiaPacific
Comments