Press Statement
Bangladesh: Four journalists charged under draconian Digital Security Act
04 Nov, 2020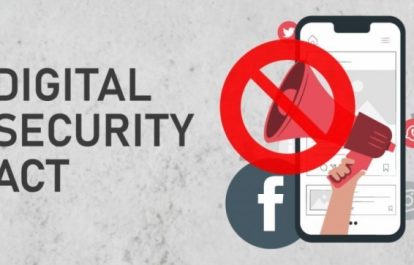 Four journalists, including and editor and publisher, from Lakshmipur district in South Eastern Bangladesh are the latest media workers to be pursued under Bangladesh's notorious Digital Security Act (DSA). The International Federation of Journalists (IFJ) condemns the targeting of journalists under the law and calls on authorities to withdraw the cases.
Mayor of Raipur Municipality, Md Ismail Khokon, filed the cases against AKM Mizanur Rahman, editor and publisher of the Daily Banglar Mukul; executive editor, Afroza Akter Ranga; Mohona TV correspondent SN Uddin Riad and Asian TV correspondent Jahirul Islam Titu on October 31. The First Information Report (FIR) filed in the Raipur police station alleges the journalists' coverage, initially published in the Daily Banglar Mukul on October 28, is false, fabricated and aimed at intentionally tarnishing his reputation. The story was subsequently shared by the journalists to social media. The mayor is the general secretary of the local Raipur unit of the Awami League.
Bangladeshi journalists and media rights activists term the recent FIR as a clear and 'intentional' operation against media coverage.
Bangladesh authorities and political leaders have intensified their attack on independent media and journalists in 2020, particularly around coverage of corruption and potential misuse of power. On July 14, a local leader of the Chhatra League filed a case under DSA against blogger Asaduzzaman Noor. On May 13, Meherpur Pratidin publisher Emon Ahmed, editor Yadul Momin, and joint editor Al Amin were also sued under the DSA. A week earlier, on May 7, the law was used to arrest cartoonist Ahmed Kabir Kishore, writer Mushtaq Ahmed, activist Didarul Islam Bhuiyannd and businessperson Minhaz Mannan Emon.More prominently, Shafiqul Islam Kajol, a photographer and editor of Pakkhala Sahifqul magazine, has been the target of ongoing intimidation. After going missing for nearly two months, Kajol was subsequently found and arrested under DSA on May 2.
The DSA imposes penalties of up to 10 years' imprisonment or life for alleged repeated offences. Data from Bangladesh's government-run Cyber Crime Tribunal shows nearly 800 cases were filed under DSA in first nine months of 2020. According to Amnesty International, authorities targeted at least 10 editors of national and regional dailies and online news platforms.
Bangladesh Manobadhikar Sangbadik Forum (BMSF) said: "The BMSF condemns the misuse of the DSA and demands withdrawn of the cases against four journalists."
The IFJ said: "Abuse of Bangladesh's problematic Digital Security Act shows that it has become the tool of choice to silence criticism. It's vague and broad provisions leave it ripe for abuse, to attack journalists, social media users, media rights activists and those critical of the powerful. IFJ condemns the DSA and the targeting of media."
Written By

IFJ Asia-Pacific
The IFJ represents more than 600,000 journalists in 140 countries.
For further information contact IFJ Asia-Pacific on +61 2 9333 0946
Find the IFJ on Twitter: @ifjasiapacific
Find the IFJ on Facebook: www.facebook.com/IFJAsiaPacific
Comments