India
Byteing Back: Dhanya Rajendran Counters Online Abuse
28 Aug, 2017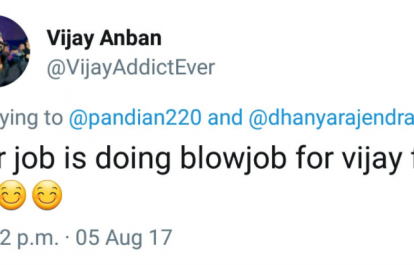 A robust response to online violence against a woman editor prompts a well-known actor to urge his fans to stop the abuse, and one of the abusers to post an apology on Twitter.
When Dhanya Rajendran, editor-in-chief of the digital news website, The News Minute tweeted on August 4 about a Hindi movie she had just watched, little did she anticipate the storm of abuse that would follow. Her tweet, "I had watched Vijay's 'Sura' till interval and walked out. #WhenHarryMet Sejal has made me break that record. Could not sit till interval," was, if anything, more a comment on the recently released Shah Rukh Khan starrer. What she thought of as a harmless comparison to a Tamil film released in 2010, rapidly swelled into a tornado of misogynist abuse, relentless trolling and online intimidation Vijay's irate fans, the bulk of them from Tamil Nadu.
Within hours, the hashtag, #PublicityBeepDhanya, was trending on Twitter in India, and was pulled down after Rajendran's complaint to Twitter. The journalist told The Indian Express: "I had put out a tweet asking people to report the tweet. I am sure at least 200 people would have reported it but the guy is still on Twitter because Twitter does not understand Tamil."
When the abuse did not die down even after three days, with about 30,000 abusive tweets and still counting, Rajendran lodged a First Information Report (FIR) with the Chennai police against two Twitter handles and other "unnamed persons", under Sections 354(D), 506 (1), 507 and 509 relating to sexual harassment of women; Section 67 of the Information Technology Act; Section 4 of the Tamil Nadu Prohibition of Harassment of Women Act, 2002 and Section and 6 of the Indecent Representation of Women Act.
In a statement, the Network of Women in Media, India, (NWMI) immediately denounced what it termed a "virtual mob assault" against its member, and urged for greater tolerance towards divergent views on social media. Recent examples such as that of award-winning independent journalist Neha Dixit, highlight the fact that women journalists often face vicious sexual abuse online. Indeed, a few days later, when film critic Anna MM Vetticad was subjected to incessant trolling and abuse over her review of 'Toilet'. The NWMI issued another statement, calling for an end to "virtual violence".
The IFJ unequivocally condemned the "virulent trolling" of the editor and expressed dissatisfaction over "Twitter's lack of prompt response to tweets in vernacular languages".
Dhanya Rajendran's firm stand and refusal to vacate her place in the online world, and the widespread support she received had significant outcomes. On August 10, actor Vijay released a statement saying that he had "utmost respect" for women and urged his fans to back off and stop trolling Rajendran: "Anyone has the freedom to review or give an opinion on anyone's film. In my view, nothing warrants an excuse (or can justify) speaking about a woman in bad taste or disrespectfully. Everyone should praise womanhood. I request everyone to desist from wilfully hurting someone and saying bad things about women on social media."
In a surprising but welcome development, on August 23, one of Vijay's anonymous fans who had been trolling Rajendran and was on the run after he had been named in the FIR, posted a public apology on Twitter. In the video in Tamil, Ramkumar says that he "realised that one cannot run from the law after" the police questioned his mother. He went on to admit that he had been "misguided" and had heaped abuse on Rajendran without understanding the issue or the ramifications of online abuse, and said that he hoped his apology would enable other youth from online abuse on Twitter.
[The IFJ, together with the South Asia Media Solidarity Network has been consistently campaigning against online abuse of women journalists, and launched the ByteBack campaign in March 2017. For more on the campaign, click here.]
Written By
Comments