Freedom of Expression
Living to Tell the Story
25 Sep, 2017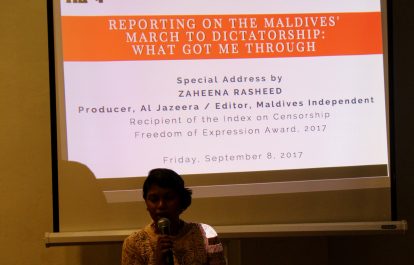 When journalists are under severe threat in a beleaguered media in the Maldives, one of the only ways to survive and continue to inform the public might be to leave, says Zaheena Rasheed
About a year ago, I packed a small suitcase and reluctantly left the Maldives, thinking I was only leaving for a week. I told my parents I'd be back as soon as the furore over a documentary I had worked on about corruption in the Maldives had died. I didn't want to leave – it felt like giving in.
The documentary by Al Jazeera, titled Stealing Paradise, exposed corruption and abuse of power at the highest levels of government, including a conspiracy to launder up to USD 1.5 billion through the central bank.
Weeks before the film aired, the government, which controls a majority in parliament, pushed through a new law criminalizing defamation. It allows journalists to be fined up to USD 30,000, and sets a six-month jail term if they are not able to pay the fine. The law also grants the government authority to impose fines and shut down publications.
I left the Maldives on August 31, 2016, when ministers and ruling party lawmakers threatened to take action against all of the film's Maldivian contributors. The government also launched a media offensive against the documentary, even before it aired, accusing Al Jazeera of a conspiracy to topple the government as well as economic sabotage.
A year has passed since I left.
The situation in the Maldives has only gotten worse.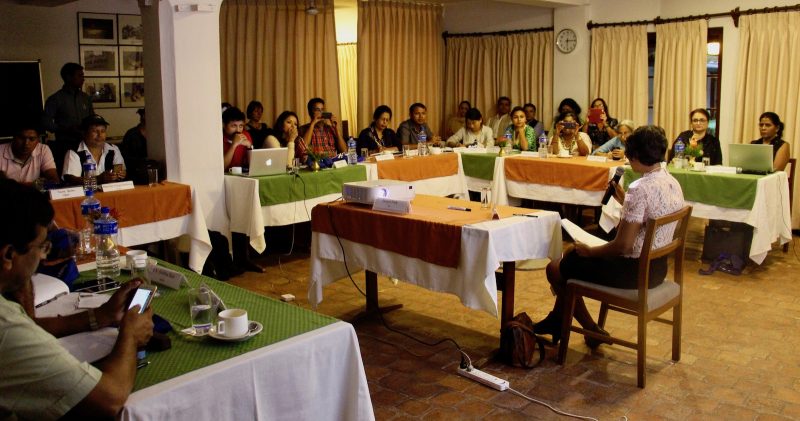 Waves of unrest
Let me give you a brief background on the Maldives.
We had our first multi-party elections in 2008. I was in university at the time, and took a semester off to report on the elections. It was the most fun I had ever had, and the beginning of my career in journalism.
Under the newly elected President Mohamed Nasheed, press freedom flourished. New TV channels and radio stations were set up. There was a plethora of independent, critical and partisan newspapers.
But things didn't go too well for the Maldives. The first democratically elected government was ousted in what is widely recognized as a coup in 2012. The following year, there was a presidential election, and Abdulla Yameen, the half-brother of Maldives' former dictator, Maumoon Abdul Gayoom, took office. He was elected after the Supreme Court annulled and cancelled several rounds of polls, and confiscated the electoral commission's database.
The change in government did not bode well for press freedom in the Maldives.
The assault on the press has taken many forms in Malé, and I believe many of these tactics must be very familiar to media persons in South Asia.
By 2012, the media landscape was quite robust. There was a multitude of news outlets – many of them were owned by politicians and prominent businesses, and you would not have been to get the full story with any one publication. But as Ahmed Zahir, the editor of Sun Online, says, if you wanted a particular perspective, it was available.
Targeting the messenger
The first tactic against journalists was threats and attacks. A year after the coup, one journalist was nearly beaten to death, men on motorbikes attacked him with iron rods, and it is a miracle that he survived. He lost sight in one eye. That same year, right in the middle of elections, an opposition-aligned TV station was torched. Journalists frequently received death threats, mostly online and from anonymous sources.
Then in 2014, a journalist who worked for Maldives Independent, my colleague, Ahmed Rilwan, was abducted from outside his home and disappeared. He has not been seen or heard from since. We spoke to eyewitnesses who said they saw a man being forced into a car at knifepoint on the night of his disappearance. The attackers dropped the knife, and Rilwan's neighbours reported the incident to the police, who confiscated the knife. But three years on, no one has been prosecuted for the crime.
In fact, Rilwan's family members and friends have faced threats and harassment because of our search for him. Our office was attacked just months after his disappearance, and a machete was left on our door. Within hours of that incident, I received an anonymous text message saying, "You will be the next to be killed, or disappeared."
The case has been marked by negligence at all levels of the state, including the police, watchdog bodies and the parliament. To this day, the police are yet to investigate the case. This, for us, speaks of government complicity or some level of involvement by senior government officials, in Rilwan's disappearance.
Unfortunately, this has been the case for nearly all crimes committed against journalists. Those responsible for the near-fatal attack on Asward Waheed and the torching of Raajje TV are yet to be prosecuted.
At the same time, there was a concerted effort to buy out newspapers and journalists. Ministers offered money to the best journalists in newsrooms to set up alternative outlets. Sometimes, half of newsrooms were poached to set up new websites or TV stations, that were often pro-government in their coverage.
State-owned enterprises, on which the media depend for revenue, also began pulling out advertising from independent media. Editors say state companies regularly threaten to terminate contracts if critical articles are not taken off.
When Maldivian journalists refused to bow down to threats and attacks, the government resorted to legal action. In April last year, the Maldives' oldest newspaper Haveeru was shut down after two of the paper's editorial staff at its founding in the early 1980s laid a claim to the paper. The court ruled in their favour, despite an appalling lack of evidence. Months later, Channel News Maldives, a maverick news website, was forced to shut after it levelled corruption allegations against the first lady. One of the website's owners, a construction magnate, told the staff that he had no choice but to take the website offline.
Then came the defamation law.
Now, nearly all of the independent and critical news outlets in the Maldives are under investigation for defamation by regulatory bodies that have been hijacked by ruling party activists.
Many journalists in the Maldives now practise self-censorship, for fear of their safety and threat of financial ruin.
The situation is as bad for foreign journalists. The government has imposed new rules restricting foreign journalists' access to the Maldives. In 2015, a four-member team with German public broadcaster ARD was deported and slapped with a ten-year ban for filming without a permit. The tourism minister later accused them of defaming the Maldives with false reports. Now, foreign journalists are required to submit bank, police and medical records to obtain visas, but most of such applications have been rejected. Police closely monitor foreigners with cameras visiting inhabited islands or asking too many questions.
Throughout all of this, the biggest obstacle for Maldivian journalists has been the absence of a union.
The only such organization, the Maldives Journalists Association, is now dysfunctional because of infighting. The media landscape is very polarized, and it has given rise to mistrust among journalists. Attempts to set up a new organization have failed, mostly because some journalists are not sure such a body would speak for them.
It's not just journalists who are under threat in the Maldives.
This April, a prominent blogger was fatally stabbed in the stairwell of his apartment building. His name was Yameen Rasheed, and he was my friend. His blog, the Daily Panic, was known for its biting commentary of politics, abuses of power and religious extremism. He was my disappeared colleague, Ahmed Rilwan's best friend.  He was the recipient of endless hate mail from ruling party activists and religious hardliners. Last December, he submitted a dossier of the threats to the police. Police say he was followed for weeks before his murder.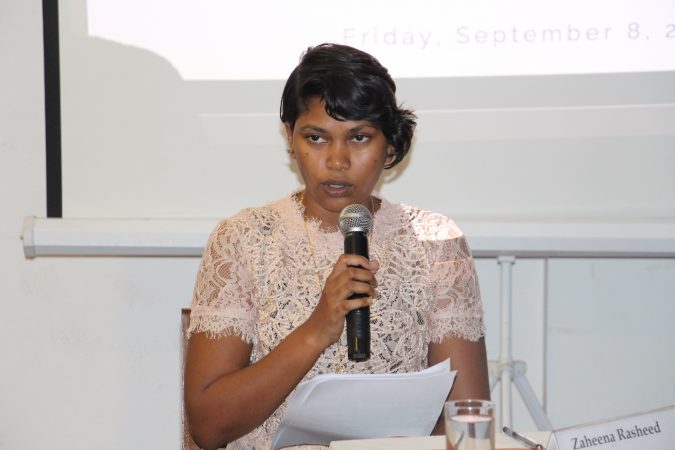 Crisis of faith
One topic I'd like to touch upon is mental health.
As journalists in the Maldives, we bore daily witness to grave injustices. Massive corruption and the squandering of public funds, police brutality and mass arrests, and the jailing and banishment of nearly all opposition leaders. In a terrorism case brought against former President Mohamed Nasheed, who was jailed for 13 years in 2015, I attended all hearings. The trial often took place late at night, the three judges held court under a sign with a Quranic phrase that says, 'rule justly'. On many of those nights, I would leave the court house shocked by the blatant injustice I had just witnessed.
The hardest story I reported on was my colleague Ahmed Rilwan's disappearance. How do you tell a story objectively when that story concerns a member of your team? As journalists, we think of ourselves or are expected to be objective observers of human history, but we are as susceptible to trauma as the victims of the stories we tell.
In addition to the threats and harassment by the government, as an editor of a small and independent news website, I also frequently worried about funding for our website. The pressure was immense.
When I left the Maldives a year ago, I was a mess.
I was suspicious of strangers. I jumped at shadows, and I was afraid of the dark. And Yameen's murder prompted a crisis of faith and a cynicism that I have not been able to shake off.
Professionally and personally, the past few years have been some of the toughest in my life.
Surviving through solidarity
Throughout all of this, regional and international organizations have been of great help. I would like to thank the International Federation of Journalists (IFJ), Reporters Without Borders and Committee to Protect Journalists – for keeping an eye on us, helping to keep global attention on what has been happening in the Maldives and for the solidarity. It made us feel that we are not alone.
There was one instance in April last year when some 19 journalists, including myself, were arrested after we staged a protest in front of the President's Office over attacks on the press. We were held for about ten hours.
That week, the US embassy arranged a video conference between some of us who had been detained and journalists in Sri Lanka. That conversation was eye opening for me.
First, it came from journalists who had reported on unimaginable horrors – the country ended a 26-year civil war in 2009, and many of their colleagues had also been killed or disappeared. They told us, don't be martyrs, you must live to tell the story another day.
That advice has always stuck with me.
I'd like to see more of that.
There's a wealth of experience in South Asia. And we have much to learn from each other.
When Rilwan was disappeared and Yameen was killed, it reminded us of the killings of journalists and bloggers in Pakistan and Bangladesh. And now the same appears to be happening in India.
Gauri Lankesh, the editor of a weekly magazine, was shot dead on Tuesday in Bangalore. She fought for the marginalised and protested injustice and venal politics even in the face of death threats. The religious far-right in the Maldives, Pakistan and Bangladesh is no different to Hindu nationalists in India.
We need a regional conversation on challenges to press freedom in South Asia, including how to deal with threats and security protocols to follow when one receives threats, and legal changes to protect journalists and how to lobby for them.
I cannot stress enough the importance of regional alliances, south Asian solidarity, and what the South Asia Media Solidarity Network (SAMSN) can do for the Maldives
——
Zaheena Rasheed is with the Al Jazeera Media Network, Doha. She is also the editor-in-exile of the Maldives Independent. She is the recipient of the Index on Censorship's 2017 Freedom of Expression Journalism Award along with the Maldives Independent.
This speech was delivered on September 8, 2017 at a meeting in Kathmandu organized by the IFJ and SAMSN titled 'Credibility, Safety and Equity: An Agenda for Change in South Asia's Media'.
Written By
Comments