Press Statement
Pakistan: FIA summons journalist for critical reporting
24 Jun, 2021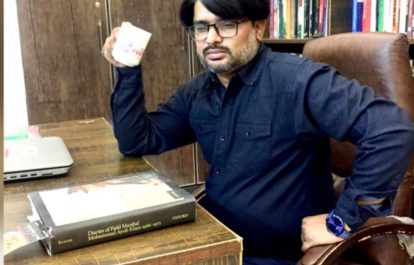 Federal Investigation Agency's Cyber Crime Reporting Centre in Islamabad summoned journalist Muhammad Bilal Ghauri for questioning for alleged defamatory remarks made through his YouTube channel. The International Federation of Journalist (IFJ) urges authorities to cease the intimidation of journalists who have a right to freedom of expression and questioning attacks on their profession.
The summon notice issued on June 22 under the Pakistan Electronic Crime Act (PECA), ordered Ghauri to appear before the Cyber Crime Reporting Centre of the Federal Investigation Agency (FIA) in Islamabad at 11 am on June 25. But the notice failed to mention the specific accusation levelled against him.
According to a letter from M. Waseem Sikandar, a sub-inspector at the FIA, the summons was in response to a complaint filed by Syed Abbas Mohiuddin, a politician from Attock district and member of the provincial assembly. The letter warned that failing to adhere the notice's order would result in further legal action under section 174 of Pakistan Penal Code.
Muhammad Bilal Ghauri, a contributor for the Urdu-language newspaper Daily Jang, has been on indefinite leave from his office since May 5 and he currently runs a show on YouTube about pertinent political and social issues. On June 21, he broadcast a show entitled 'Major General Manzoor Ahmed's Petition' which is linked to the FIA.
The Pakistani military is documented as putting increasing pressure on media houses for reporting that is critical to the Pakistani military and a number of journalists have been put on "leave" following such pressure on media companies. The imposition of "indefinite leave" on Ghauri for his reporting and the subsequent summoning by the FIA points to a clear pattern of intimidation by the military.
On May 31, journalist and vlogger Asad Ali Toor was also summoned on accusation of defaming a government institution thorough a social media post. So too, television talk show host, Hamid Mir, was taken off air on May 31 after a speech deemed as critical of the Pakistani military.
 The IFJ said: "The pattern of intimidation of summonsing journalists and putting pressure on media outlets for reporting is a clear harassment tactic used by Pakistan's military to thwart critical reporting against it. We condemn the gross misuse of the power and laws used against journalists. The IFJ urges the involvement of media, unions and human rights groups to strongly condemn this intimidation and to allow the normal functioning of the media."
Written By

IFJ Asia-Pacific
The IFJ represents more than 600,000 journalists in 140 countries.
For further information contact IFJ Asia-Pacific on +61 2 9333 0946
Find the IFJ on Twitter: @ifjasiapacific
Find the IFJ on Facebook: www.facebook.com/IFJAsiaPacific
Comments