Media

Sustainability: Sink or Swim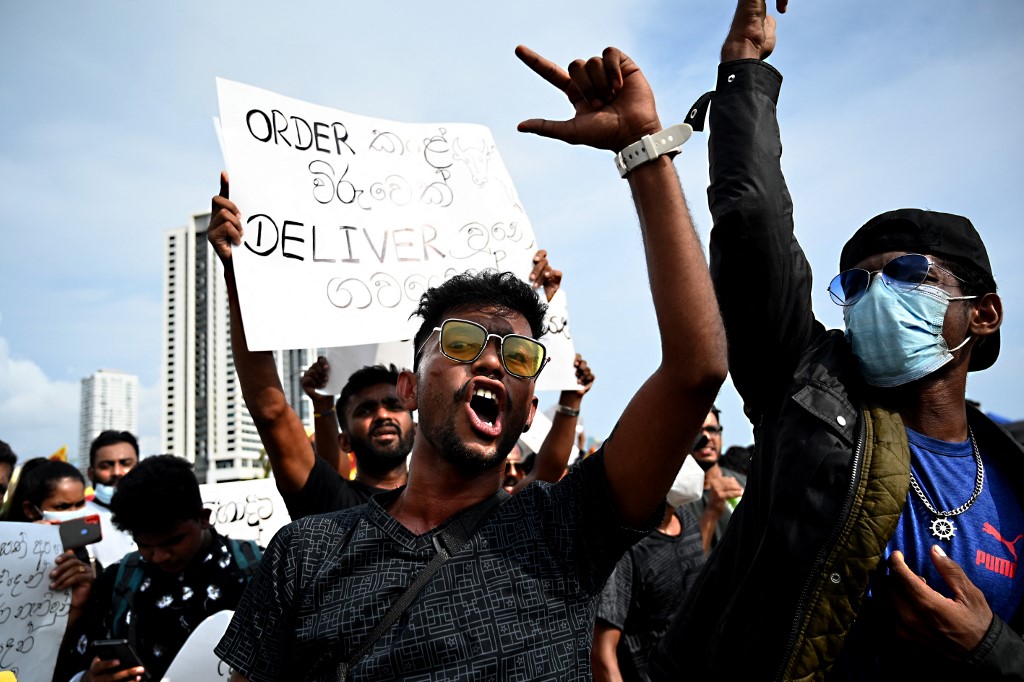 Media workers have come under increased fire from Sri Lankan authorities for anti-government reporting as protesters take to the streets, denouncing a default on Sri Lanka's $51 billion foreign debt announced on April 12, 2022. Credit: Ishara S. Kodikara / AFP
Caught in the maelstrom of Covid-19, South Asia's media found itself navigating rough waters and was confronted by tough choices. Emerging out of the pandemic, legacy electronic and print media had to reckon with the consequences of relying on advertisement-centric revenue models while new digital media organisations struggled to diversify their revenue. Journalists across the board faced job insecurity, layoffs, furloughs (leave without pay) and, too often, worked without safety gear or medical insurance at the height of the pandemic. Only a few organisations did ensure that workers were not laid off, urged them to work from home and offered varying health benefits.
During this period, the media faced declining trust from audiences with misinformation and fake news taking on a new life during the pandemic. Most governments in South Asia remained touchy and intolerant of negative press over their handling of Covid-19. While legacy print and television outlets maintained their presence, even as many shut down bureaus and arbitrarily fired staff, efforts and innovations by smaller digital media outlets showed what might be required for media to sustain itself in an uncertain future. New digital media outlets appeared more sensitive to diversity and inclusion, both regarding news content and staff profiles. The message for media's sustainability is that users need to pay for news and stories that are independent and accurately reflect multifaceted realities.
The following offers a summary of the situation of media in various South Asian countries through the report period.
Afghanistan: Survival at stake
In Afghanistan the challenges were widely different with the media practically decimated by the Taliban takeover in August 2021, which triggered major convulsions in the country.  Media in Afghanistan all but collapsed, as did other institutions. Thousands fled the country. More than 300 media outlets shut down and more than 6,400 journalists are estimated to have lost their jobs since the Taliban took control. The actual numbers are possibly higher. Historically, Afghanistan's media drew revenue from a combination of grants from international donors and government advertising. When the Taliban returned to power, these revenue streams dwindled to a trickle.
The environment for journalism was so risky, that thousands of journalists fled the country. The prospects for Afghanistan's women journalists are particularly worrisome, with the Taliban forcing most of them out of jobs and demanding they stay at home. Reports coming out of the country suggest that fewer than 100 of Kabul's 700 female journalists and a handful of female journalists in other provinces are continuing to work in some way.
"As a journalist who has worked for the country's mainstream media for more than a decade, I do not think the Taliban will allow women to work in the media anytime soon. Afghan women as a whole are still victims of this group's policies," says Ahmad Haris Jamalzada, an Afghan journalist and current affairs manager with 1TV Media.
Even though the Taliban takeover forced journalists to flee the country, some journalists are continuing to work abroad in exile but prefer to keep their identities anonymous for fear of retaliation against friends and family still living in Afghanistan. The future appears deeply uncertain for Afghanistan, its people and institutions – including the media. Far from sustainability and viability, Afghanistan journalists and media organisations are desperately clinging on, hoping just to survive.
Emerging out of the pandemic, legacy electronic and print media had to reckon with the consequences of relying on advertisement-centric revenue models while new digital media organisations struggled to diversify their revenue.
The message for media's sustainability is that users need to pay for news and stories that are independent and accurately reflect multifaceted realities.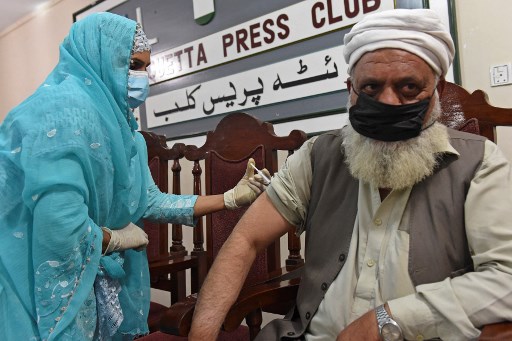 A health worker inoculates a media person at a vaccination camp in Quetta, Pakistan, on May 22, 2021, as the deadly Delta wave of the Covid-19 pandemic wreaked havoc across South Asia. Credit: Banaras Khan / AFP
Pakistan: Unheard voices
The Council of Pakistan Newspaper Editors in its 2021 report on Pakistan's media freedoms noted that the year was an extremely difficult one for journalists, media workers and media organisations. Journalists lost their lives due to the pandemic, some died by suicide because of unemployment woes, several were killed in the line of duty, including Karachi-based social media activist and community journalist Nazim Jokhio, who was abducted and killed. His body was found at the farmhouse of a Pakistan People's Party (PPP) lawmaker in Malir, after he'd published a video of a foreign guest poaching an endangered species.
The financial woes of the big media houses which preceded the pandemic were further aggravated during the crisis. For digital media too, the going was far from smooth. Journalists were reluctant to go out for field work and risk contracting Covid-19, since protective gear, medical insurance and life insurance were not assured.
Coverage of the pandemic naturally dominated, often at the cost of other critical issues. Organisations wanting to report on non-pandemic issues struggled do so. "Most funders were interested in funding only Covid-19 associated projects. But we stuck to our basic niche of focusing on human rights," Xari Jalil, co-founder and journalist at Voicepk.net, said.
Tribal News Network, based in the Pashtun belt of north-western Pakistan, tried to diversify its funding through fellowships with Facebook and Google, investing in the local FM channel, monetising their Facebook and YouTube pages and government contracts. The network also covers news from diverse communities. "The evidence is that we produced news on the impact of Covid-19 on women, children, trans and sick persons who couldn't get the vaccine. We hired a mentor who identifies areas and topics with a special focus on far flung areas that are far away from mainstream media," said Tayyeb Afridi, the network's co-founder and managing editor.
Small digital media organisations like Balochistan Voices have had an even tougher ride. Founder and editor, Adnan Aamir, put his personal earnings from writing for various publications into the organisation, especially after the Pakistan government cracked down on foreign funding.  Aamir is now exploring a membership-based model for revenue where members or readers pay a nominal amount each month. The lack of Baloch representation in Pakistani mainstream media is where the organisation is trying to make a difference.
But practicing journalism in Balochistan is itself a thorny task, fraught with danger and inevitable self-censorship. In Pakistan, the controversial Prevention of Electronic Crimes Act (PECA) has become a tool for repressing freedom of expression of not just journalists, but also ordinary citizens using social media and internet. The government is also trying to impose what is being called centralised censorship and regulation of all forms of media.
Pakistani journalist and analyst Adnan Rehmat observed that, on the brighter side, a group of online news platforms are coming together under the Digital Media Alliance of Pakistan (DigiMAP) and are telling stories from Pakistan's mainstream and margins, highlighting voices and perspectives from women, minorities and segments of the rural heartland that are often ignored or unheard of in TV and print.
Bangladesh: Freedom of praise but not press
Newspapers in Bangladesh saw revenue from advertisements fall sharply during the pandemic as circulation dwindled in the early stages of the Covid-19 onslaught. Employees, including journalists, at some newspapers were forced to bear the brunt in terms of salary cuts, unpaid leave and terminations.
A 2021 report by the Dhaka-based Management and Resources Development Initiative (MRDI) and Fojo Media Institute at the Linnaeus University said: "Precarious business results of most print and TV newsrooms have existed in Bangladesh from before the coronavirus outbreak. TV channels have reduced or ended their news programming, leaving journalists unemployed. Newspapers often reduce wages, delay salary payments and limit support for journalists on assignment. Journalists are often left covering their travel expenses and during the Covid-19 coverage, many journalists were left to find their own personal protective equipment."
Digital media in Bangladesh mostly relies on advertising to support operations. "Subscription, as a source of revenue for news websites, has yet to gain currency in Bangladesh," the MRDI report stated.
While media houses like the Dhaka Tribune tried to help their employees during the pandemic, its editor Zafar Sobhan fears that often, it isn't enough in tough times like these. "We already had health insurance and pension benefits prior to the pandemic. We were very liberal allowing work from home and subsidized our staff to the extent possible." 
In terms of future viability of Bangladesh media, Sobhan says: "I think the only viable model for the future is to have a small, very highly efficient team and focus on doing a few things well. The days when we could afford to have dozens of reporters and aspire to cover everything are no longer feasible from a financial viewpoint. It is going to have to be quality, not quantity." Sobhan also thinks that the pandemic accelerated many trends that were already in place, such as decentralised newsrooms and digital transformation.
A disturbing trend that became evident during the pandemic was the government's use of the Digital Security Act (DSA) to arrest critics, especially those speaking up against the government's treatment of the pandemic. "In Bangladesh, one has freedom of praise, but not of press," Toufique Imrose Khalidi, editor-in-chief of bdnews24.com said. While bdnews24.com has received a spate of legal notices for its reports about the dealings of an influential family, the defamation charge against Khalidi was dismissed by a Khulna court.
Tribal News Network, Pakistan produced news on the impact of Covid-19 on women, children, trans and sick persons who couldn't get the vaccine, hiring a mentor to identify areas and topics with a special focus on remote areas that are far away from mainstream media.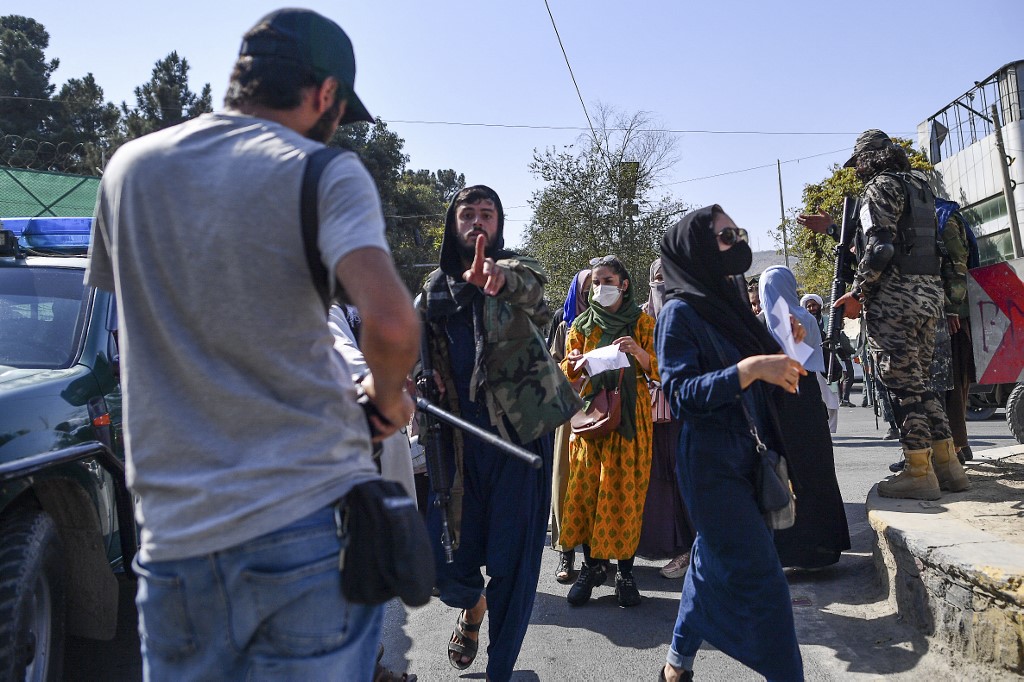 A Taliban member threatens journalists amid a crackdown on coverage of a women's rights protest in Kabul on October 21, 2021, where several media workers were beaten. Credit: Bulent Kilic / AFP
India: Future tense
In India, which is home to some of South Asia's biggest media brands, the situation remained grim. Media organisations had already set in motion a series of retrenchments, wage cuts, delays in salary payments, enforced furloughs (leave without pay) and closures. Though the pandemic served to intensify media layoffs, it was already a trend which preceded it.
In shocking instances, some organisations forced employees to report for work even at the height of the deadly second wave of Covid-19. When employees were allowed to work from home, some media companies imposed 10-30 per cent pay cuts.  Indian newspapers which grew on the back of advertising, a model which had become increasingly problematic, faced a disastrous situation through the pandemic.
New media start-ups, many of which mushroomed in the past decade, tried to innovate to the needs of the pandemic, while balancing precarious finances. Podcasting platform Suno India launched two-minute daily audio bulletins on Covid-19 developments, rules and regulations over communication platforms WhatsApp and Instagram. "We used technology to the hilt to get good reported stories out, such as recordings over WhatsApp" Suno India co-founder DVL Padma Priya said.
At a time when public trust in media declined as whole, The News Minute co-founder, Dhanya Rajendran, said the pandemic was an opportunity for the outlet to help build public credibility.
Rajendran has a strong message for editorial independence and sustainability: "Don't depend fully on advertising because you never know when that stream will dry up. Never accept money from the government, even if it's for a 'good cause' — government funding is a slippery slope."  The way forward then, is to depend on audiences to run independent media organisations. The News Minute, which suffered an advertising revenue hit, started an 'audience revenue programme' in the form of a membership drive in April 2020.
The organisation has proactively hired Dalit, Muslim, Christian and queer staff. "We want to build a space that has diverse voices with lived experiences leading and shaping the discourse," Rajendran says.
So too, the People's Archive of Rural India (PARI) has made efforts to improve representation in the media. The organisation supports and generates journalism by and from Dalits, Adivasis, poor women, and other marginalised groups. Dalits and Adivasis are represented in PARI fellowships, and more than half its fellows are women.
PARI which does not accept advertisements, felt challenged to keep its content free during the pandemic and experienced difficulties with building a corpus. As a charitable trust, without a registration under the Foreign Contribution (Regulation) Act, PARI cannot accept overseas funds. It relies on volunteer labour, public donations, socially oriented foundations, a few high-net-worth individuals, trustees' own contributions, and donations of material (cameras, laptops, software, and other hardware). PARI did not "sack a single journalist, actually recruited new people and gave every staffer, barring the top three, salary raises for their performance in covering the pandemic," said P. Sainath, PARI's founder and editor.
According to Prabir Purkayastha of DIGIPUB, a grouping of Indian digital news organisations, a significant problem ahead is the domination of news platforms by big tech companies like Facebook and YouTube, "We are dependent on them for views. But big tech is not neutral, and their algorithms can end up censoring certain kind of news. There are very few instruments available to combat them. This will be a major problem going forward, in addition to monetary sustenance and an oppressive government."
The News Minute, India, has proactively hired Dalit, Muslim, Christian and queer staff in order to build a space that has diverse voices with lived experiences leading and shaping the discourse.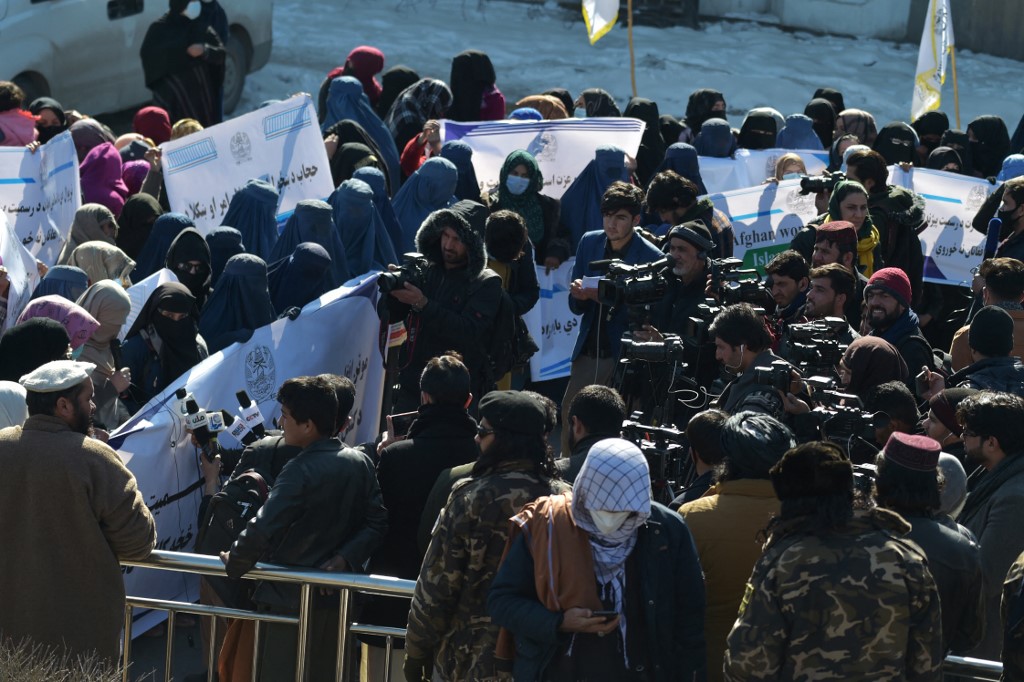 Journalists cover a women protest in support of the Taliban regime in front of the US embassy in Kabul on January 26, 2022. Credit: Wakil Kohsar / AFP
Nepal: Pressure across the spectrum
Like other countries, Nepali media too was hit hard by the pandemic.  According to the Advertising Association of Nepal, approximately 80 per cent of revenue was lost in print media, 70 per cent in radio and television, and 45 per cent in online news portals.
"At least 18 broadsheet newspapers published from Kathmandu suspended their print publications and resumed after weeks and months with limited coverage and circulation. Some shifted to a digital-only format and some others were closed forever. Several radio and television channels slashed their production and broadcasts owing to the increased restrictions on the mobility of journalists and a hostile working environment in the newsroom," Bhanu Bhakta Acharya, a research scholar on media ethics and communication policy, wrote in the Kathmandu Post.
An assessment by Freedom Forum Nepal showed that 3,190 journalists across the country lost their jobs, and thousands worked at a lower wage or without pay. Journalists affiliated to local and regional media houses in different districts fared even worse.
The digital transition of Nepal's newspapers, such as those at Kantipur Publications, intensified during the pandemic, in what has been labelled as 'uncertainty-driven innovation'.
Online media organisations like Deshsanchar.com and others faced considerable financial crisis when advertising revenue drastically declined.  "We had made up our mind that there would be no staff retrenchment and wage-cuts. Survival was the big question. We were determined that we would not fire our staff who struggled to give the organisation a credible existence," Yubaraj Ghimire, Editor of deshsanchar.com said.
Nepali media were subject to various kinds of political pressures during the pandemic, which set the tone of control and regulation in the coming year. In early 2020, Kathmandu Post re-published an article raising questions about China's secrecy about the spread of the Covid-19 virus. The Chinese embassy in Kathmandu released a statement criticising the article.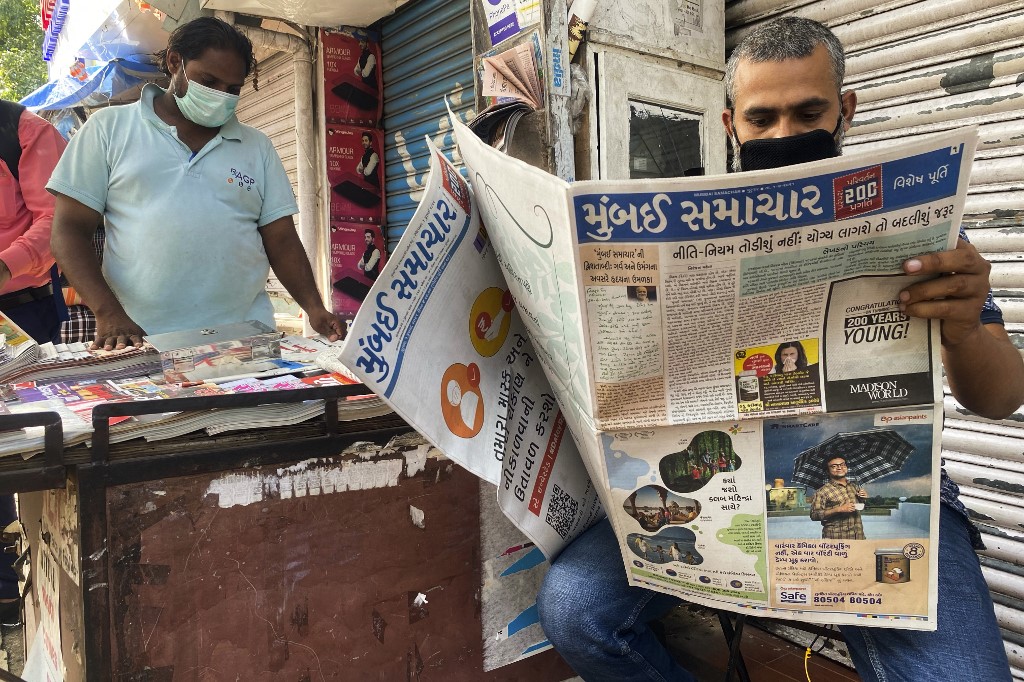 A man reads the 200th year anniversary edition of the Mumbai Samachar newspaper, Asia's oldest newspaper in print. The paper has survived two world wars, the fight against colonialism, global financial slumps and an international pandemic that shuttered many media outlets. Credit: Indranil Mukherjee / AFP
Sri Lanka: Skewed pandemic news
Sri Lanka's journalists confronted many difficulties during the pandemic. According to a 2021 report by the International Media Support (IMS), 'Covid-19 and the media: A pandemic of paradoxes', which surveyed pandemic-stricken media in various countries, the Rajapaksa brothers in power ordered the police to arrest anyone who criticised or highlighted shortcomings of the government in its response to the pandemic.  The country's political fault lines were exacerbated and anti-Muslim hate speech began doing the rounds. The media development organisation observed: "This time the nationalist media are trying to implicate Muslims… of being 'super-spreaders' of the virus. Racist content and ultra-nationalist editorial positions are found in both Sinhala and Tamil languages, and sometimes also in English. They reflect the stark reality of Sri Lanka's mass media where most media outlets with high audience reach have been captured either politically or ideologically."
However, narratives by legacy media were challenged by digital media start-ups and media monitors which tracked biases, inaccuracies and ethical breaches in high-reach broadcast channels and newspapers. But the reach of digital media has its limits because many Sri Lankans still depend on television and radio for news.
The 2021 IMS report also highlighted job losses in several countries, including in Sri Lanka: "We had to let six members of staff go," Hana Ibrahim, the founding editor of Sri Lanka's Ceylon Today and now editor of the Daily Express was quoted. "I've only got five staff left, three on contracts and two freelancers. Every time there was a lockdown, we had to cancel our print edition as it could not be delivered and this hit our advertising revenues very hard. We now have a greater digital presence."
Journalists and media workers had to deal with issues such as pay cuts, health issues, and the loss of access to proper health care. The Free Media Movement Sri Lanka (FMM) observed that there is no evidence that any media outlet in the country has implemented a well-established Covid 19 response plan to protect its employees.
Uncertain future
What is clear and evident from the country assessments is that the pandemic has struck a devastating blow to media across South Asia. Legacy media houses heavily dependent on government and corporate advertising were affected as these revenues dried up in the initial months of the pandemic. Employees bore the brunt with many laid off arbitrarily or forced to work without adequate protection. Some media outlets did, however, ensure that their employees were not laid off and were also given the option to work from home. A few even helped with medical expenses of treating Covid-19, especially where hospitalisation was required.
With regular sources of funding becoming scarce, alternative media and new digital outlets have tried to adopt creative ways to raise funds without compromising on editorial independence. While some managed to ride out Covid-related difficulties, not all survived. Many witnessed shutdowns – some permanently. Governments, on their part, too often adopted an aggressive approach when criticised by the media for their handling of the pandemic.
The future for media in South Asia is likely to continue to be rocky and uncertain. Governments are expected to subject media and journalists to greater control and monitoring. Media struggling to maintain editorial independence from not only governments and corporations, must also navigate the complications resulting from dependence on big tech platforms like YouTube and Facebook for views and circulation.
Meanwhile, trust in the media has plunged to an all-time low as job insecurity continues to bog down affected journalists and employees. On the positive side, a handful of digital media outlets across the region operating with small budgets and teams including freelancers are endeavouring to show the way forward for media freedom, credibility and sustainability.