Press Statement
IFJ urges Maldives' president-elect to guarantee press freedom
24 Sep, 2018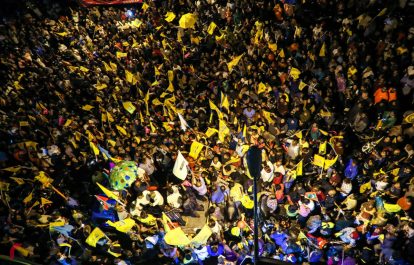 Maldives Democratic Party (MDP) candidate Ibrahim Mohamed Solih has won the 2018 Maldives presidential election beating incumbent president Abdulla Yameen. The International Federation of Journalists (IFJ) congratulates president-elect Solih and urges him to fulfill his election pledges to ensure press freedom and independence of media.
In a press statement on September 24, the Ministry of Foreign Affairs said that 'the Elections Commission of Maldives has announced provisional results of the elections to elect the President of the Maldives, for the next five years' and that 'Solih won the election having received 134,616 votes'.
President Yameen, the candidate of the Progressive Party of the Maldives, received 96,132 votes after 89.22 percent of voters cast their votes on September 23 election. According to election law of the Maldives, the official result will only be announced after a verification process of all ballot boxes, but it must be announced within seven days.
During the campaign, Solih pledged to 'open investigations into journalist Ahmed Rilwan's disappearance, blogger Yameen Rasheed's murder, repeal the draconian anti-defamation act and ensure press freedom'.
Yameen Rasheed, a 29-old critical blogger and social media activist advocating for rule of law, human rights and social justice, was brutally murdered on April 23, 2017.
On August 9, 2016, the Maldivian Parliament passed the Anti-Defamation Act that criminalizes defamatory speech, remarks, writings and actions; and empowers the state authority to shut down media for its 'defamatory' contents. The law includes a fine between MVR 25,000 (US$1,621) to MVR 2million (US$130,000) or up to six month of imprisonment. Opposition aligned Raajje TV has been repeatedly fined under the law.
Journalist Ahmed Rilwan Abdulla has been missing since August 8, 2014. The investigation into his disappearance has remained slow without substantial progress, and accusations of cover-ups and negligence by the police, with an Al Jazeera documentary pointing fingers at President Yameen's role.
The IFJ said: "We congratulate Maldives' president-elect Ibrahim Mohamed Solih on his victory. We take this opportunity to remind him of his election pledges to support press freedom and urge him to see these through. The change in government is an opportunity for reform in the Maldives, to end the culture of impunity for crimes against journalists with the investigations into the disappearance of Ahmed Rilwan and the murder of Yameen Rasheed.  The media in the Maldives must be able to work freely, independently and fearlessly."
Photo: People on the streets in Male, Maldives celebrate the win of Maldives Democratic Party candidate Ibrahim Mohamed Solih. Credit: Raajje/Mohamed Sharuhaan
Written By

IFJ Asia-Pacific
The IFJ represents more than 600,000 journalists in 140 countries.
For further information contact IFJ Asia-Pacific on +61 2 9333 0946
Find the IFJ on Twitter: @ifjasiapacific
Find the IFJ on Facebook: www.facebook.com/IFJAsiaPacific
Comments