Press Statement
India: Government intensifies clampdown to media over Covid-19 reporting
26 May, 2020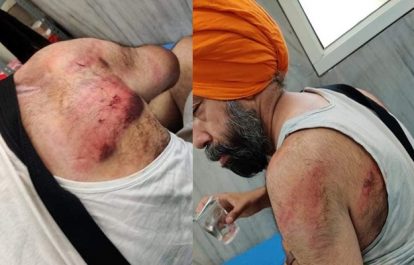 As arrests, attacks and harassment of  journalists continues over their reports on the government's administrative failures in  handling Covid-19,  the National Union of Journalists( India)  (NUJ-I) has sent a letter to the Indian Prime Minister Narendra Modi requesting authorities respect journalists' rights. The International Federation of Journalists (IFJ) expresses solidarity with its Indian affiliate and demands the Indian government stop these undemocratic attacks.  
IFJ has documented a spate of arrests and cases of harassment against journalists in different states of India over their coverage of the pandemic and exposing administrative failures in dealing with the health crisis. In Punjab, journalist Major Singh Punjabi from the Rozana Pehredar newspaper was severely beaten on May 22 by officers at the Mohali police station. On the same day, a First Information Report (FIR) was filed against journalist Jai Singh Chibber,a reporter from the Punjabi Jagran newspaper.
In Kashmir, Fahad Shah, founding editor of The Kashmir Walla was summoned by Srinagar cyber police station on May 20 for his article which covered the destruction of 15 homes during the gunfight between militants and government forces.  Earlier police in Srinagar had filed separate FIRs against Kashmiri photojournalist Masrat Zahra and journalist Gowhar Geelani on April 18 and April 21 respectively. And, cyber police in Srinagar questioned journalist Peerzada Ashiq on April 19.
In Uttar Pradesh, the state government filed a FIR against Today 24 news journalist Ravindra Saxena on May 18 and arrested  The Wire editor Siddharth Varadarajan on March 31. In Gujarat, Dhaval Patel, the editor of Gujarati Face of Nation news website, was arrested on May 11 and charged with sedition.
In Tamil Nadu, Andrew Sam Raja Pandian, the founder of SimpliCity, a bi-lingual news portal  was arrested on  April 23. A reporter of Sun TV, Damodaran was arrested at Minjur of Thiruvallur district on April 8, 2020. On May 11, Delhi police summoned Delhi based Indian Express reporter Mahender Singh Manral over his news reports about the alleged doctoring of an audio clip attributed to Tablighi Jamaat chief Maulana Saad . On May 23, police from Safdarjung police station stopped journalist Navin Kumar, Aaj Tak from reporting. Also, during the lockdown, Himachal Pradesh journalists Jagat Bains, Om Sharma, Ashwani Saini faced FIRs and harassment for allegedly violating the Indian Penal Code and the Disaster Management Act for their coverage during the Covid-19 lockdown.
The NUJ-I said: "Attacks on journalists for their report exposing the administrative loopholes makes a mockery of a democratic country. We want the Indian PM's attention on this issue."
The IFJ said: "Incidents of arrest, attack, harassment of the journalists for their reports is  against the principle of freedom of press and expression. IFJ urges the Indian authorities to take necessary measures to safeguard journalists. "
Written By

IFJ Asia-Pacific
The IFJ represents more than 600,000 journalists in 140 countries.
For further information contact IFJ Asia-Pacific on +61 2 9333 0946
Find the IFJ on Twitter: @ifjasiapacific
Find the IFJ on Facebook: www.facebook.com/IFJAsiaPacific
Comments