Press Statement
South Asia: Fourteen murders in 2020, impunity rife
02 Nov, 2020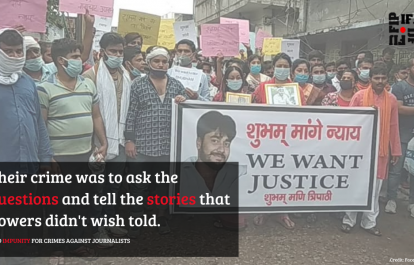 Corruption, weak institutional mechanisms, lack of political will are key factors the IFJ documented as major reasons that results on denial and delay of the justice on crime against journalists in South Asia. The International Federation of Journalists (IFJ) and South Asia Media Solidarity Network (SAMSN) condemn the ongoing murder of journalists in 2020 and call on South Asia's governments to expedite investigation of attacks on journalists and strengthen protections for journalists.
 Despite 14 journalist murders in the region in targeted killings, cross fire attacks and bombings, most remain unresolved. The toll includes seven Pakistani journalists murdered in the year to date, three journalists in Afghanistan, three in India journalists and one journalist in Bangladesh. The latter, Elias Mia, a correspondent of Daily Bijoy, was hacked to death on October 12 by miscreants in Narayanganj district for allegedly exposing a criminal nexus in gas line distribution.
 Police investigations underway in these cases, too often the investigations are slow and inconclusive, the IFJ said. For instance, although family members of Pakistani Journalist Anwar Jan who was shot dead on July 23,   accused Abdul Rehman Khetran, the minister for food in the Baluchistan province, of ordering Jan's murder in retaliation to his investigative reporting and social media activism, no concrete progress on the case is reported yet.
The tragic murder of Pakistani journalists Aziz Memon, who was found in an irrigation canal with a wire around his neck in February, should have had swift justice. Instead, police initially took it as an accidental death or suicide case.
In Memon's case, it was one of the rare cases that was partially resolved in the year. If not for the determination of Memon's bereaved family, who strongly believed that he was murdered, his case gained momentum. Citing the threats he had been receiving from unknown people before his death, his family was joined by the journalist community across the Sindh province who expressed solidarity with them and demanded a fair probe. Surrendering to mounting pressure, a joint investigation team (JIT) was formed and concluded it was a well-planned murder.  By May, three suspects – Nazeer Sehto, Ameer Sehto and Farhan Sehto – were presented to a produced in a court in Kandiaro town on Friday (today) and one of them, Nazeer Sehto, gave his confessional statement before the judge. However, the prime suspect and alleged mastermind, Mushtaq Sehto, and four other alleged accomplices remained at large.
The murder of Wall Street Journal reporter Daniel Pearl in 2002 and subsequent conviction of the perpetrators of that crime long hailed as a too rare triumph against an entrenched climate of impunity, by contrast suffered a significant set-back. In April, the Sindh High Court overturned the murder convictions of four men accused in the killing. The Pearl family and the Sindh provincial government appealed to the Supreme Court of Pakistan on May 2.
 In the Maldives, while there were great hopes for the resolution of the long-running cases involving the murders of journalists and bloggers Ahmed Rilwan in 2014 and Yameen Rasheed in 2017, 2020 failed to deliver long-awaited justice. Eelection promises from the Maldivian government from 2018, to date, remain unrealised.
Many of the accused involved in the killings and attacks in South Asia are from armed militant groups, government agencies, security forces, political party members, religious sects, student political groups, criminal gangs and local mafias among others.
The IFJ along with its affiliates is campaigning End Impunity for Crimes against Journalists aiming to hold governments and de facto governments accountable for their record on tackling impunity. The campaign will run from November 2 to November 23. See the campaign here .
SAMSN said:  "Governments and authorities are failing journalists and, by default, they are failing democracy. When journalist killers go unpunished, impunity runs rife and killers roam free. The overall impact on the public's right to know cannot be measured. One life, silences a whole society in ways that cannot be calculated."
 The IFJ said: "The IFJ denounces the lack of political will to prosecute all crimes against journalists. On the occasion of International Day to End Impunity for Crimes against Journalists, the IFJ and its South Asia affiliates urge government to expedite the impartial and timely investigation on crime against all the journalists and to ensure justice is swiftly."
Written By

IFJ Asia-Pacific
The IFJ represents more than 600,000 journalists in 140 countries.
For further information contact IFJ Asia-Pacific on +61 2 9333 0946
Find the IFJ on Twitter: @ifjasiapacific
Find the IFJ on Facebook: www.facebook.com/IFJAsiaPacific
Comments