Out of the abyss
The region began a slow recuperation from an eventful post-Covid year – with the media in Afghanistan grappling with the new normal post-Taliban takeover and the Sri Lankan media adjusting to severe cuts following the economic crisis that crippled the country in 2022. Press freedom continued to be a major concern in Pakistan despite the ouster of an authoritarian regime and the installation of a prime minister who promised more independence to the media.
The electoral process in messy democracies in the region saw restrictions on the media in Nepal and parts of India, while the Bhutanese media was confronted by barriers to access information. Religious extremism and polarisation dogged the media in Bangladesh and Maldives. The erosion of autonomy due to corporate take-overs of independent media was the most visible in India, which also topped the global list for the highest number of internet shutdowns for the fifth consecutive year.
Even as the media was forced to confront the growing influence of Artificial Intelligence (AI) in the digital media space in particular and create robust editorial filters to tackle the challenge posed by tools like ChatGPT, the time-tested methods of controlling independent media remained a concern.
Thirteen journalists lost their lives in the line of duty, while journalists were subjected to 140 targeted attacks from various quarters: governments, politicians, mobs, militants and vested business interests.
The parcel bomb attack by the Islamic State at an event on March 11, 2023, celebrating Afghanistan's National Journalist's Day at the Tabian Cultural Centre in Mazar-e-Sharif killing two journalists and injuring at least 30 more, brought to the fore the extreme risks that Afghan journalists continue to face.
The mysterious and brutal murder of senior Pakistani journalist Arshad Sharif in October 2022 in Kenya and the lack of transparent investigation into his murder underlined the impunity with which perpetrators escape the wheels of justice.
And yet, Pakistan missed an opportunity to operationalise the landmark Protection of Journalists and Media Professionals Act (2021), the first ever country in Asia to legally guarantee the safety of journalists, as Prime Minister Sharif failed to notify the safety commission under the law to start delivering safety and justice to journalists.
A report measuring Pakistan's progress in implementing the UN Plan of Action on Safety of Journalists and Issues of Impunity in December 2022 showed that Pakistan had only partly delivered on promises to protect its journalist community, mostly through efforts by civil society, media and the UN since 2012, but emphasised the need to effectively implement new laws to ensure perpetrators of attacks on journalists were held to account.
Thirteen journalists lost their lives in the line of duty, while journalists were subjected to 137 targeted attacks from various quarters: governments, politicians, mobs, militants and vested business interests.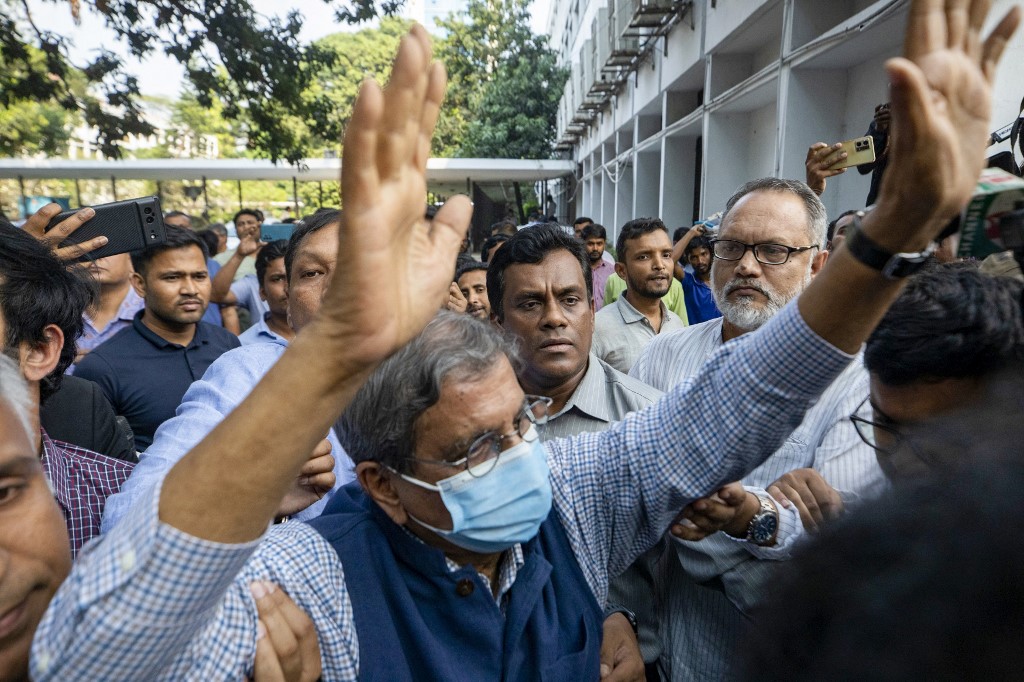 Prothom Alo editor Motiur Rahman appears in Bangladesh's High Court in Dhaka on April 2, 2023 before being granted bail for two charges under the Digital Security Act (DSA) in relation to a March 26 article. The DSA has been criticised as a tool to weaken and control dissent, and a threat to freedoms of the press and expression. Credit: AFP
Survival Mode
In Afghanistan, the media, and particularly those operating in the provinces, learned to avoid reporting directly on sensitive issues, whether women's rights or the anti-Taliban insurgency in Panjshir. Nevertheless, journalists are valiantly doing their jobs, reporting about health, agriculture, and the economy; educational programs, innovatively framing arguments in Islamic terms, or citing UN reports, and offering critiques undermining Taliban narratives. In an emerging "hybrid local-international" model, anonymous in-country contributors are continuing to feed information to journalists abroad who author important stories for the country.
Scores of Afghan media outlets became dysfunctional as they lost donor support and advertisement revenue and struggled to survive amid a shattered local economy. Estimates put the figures of functioning media in Afghanistan at only 192, out of 579 previously operating media houses in the country. Less than half of the 476 radio networks are still functioning. Media houses are unable to pay salaries, and Taliban strictures against women working saw about 80 per cent of women journalists lose their jobs in the radio sector alone.
Advertising by state-owned enterprises in the Maldives was used as leverage, begging questions about fair allocation and consequently, the independence of the media. In early 2022, the president's office was revealed to have distributed more than MVR 1 million (USD 64,000) for positive coverage of government projects.
Amid an economic crisis, the number of journalists leaving Bhutan for better opportunities is higher than ever before. Consequently, newsrooms in the tiny kingdom are stretched to their limits, impacting both the quality of journalism and work-life balance.
In India, the pandemic years saw massive retrenchments, but mostly under the radar. The magnitude of the layoffs was revealed only when journalists began to share termination letters on social media. Most of those who lost their jobs were not reinstated even after advertisement revenues stabilised in the post-pandemic period. Court battles too seemed hopeless, given the dilution of the Working Journalists Act, which offered a modicum of legal protection against such arbitrary dismissals.
In Nepal, the Federation of Nepali Journalists received more than 64 employment-related complaints in the last year and a half from journalists working in the mainstream media. A major complaint was non-payment of pending wages. In early 2023, a significant breakthrough came when the Labour Court froze accounts of Kantipur Media Group, the biggest publication house, while deciding on a case filed by a staffer.
The health of the media industry in Pakistan continued to decline as audiences from broadcast media – television and radio – switched to digital media. The number of journalists shrank by about 45 per cent amid ongoing widespread job uncertainty. A case filed by the Pakistan Federal Union of Journalists (PFUJ) to review laws regarding job security, irregular wages, personal security, illegal terminations etc continues to be heard in the Islamabad High Court. Meanwhile, many prominent Pakistani journalists shifted to social media sites like YouTube to carry on their journalism.
The economic and political crisis in Sri Lanka caused shortages of fuel, printing materials, and the suspension of imports of printing machines and spare parts, which severely impacted the media. Newspapers reduced the number of pages, hiked prices, and suspended certain editions due to paper shortage.
According to the World Food Program (WFP), 33 per cent of households in Sri Lanka were facing acute food insecurity in December 2022, with 68 per cent limiting portions and reducing the number of meals eaten per day. Media workers were not immune to the economic crisis. Low pay and job insecurity have long dogged journalists in Sri Lanka, but there has undoubtedly been a further downslide amid the economic chaos. A survey conducted in 2022 by Free Media Movement (FMM) found that 50 per cent of the respondents earned less than LKR 15,000 (USD 41) per month.
Estimates put the figures of functioning media in Afghanistan at only 192, out of 579 previously operating media houses in the country.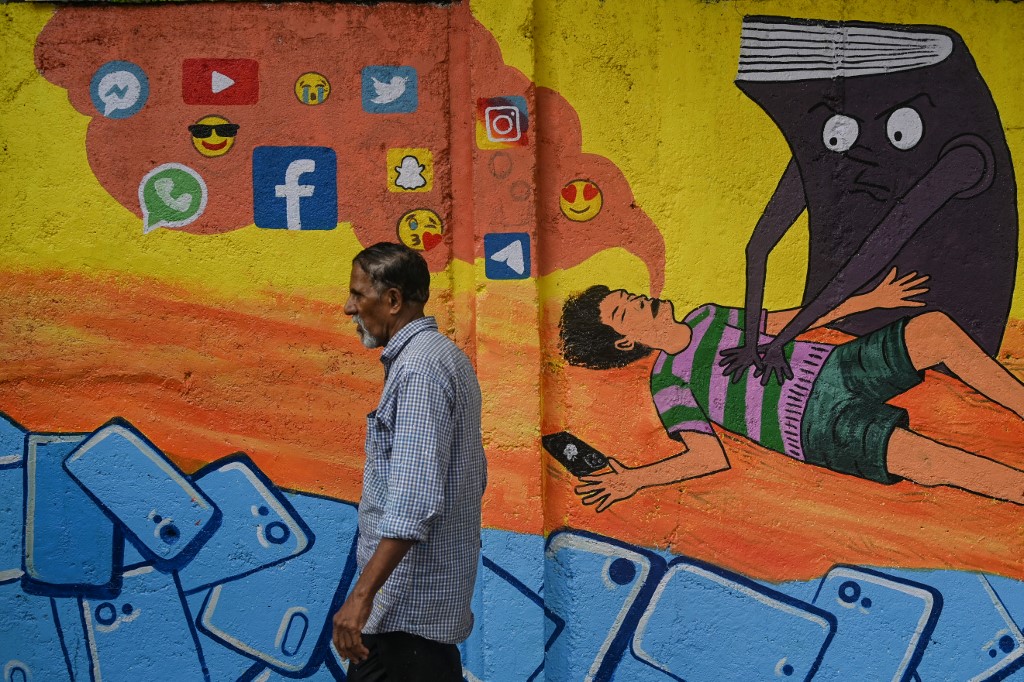 A man walks past a mural depicting a teenager afflicted with a social media addiction in Mumbai on November 25, 2022. According to digital rights organisation Access Now, India has led the world in internet shutdowns since 2018. Credit: Indranil Mikherjee / AFP
Violence and impunity
The impunity for crimes against media practitioners continued, taking newer twists.
The UNESCO Observatory of Killed Journalists flagged 11 unresolved cases of murdered journalists in Bangladesh alone. The list has a total of 26 journalists, including some bloggers, killed between 2004 and July 2022.
The Freedom Network's Annual Impunity 2022 report released in November revealed that 53 Pakistani journalists were killed between 2012 and 2022 but the perpetrators were convicted in only two of these cases. One in every five murdered journalists in Pakistan reportedly failed to get justice because of shoddy police investigations, which prevented the cases from going to trial.
The mysterious murder of senior Pakistani journalist Arshad Sharif seized the parliament, the judiciary and the military, but the perpetrators have yet to be identified. Shot dead on October 23, 2022, while driving to Nairobi in Kenya, Sharif had fled the country following various threats. To date, there has been no clarity on what really happened, who was to blame, and how his family can get justice.
Journalists in Afghanistan faced continued threats, arrests and violent treatment, mostly carried out by the Taliban, especially the security forces and employees of the Intelligence Department. Studies showed that the level of violence against the media and journalists increased by 138 per cent in 2022.
Meanwhile, the attack on March 11, 2023, in Balkh in the north of Afghanistan, showed the insecurity with which journalists in the country operate. The explosion in Tabian Cultural Center, in a gathering of journalists where many were supposed to be honoured for their work, killed two journalists and injured 30 others. Hossein Naderi, a reporter, and Akmal, a journalist student, lost their lives in this attack for which ISIS claimed responsibility.
In June 2022, three suspects were arrested in connection with the abduction of Maldivian journalist Ahmed Rilwan after a breakthrough by the presidential commission on deaths and disappearances. After a four-year investigation, the commission presented its final report to President Solih in December 2022. The commission concluded that Rilwan was taken out to sea, beheaded and his body sunk, and accused the previous government of allowing six suspects to flee to Syria.
Journalists who covered anti-government protests in Sri Lanka faced attacks and assault.
More than half of the respondents in a survey conducted by FMM said they faced safety and security issues during their work. Significantly, 71 per cent of them said that they were not satisfied with the way their media institution had intervened in such issues.
The murder of Lasantha Wickrematunge and the enforced disappearance of Prageeth Ekneligoda are two prominent cases that remain judicially unresolved despite strong evidence to suggest the involvement of the Sri Lankan military and political leaders at the time. Both cases are pending in the courts for more than a decade, underlying the impunity for perpetrators of crimes against journalists.
In June 2022, three suspects were arrested in connection with the abduction of Maldivian journalist Ahmed Rilwan after a breakthrough by the presidential commission on deaths and disappearances.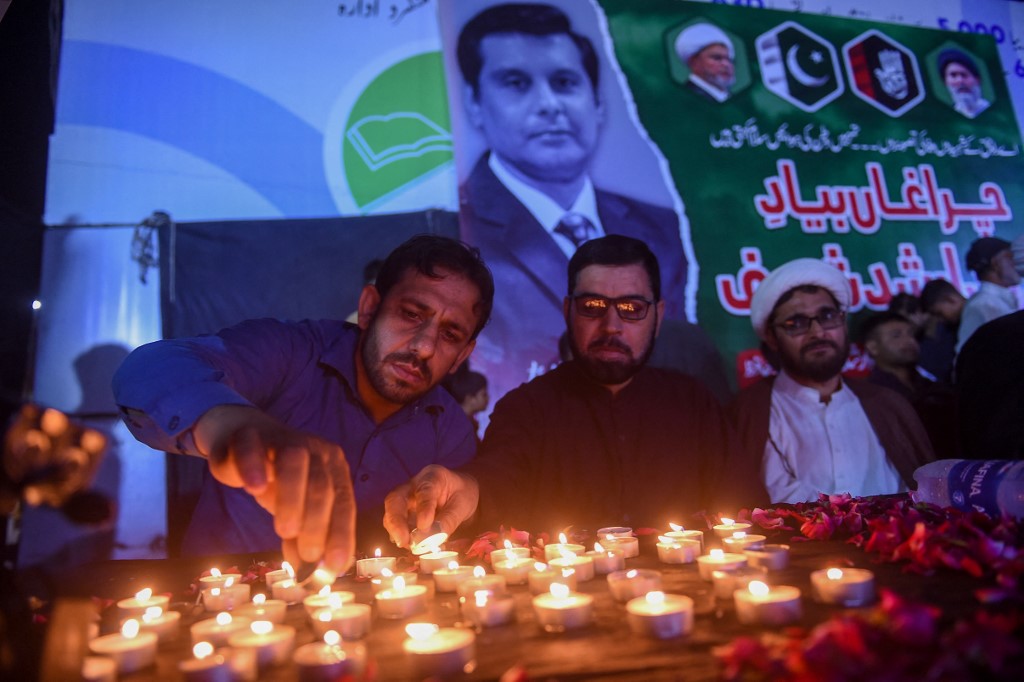 Members of the Shiite Uleme Council light candles in a memorial for slain journalist Arshad Sharif on October 29, 2022. Discourse and investigations into Arshad Sharif's October killing have been marred by misinformation, diplomatic failings, and impunity. Credit: Rizwan Tabassum / AFP 
Combatting misinformation
The increasing role of technology – mediated through big tech companies – in shaping news, and propagating 'fake' news, is a concern that has yet to be prioritised. Control and manipulation by big tech, with little accountability to users, seem to be in synergy with authoritarian regimes in South Asia that restrict freedom of expression online.
In India, the concentration of legacy media houses in the hands of a few corporate houses saw the simultaneous boom in social media propagation of 'news'. This unregulated and free-for-all space was systematically planted with propaganda. The weaponsisation of social media, particularly WhatsApp, by political parties was rife.
Sophisticated production of misinformation to mimic news reports surfaced around election time in Nepal. While some YouTube channels in Nepal formed an association and committed themselves to follow self-imposed ethical guidelines, others continued to produce content lacking in credibility, prompting the Press Council of Nepal to recommend action against 34 YouTube channels in July 2022 for violating the code of conduct.
Research by Freedom Network in 2023 revealed how Pakistani journalists are negatively affected by online disinformation. Around 60 per cent of the journalists surveyed said disinformation had increased their risk of getting deceived by fake social media posts during online newsgathering. In addition, most women journalists (56 per cent) surveyed said they were targeted with gendered disinformation campaigns, which caused them physical, psychological or reputational harm.
Sharp cleavages 
The region saw growing schisms between communities and along religious lines. Hard-line positions got more entrenched, endorsed by those in power. This polarisation was inevitably reflected in the media, and in some cases, the media also fuelled these differences.
In India, a section of the media was identified as being pro-government while others were labelled hostile or "anti-national" and subjected to harassment in various forms, including being foisted with criminal cases.
Religion continues to be a sensitive topic in the Maldives, where the Communications Authority of the atoll nation regularly blocked websites with content deemed to be anti-Islamic. The fear of being labelled "secularist" or "anti-Islamic" prompts journalists and editors to practice self-censorship. Even though memories of the gruesome murder of blogger Yameen Rasheed in 2017 are still fresh, a further reminder of the risk came in February 2023 when a comment posted on Facebook called for the death of Vaguthu journalists in response to articles about extremism in Addu City.
Religious polarisation of politics in Pakistan also found expression in violations against the media. The booking of a journalist under the blasphemy law for allegedly defaming Islam by reporting remarks ascribed to former prime minister Imran Khan saw widespread condemnation by journalists' unions and civil rights groups. In February 2023, the president of Digital Media Alliance Pakistan (DigiMAP), faced death threats and was hounded on Twitter for defending the rights of religious minorities and law enforcement agencies arrested and charged 62 social media users with posting 'blasphemous' material and propagating alleged hate speech.
There is a growing realisation about how disinformation is adversely impacting the country's socio-political milieu and contributing to political conflicts and media crises.
Members of Bangladesh's transgender community hold a demonstration outside Dhaka's national press club on May 12, 2022, protesting for equality. In Bangladesh, minority groups and women are poorly represented in newsrooms and often face harmful coverage. Credit: Syed Mahamudur Rahman / NurPhoto via AFP
Long arm of the law
The overreach of law by enforcement agencies in India deployed by the government to conduct raids, searches and "surveys" on intransigent media houses marked the period under review. On October 31, 2022, the police conducted searches at the homes and offices of the editors and a reporter of independent news website The Wire following a complaint by the national spokesperson and head of the party IT cell of the ruling party. The Editors' Guild of India termed the "surveys" as "excessive and disproportionate".
In February 2023, Income Tax authorities raided the offices of the BBC in Delhi and Mumbai citing income tax violations. However, the provocation for the raids appeared to be the release of a two-part documentary series titled "India: The Modi Question" critical of Prime Minister Narendra Modi. The government blocked the documentary and anyone found screening it was penalised.
Another routinely used method of harassment was to file multiple First Information Reports (FIRs or police complaints) against journalists for the same offence across states. Many journalists were arrested under the draconian National Security Act, or Unlawful Activities (Prevention) Act (UAPA) which saw them incarcerated without trial or bail for long periods.
In India, the upholding of press freedom by the judiciary in some cases was welcome. The Supreme Court on April 5, 2023, quashed the Centre's telecast ban on news and current affairs channel, MediaOne, declaring that an independent press is necessary for robust democracy.
Another ray of hope in India was the order passed by the Supreme Court in May 2022, putting the contentious sedition law on hold and asking the Union and state governments not to register any fresh case invoking the offence.
The Lahore High Court on March 30, 2023, went a step further and struck down the colonial era Section 124-A of the Pakistan Penal Code, or the "sedition law", which had routinely been used as a tool to silence journalists, activists and politicians in the opposition.
June 2022 saw the enactment of the Evidence Act in the Maldives, that allows courts to compel disclosure of anonymous sources. Journalists who refuse to reveal the identity of a source could be jailed for up to three months. Concerns shared by the Maldives Journalists Association (MJA) and the media council went unheeded. Following consultations with media rights organisations, the government proposed amendments in September 2022 to more clearly specify terrorism and national security-related offences and to determine factors that must be considered by a judge.
Stonewalling access
Lack of access to information, even in countries that have legal guarantees of the right to information was one of the biggest issues for journalists in the region.
The Taliban's blocking of access to information and invalidating the 2014 law is one of the biggest blows to the media in Afghanistan. A survey of in December 2022, by NAI-Supporting Open Media in Afghanistan revealed that more than 95 per cent of journalists believe that the right to access information is severely restricted, censored, and under severe pressure.
In Bhutan, shrinking access to information marked the media scenario. Various government agencies put in place new rules preventing staff from speaking to the press. The Administrative Disciplinary Actions introduced in July 2022 by the Royal Civil Service Commission (RCSC), the central personnel agency of the government and the code of conduct introduced by the Anti-Corruption Commission barring public servants from sharing information were two such rules that threatened disciplinary action and even criminal sanctions on civil servants sharing official information without authorisation. A survey by the Journalists Association of Bhutan in August 2022 was revealing: 24 of the 30 respondents said that access to information is worse now than in previous years. The survey found that the elected government is more open than bureaucrats in terms of sharing information.
Almost a decade after the passage of the Right to Information (RTI) Act in the Maldives, a culture of secrecy persists, with information officers failing to respond to requests for information within the mandatory 21-day period. In February 2023, an RTI activist scored a significant victory when the High Court upheld an order for the Bank of Maldives to disclose staff remuneration.
The overreach of law by enforcement agencies in India deployed by the government to conduct raids, searches and "surveys" on intransigent media houses marked the period under review.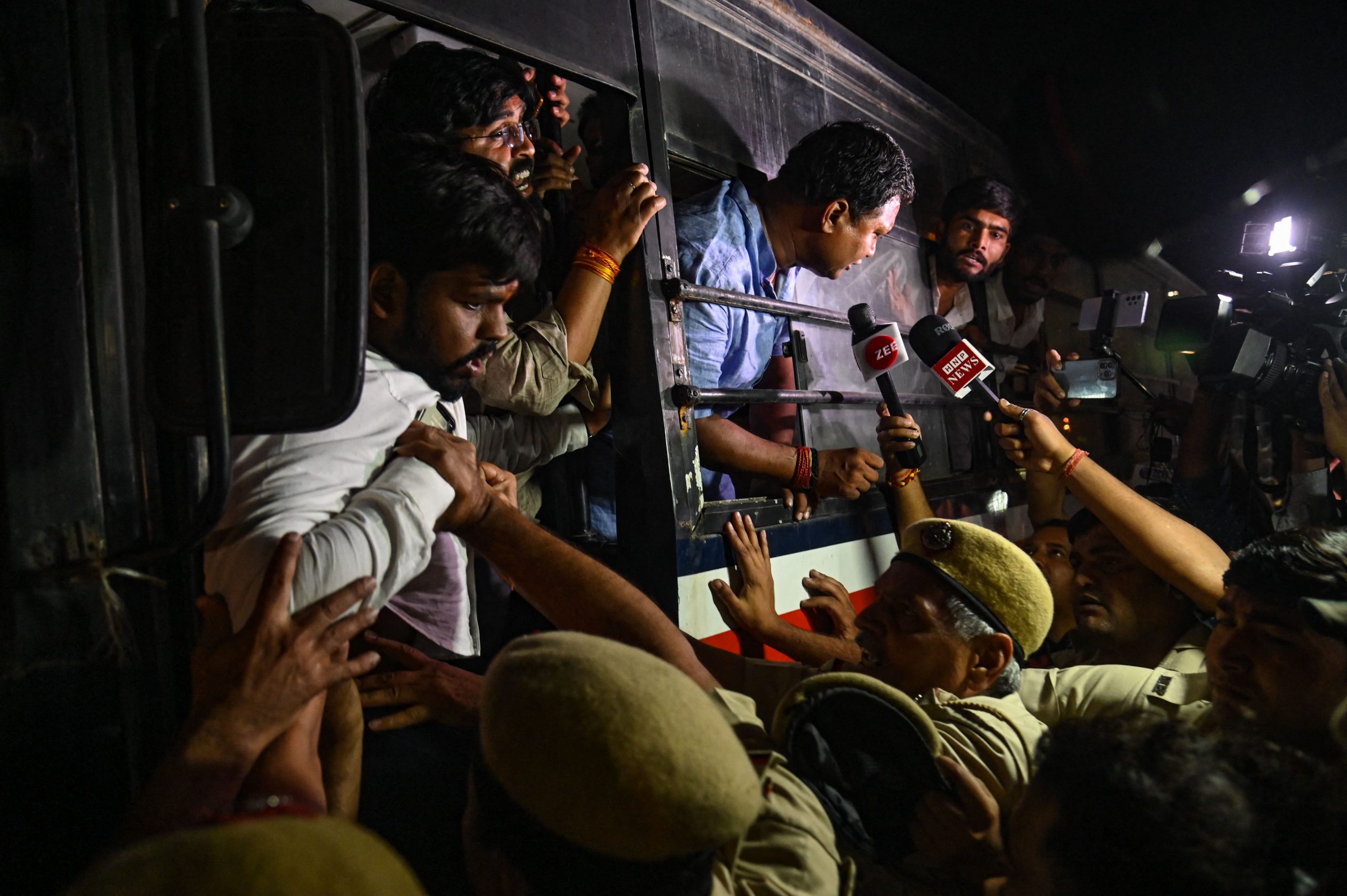 Security personnel detain supporters of the Indian National Congress at a demonstration protesting the disqualification of opposition leader Rahul Gandhi from India's parliament in New Delhi on March 28, 2023. The Bhartiya Janata Party's action against opposition voices has extended to the media, with new legislation and other obstructions limiting freedom of expression. Credit: Kabir Jhangiani / NurPhoto via AFP
Curbs and controls
Controlling the media followed certain patterns across the region: a multiplicity of government agencies issued broad and vague rules that allowed arbitrary interpretation, long and tedious legal procedures where the process is punishment and mere suspicion is enough to tie a journalist in legal knots for several years.
In Afghanistan, several agencies took it upon themselves to control the media. The Ministry of Information and Culture (MoIC), the Government Media Information Center (GMIC), and the Ministry for the Prevention of Vice and Promotion of Virtue (MPVV) have all issued vague rules with unclear legal bases or consequences. The MPVV has banned programs with women actors and requires women news presenters to cover their faces. Other rules call on media to refer to the "Islamic Emirate of Afghanistan," respect Islamic values, and coordinate reporting with state overseers.
In India, besides filing cases under counter-terror laws, authorities blocked journalists, especially Kashmiris, from international travel. Travel bans, "look out circulars" and "No fly" lists seemed to target vocal journalists and activists. Even those holding valid travel documents were stopped at airport immigration counters. In November 2019, following the abrogation of Article 370 of the Indian Constitution that granted J&K special status, there were reportedly 450 Kashmiris on such "no fly lists".
Journalists with international publications reporting from India also reported facing harassment and hurdles in getting visas and permits to report from India, particularly areas considered sensitive such as Jammu & Kashmir or the country's north-eastern region.
Regulating the digital space
Laws enacted to regulate online content consistently violated the right to freedom of expression and press freedom.
Bangladesh's Digital Security Act (DSA) 2018 has been weaponised to create a culture of self-censorship in the country. Since its enactment, at least 3,565 people were accused in the 1,257 cases filed till January 28 this year, according to DSA Tracker, a project of Dhaka-based Centre for Governance Studies (CGS). Almost 40 per cent were detained and activists and journalists were mostly the victims, while members of the ruling party and its affiliated organisations filed most of the cases. According to media reports, 60 per cent of all those prosecuted in Bangladesh for "hurting religious sentiments" under the DSA belong to the minority Hindu community.
Alongside, the draft Data Protection Act 2022 (DPA), the first law for data protection in Bangladesh, has engendered new fears. Critics say that the draft law poorly defines the classification of data and does not follow international standards of the definition of privacy.
In India, digital surveillance was ratcheted up, with major changes being made in information technology laws, ostensibly for national security and sovereignty. Vague definitions encouraged the arbitrary interpretation of such laws. Any critique of the government was construed as anti-national and therefore liable for punitive action.
In early 2023, changes were made to the IT (Intermediary Guidelines and Digital Media Ethics Code) Rules by the Ministry of Electronics and IT, which mandated that intermediaries like Facebook, Twitter and WhatsApp take down any news about the central government or its agencies that is identified as fake or false by a fact-checker approved by the government-regulated Press Information Bureau. No definition of "fake, false or misleading" information has been laid down. The broad discretionary powers given to the government has been widely criticised.
In Nepal, online attacks against journalists spiked during the tenure of Prime Minister KP Sharma Oli, who urged his supporters to attack his critics "like wasps". Alongside, Oli's close aide Gokul Prasad Banskota, the then minister of communications and information technology brought in several bills in parliament detrimental to press freedom, including a controversial bill to amend and unify various telecommunication laws which allows the government to tap the phones and social media details of anyone without prior court approval.
Online portals were often at the frontline of reporting, a phenomenon that has prompted attempts at control and co-ordinated online attacks. Nepali journalists were also subjected to digital attacks with many journalists reporting that they lost access to their social media accounts.
Digital journalists in Pakistan continue to face immense challenges, according to the 2022 State of Digital Journalism report, produced by the Institute for Research, Advocacy and Development (IRADA) and highlighted how digital news outlets were fighting an existential battle due to lack of resources, financial insecurity, and safety risks.
Pakistan's internet and telecom regulator PTA blocked more than one million websites in 2022 in Pakistan, which figured among the top five requesters globally to Twitter and Facebook for content removal. PTA also asked Wikipedia to remove content alleged to be blasphemous and then banned it altogether. The platform was restored two days later after a public outcry. 
The proposal put forward by Sri Lanka's President Ranil Wickremasinghe in early 2023 to introduce a new bill to regulate social media and electronic media, similar to Singapore's Info-communications Media Development Authority (IMDA) Act 2016 was met with disquiet, since the IMDA has been used to silence dissent. A replay is quite likely in Sri Lanka, where journalists working in smaller media organisations, running websites or YouTube channels, were subjected to threats, intimidation and assaults.
In India, besides filing cases under counter-terror laws, authorities blocked journalists, especially Kashmiris, from international travel. Travel bans, "look out circulars" and "No fly" lists seemed to target vocal journalists and activists.
Pakistan's internet and telecom regulator PTA blocked more than one million websites in 2022 in Pakistan, which figured among the top five requesters globally to Twitter and Facebook for content removal.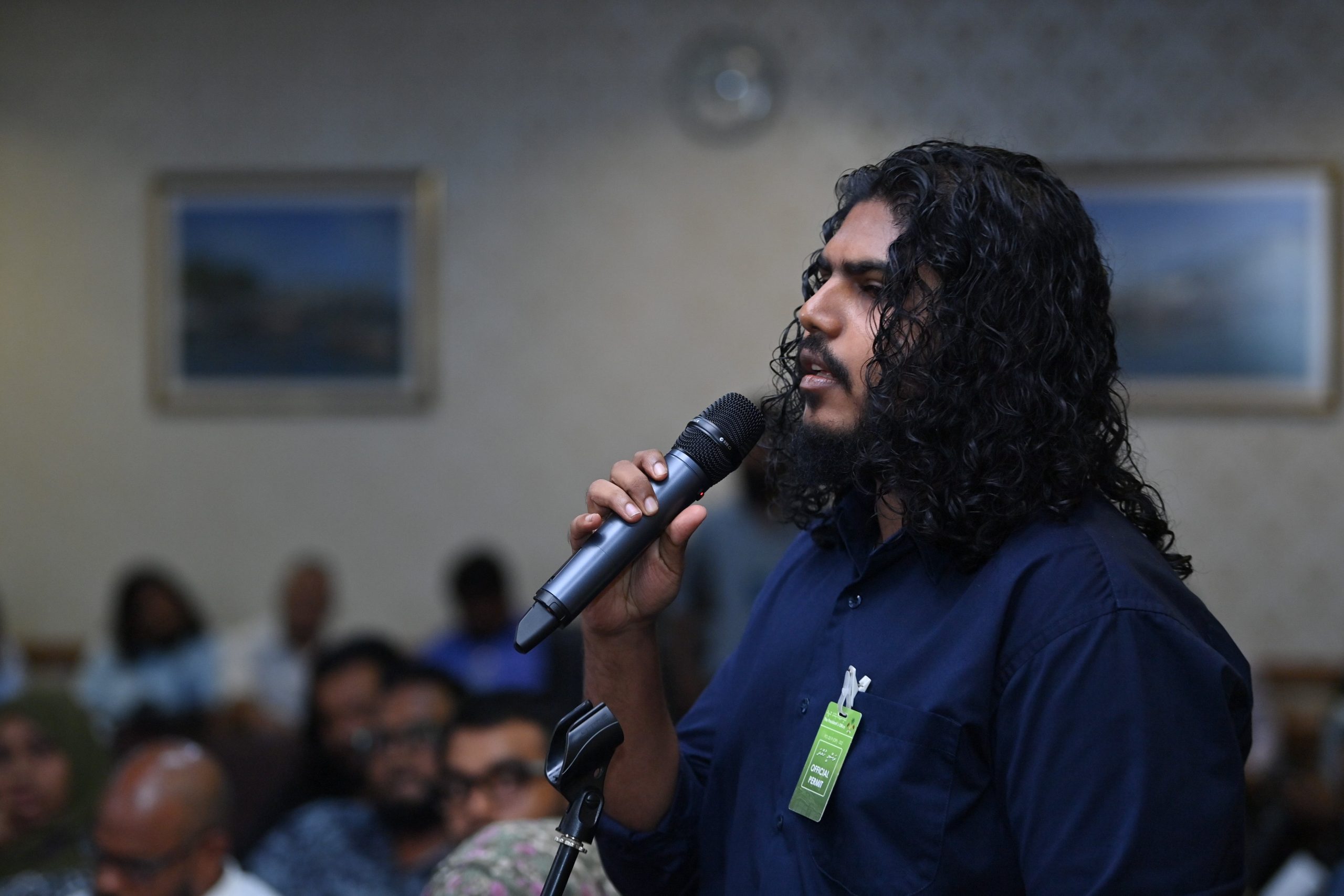 Journalist Ahmed Azaan, from the pro-opposition outlet Dhiyares, speaks at an event in the Maldives. Azaan was summoned by police in July after allegedly accessing unauthorised medical information in February 2022. Credit: MJA
Vilification and abuse
A phenomenon witnessed in almost all countries of South Asia was the systematic attack on the credibility of the media. Vilification of individual journalists and media houses, encouraged and endorsed by political leaders was also aimed at distracting from the real issues that these journalists were uncovering.
Independent Bangla daily Prothom Alo was subjected to a mob attack in April, when youth barged in, abused journalists and scrawled the word 'boycott' across the office. The incident occurred within two hours of Bangladesh's Prime Minister Sheikh Hasina's declaration in parliament against the outlet. "Prothom Alo is the enemy of Awami League (ruling party), the enemy of democracy, and the enemy of the country's people," Hasina stated. The newspaper has since faced smear campaigns from various quarters.
In Nepal, adding to the continuing threats and attacks on journalists were digital attacks and attempts to demean journalism and journalists by political leaders. The newly elected Speaker of the House claimed that journalists were on sale and that yellow journalism was increasing. After flak from media and rights advocates, he retracted his 'accidental comment' and reiterated his commitment to the freedom of press and expression.
Similarly in July 2022, following reportage of misuse of the budget, Provincial Minister of Internal Affairs and Law Kedar Karki threatened male journalists saying he could frame them for rape.
Unfortunately, Press Councils and other media regulators in the region are either perceived to be politically motivated, as in Nepal, or lacking in autonomy and power, as in India. In the Maldives, regulatory bodies are vulnerable to government control through political appointees as in the case of the Maldives Broadcasting Commission, which accredits journalists and regulates television and radio stations. In contrast, eight of the 15 members of the Maldives Media Council (MMC) – which regulates print and online media – are elected by media organisations. In a move to ensure autonomy of the body, publications registered by government agencies were barred from voting. In the past, "shell media companies" that did not regularly publish were able to influence the council's composition.
Asserting the identity of a journalist is fraught in Sri Lanka. Some government institutions including the Sri Lankan parliament only allow government registered journalists to cover events and meetings. The survey conducted by the Free Media Movement found that only 55 per cent of journalists had the government-issued media identity card, which facilitate entry and some measure of security especially when dealing with the military and police.
The other half
Women continued their ongoing struggle to achieve equity in the media in South Asia, battling economic crises, along with discrimination and misogyny.
The situation was perhaps most stark in Afghanistan. According to a survey conducted by the Afghan National Journalists Union in 2022, 87 per cent women journalists reported gender discrimination; 79 per cent said they had been insulted and threatened, including with physical, written and verbal threats, by Taliban officials; while 87 per cent said that they were not motivated to work in the current situation due to fear. Significantly, 91 per cent of working women journalists reported being the sole economic support of their families.
The few women journalists who remain in Afghanistan face restrictions on whether and how their faces and voices will go on air, in addition to the extra challenges of reporting in the field and even reaching workplaces, due to restrictions on their mobility.
In Bangladesh, a study found that only two of the editors of over 500 Dhaka newspapers are women, and only two women hold top positions – as executive editor and chief news editor – at private TV channels.
The picture is not dramatically better In India. A report on gender representation in newsrooms by Newslaundry and UN Women, released in October 2022, found that 87 per cent of editors and proprietors at India's top newspapers are men. Surveys by media unions on women's representation in trade unions also paint a dismal picture.
In the Maldives, more than a quarter of women journalists have faced sexual harassment, according to a report on gender equality in the media by the Maldives Journalists Association. There were several female editors and heads of newsrooms, including two television stations, while women accounted for about 30 per cent of staff in mainstream outlets. Paid maternity leave is near universal, and some new mothers were offered flexible working options. The employment law grants a 60-day maternity leave but women who take longer maternity leave, sacrifice career advancement.
Women journalists in Nepal face severe online abuse. A study by the Media Advocacy Group released in December 2022 revealed that "an overwhelming majority" or 89 per cent of women journalists in Nepal have faced online violence. Disturbingly, 53 per cent faced violence perpetrated by their own colleagues in the media. The most common platform for online abuse was Facebook Messenger.
Even as online abuse is a growing phenomenon, the resumption of field reporting after the pandemic-induced hiatus brought back into focus physical attacks on women journalists. In May 2022, a Samaa TV reporter was attacked and her clothes ripped off while covering a PTI rally. In 2023, a group of 30 men at a PTI rally attacked and sexually harassed prominent journalist Quatrina Hosain and her team, leaving one person hurt and equipment destroyed. Anchors and reporters Sana Mirza and Maria Memon were attacked while covering a PTI gathering. Both incidents were captured on video, with PTI supporters seen hurling objects and shouting abuse.
A study in January 2023 by Pakistani non-profit Media Matters found that only 3 per cent of the women journalists surveyed were able to reach leadership roles; 89 per cent said their male counterparts got better salaries for the same work. More than half reported having faced workplace harassment. Another mapping of gender disparity in the media in 2022 by Individualland and the International Federation of Journalists (IFJ) found that gender discrimination in the media began at the time of recruitment itself. As many as 75 per cent of the respondents said that women faced difficulty in getting jobs in the media.
Women journalists continue to be a minority in Sri Lanka at 15 per cent, and only 2.3 per cent of provincial journalists are female. A study conducted in 2022 by the Hashtag generation, an online movement in Sri Lanka, found that Muslim women and transgender persons are more vulnerable to digital threats.
Unfortunately, Press Councils and other media regulators in the region are either perceived to be politically motivated, as in Nepal, or lacking in autonomy and power, as in India. In the Maldives, r

egulatory bodies are vulnerable to government control through political appointees.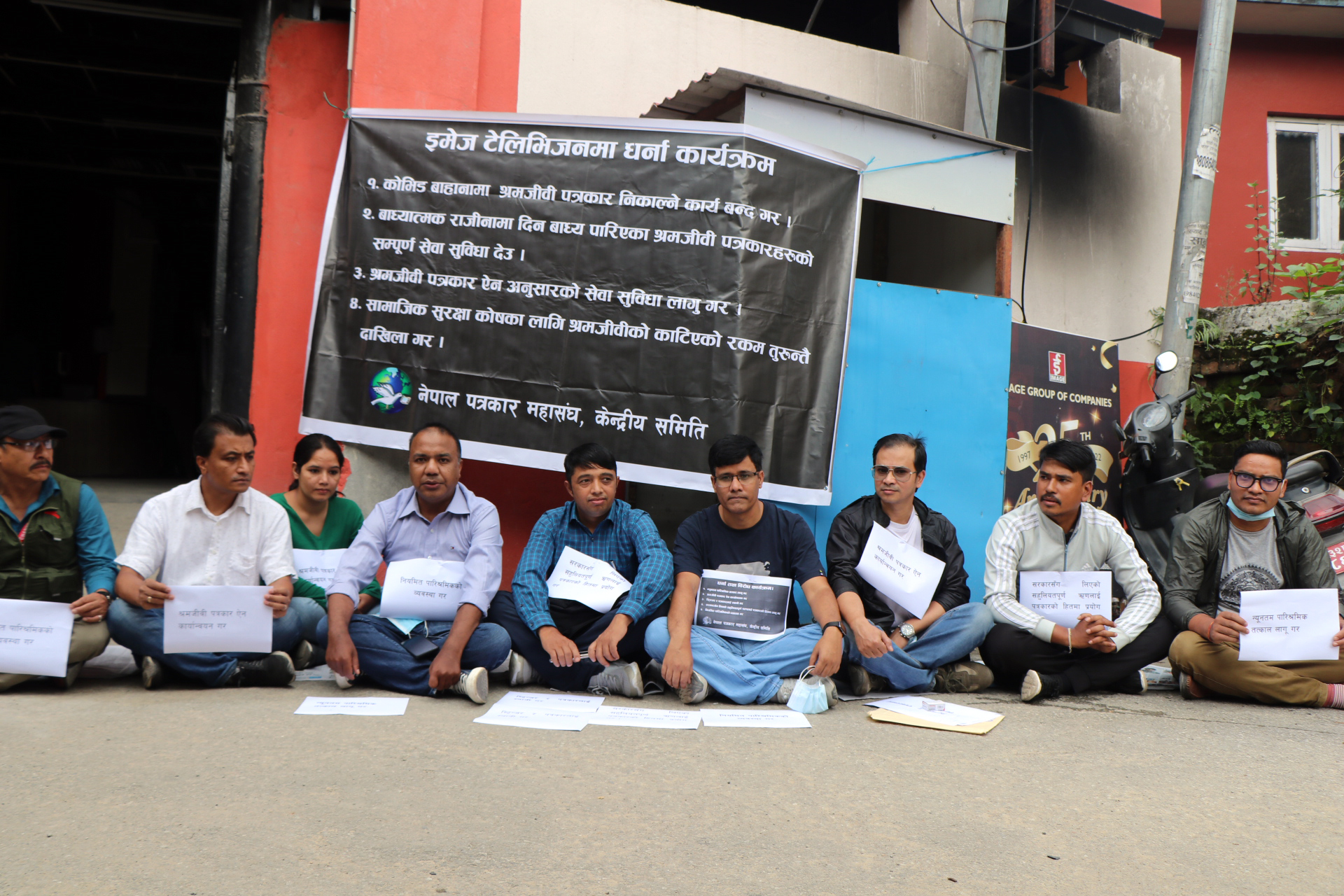 Image Television staff in Kathmandu protest the non-payment of wages on September 4, 2022. Journalists in Nepal have struggled with wage disputes and job insecurity for years, with non-payment of wages responsible for a significant number of employment-related complaints. Credit: FNJ
Corporate control
Press freedom in South Asia was increasingly impacted by the encroachment of corporate interests in the media.
In Bangladesh, press freedom has come to mean freedom of the owners of the media outlets, and corporate houses that control the media are in turn governed by their business interests and political affiliations. Journalists are bound to serve the interests of media owners, that too on precarious pay and in insecure working conditions.
The past year in India also saw media ownership become concentrated in the hands of corporate houses that acquired the few independent voices that remained in the electronic media. The takeover of NDTV, a popular independent television news group, by a corporate house perceived to be close to the government, was one such instance and led to a number of staffers and founder directors quitting the organisation. Media houses already owned by other corporations are restricted in their reporting due to their dependence on government largesse.
In Nepal, given the precarious economy still struggling with the Covid effect, the role of big business in media ownership and functioning is a growing concern. Any coverage perceived as "negative" could lead to a blockade of advertisements. For example, When prominent Nepali daily Nagarik published a news report about NCell, Nepal's largest private telecom service provider, advertisements stopped. Other newspapers went on to condemn Nagarik's news report. With threats of withholding advertising revenue, media outlets practice a self-censorship of sorts by refraining from reporting on the doings of corporate houses.
In Nepal, given the precarious economy still struggling with the Covid effect, the role of big business in media ownership and functioning is a growing concern. Any coverage perceived as "negative" could lead to a blockade of advertisements.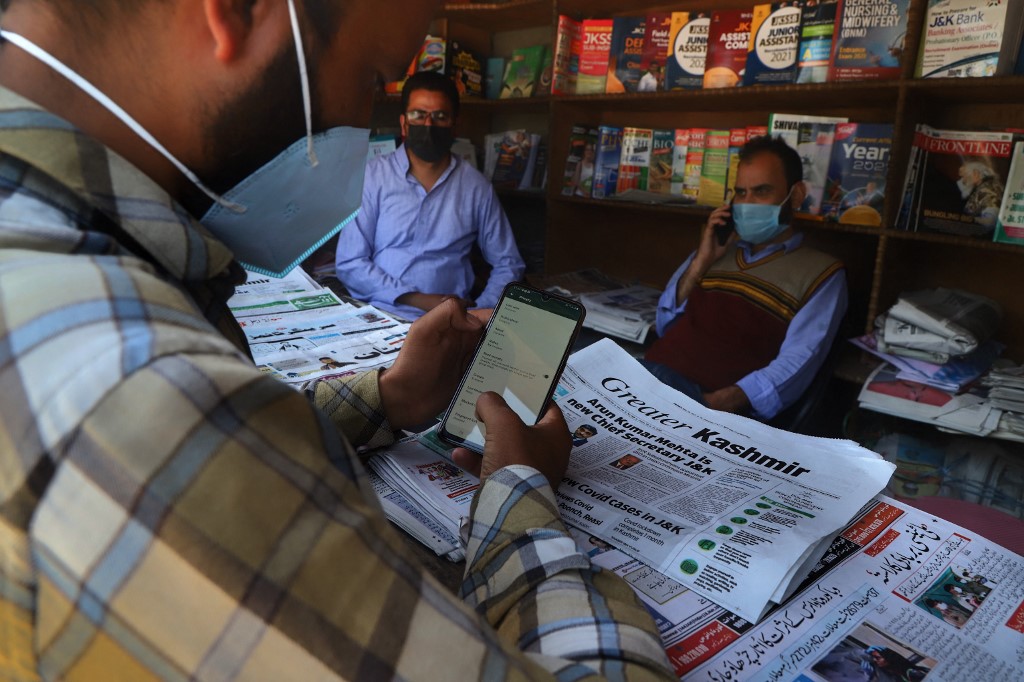 On May 28, 2021, a man checks WhatsApp Messenger Privacy Settings outside a Newspaper shop in Jammu and Kashmir. A government-proposed draft of personal data legislation from November 2022 was criticised for its potential to allow law enforcement to process data on national security grounds amid other reasons. Credit: Nasir Kachroo / Nurphoto via AFP
Way forward 
Amid the gloom and despair, the media managed to create space for independent and critical reporting. Unions and associations resisted the swirling current to stand firm against the corporate onslaught. Journalist organisations came together, putting aside differences, to address the new challenges that faced the media. New coalitions and networks, such as the Women's Media Forum, Pakistan (WMFP) emerged, to act as an advocacy group to raise concerns of gender inequity in the media.
With newsrooms seemingly unable to cope, journalists are identifying needs and accessing resources to deal with pressing problems, be it training in fact-checking or countering disinformation.
International strategies and solidarity are also the need of the hour, especially in countries where internal checks and balances are under stress. For example, the diplomatic community must raise press freedom issues when negotiating with the Taliban, specifically pressuring them to reduce restrictions on women in the media. Conditionalities of autonomy, protection of rights, especially women's rights must be built into aid conditionalities.
Effective collaborations such as that the Pakistan Journalist Safety Coalition and the official Commission for the Protection of Journalists and Other Media Practitioners can move the agenda of journalists' safety forward, with the UNESCO recommended "3P" approach of prevention, protection and prosecution to combat impunity.
Given the stupendous challenges, it is only unity among media unions and associations overcoming political polarisation, that can reinstate professional and independent journalism.