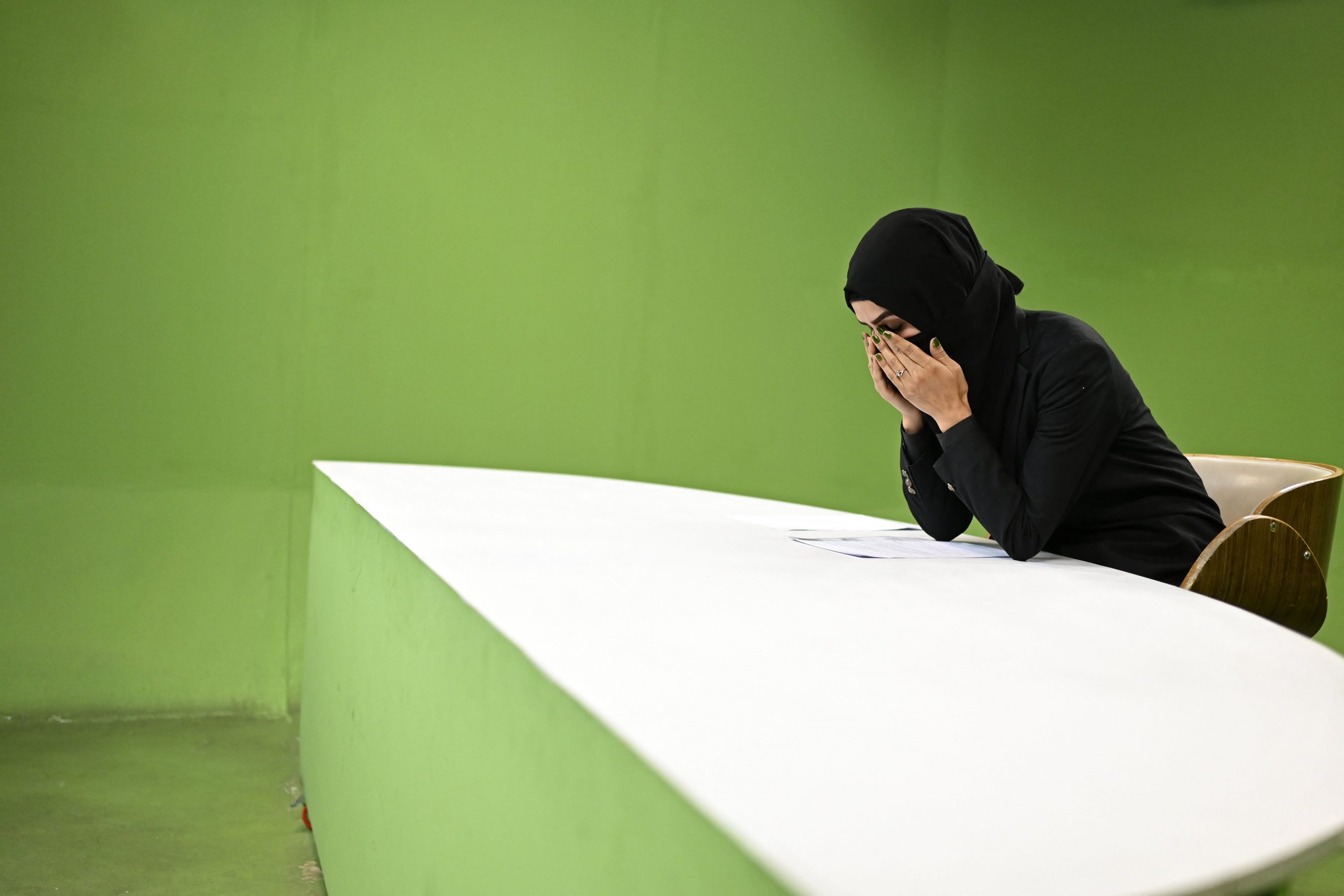 Taliban has placed increasing restrictions on women journalists, including prohibiting women journalists from appearing in front of the camera without long garments, hijabs, and face coverings in May, 2022. An Afghan female presenter with news network 1TV, Lima Spesaly with her face covered by a veil, takes a break during a live broadcast at the 1TV channel station in Kabul on May 28. Credit: Wakil Kohasar / AFP
South Asia's emergence from the shroud of pandemic of the past few years, has revealed a dramatically changed environment not only for media, but for democracy itself. And with it, citizens in this complex space are confronting a spectrum of new challenges to freedom of expression and their rights.
Political leaders emboldened by powers afforded during the time of crisis seem to have developed a habit for overreach, controls and clampdown. Too many have forgotten that democracy is not the will of one, but of the people.
Laws made in the name of national security and emergency in recent times have sadly taken up a more permanent place to restrict fundamental freedoms and limit vital spaces of discourse. And institutions that underpin democracy are too frequently being threatened or destabilised.
All this exists on a backdrop of persistent socio-economic inequalities, deep financial crises, conflicts and violence, environmental carnage, health and well-being challenges for vast populations, challenges to the rule of law, the rise of misinformation and a broad erosion of trust.
For media, the story is equally challenged and complex.
With the ongoing impacts of digital disruption and pandemic fallout, the structural economies of some legacy media remain fragile. Vast news deserts are emerging due to traditional media collapses and mass journalist layoffs. But so too, new and evolving media organisations and platforms are testing and exploring an array of funding models in an effort to build sustainability. And journalism as a profession is changing in how it delivers stories to a multi-faceted, diverse and increasingly digital audience.
While diminished in numbers, South Asia's journalists and media workers are evolving, innovating and coordinating their efforts to strengthen media and industry resilience.
And the organisations that represent them are building alliances and organising on the issues that matter – regular wages, safety, digital rights, industry sustainability and investment and a legal framework that respects and supports press freedom.
In this report, Pressure and Polarisation: Powering Media Resistance in South Asia, we explore the complex interface between power and the fundamental human rights of press freedom and freedom of expression. We also document the challenges for media and attacks to journalists in this time, including at least 257 violations, including killings, jailings, legal harassment and assaults. In the period, the IFJ and its affiliates recorded 13 targeted killings of media workers and 76 cases of jailing, detention or torture. At the time of publication, at least 10 journalists remain behind bars.
In 2023, as we mark the 30th anniversary of the proclamation of World Press Freedom Day by the 48th UN General Assembly, we as media workers must take stock of the challenges for media freedom and the safety of journalists; raise awareness and foster partnerships to defend media from attacks; and pay tribute to journalists who have lost their lives in the exercise of their work.
Just like political leaders, journalists too hold considerable might – to influence, educate, challenge, inform and hold the powerful to account and they play an essential role to help verify and disseminate facts and to make complex matters intelligible for broader society.
While the term "messy democracies" may have attained a whole new resonance for South Asia in the period in review, this report shows how South Asia's media is working hard to strengthen public trust and reaffirm the vital role it plays as a pillar of those democracies despite the challenges.
Here we document how brave journalists are continuing to push back and speak out against polarisation, to tell the truth, shine a light and defend hard-fought fundamental freedoms – not just for the media, but for all. Here is their story.
Jane Worthington
Director
IFJ Asia-Pacific
In this report, we explore the complex interface between power and the fundamental human rights of press freedom and freedom of expression.