A Precarious Exile: Afghan Journalists in Pakistan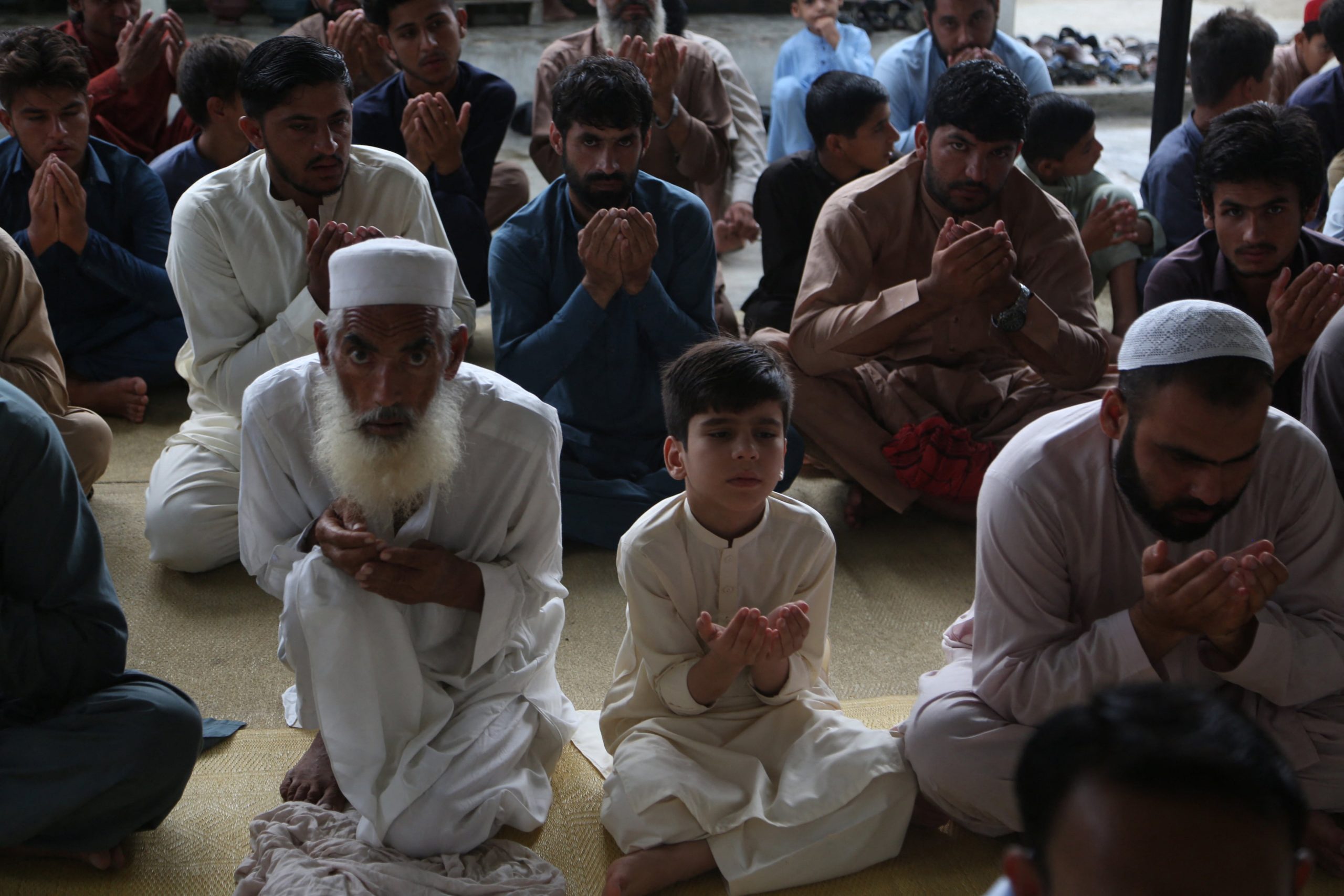 Afghan refugees seeking asylum protest, hoping to garner help from the United Nations High Commissioner for Refugees (UNHCR) in Islamabad on May 7, 2022. Afghan journalists and media workers in Pakistan have said that the international community and journalist support NGOs are not adequately addressing their needs, as many wait in an administrative quagmire. Credit: Farooq Naeem / AFP
After the Taliban takeover of Afghanistan in August 2021, the media was particularly hard-hit with a sharp spike in harassment, threats, beatings, torture and detainments. Journalists who did not follow the rigid media guidelines laid down by the Taliban were strictly censured. Women journalists were particularly vulnerable after the Taliban issued diktats against women working in the media, demanded strict dress codes and clamped down on their mobility. They and their families were routinely intimidated. Many journalists fled for their lives.
According to the Union of Independent Journalists of Afghanistan (AIJU), almost 30-35 per cent of journalists left the country following the Taliban takeover and are living in exile. While some – particularly those working with international media – were immediately evacuated to North America and Europe, a large number fled to neighbouring countries like Iran and Pakistan, and others to Tajikistan, Uzbekistan and Turkey, hoping to relocate further to countries where they could ultimately live and work.
On September 3, 2021, a group of UN human rights experts including Irene Khan, Special Rapporteur on the promotion and protection of the right to freedom of expression, called on all States "to provide urgent protection to Afghan journalists and media workers who fear for their lives and are seeking safety abroad."  Specifically, the group called on all States to "do their utmost to preserve the hard-won gains for media freedom, including for women journalists and media workers."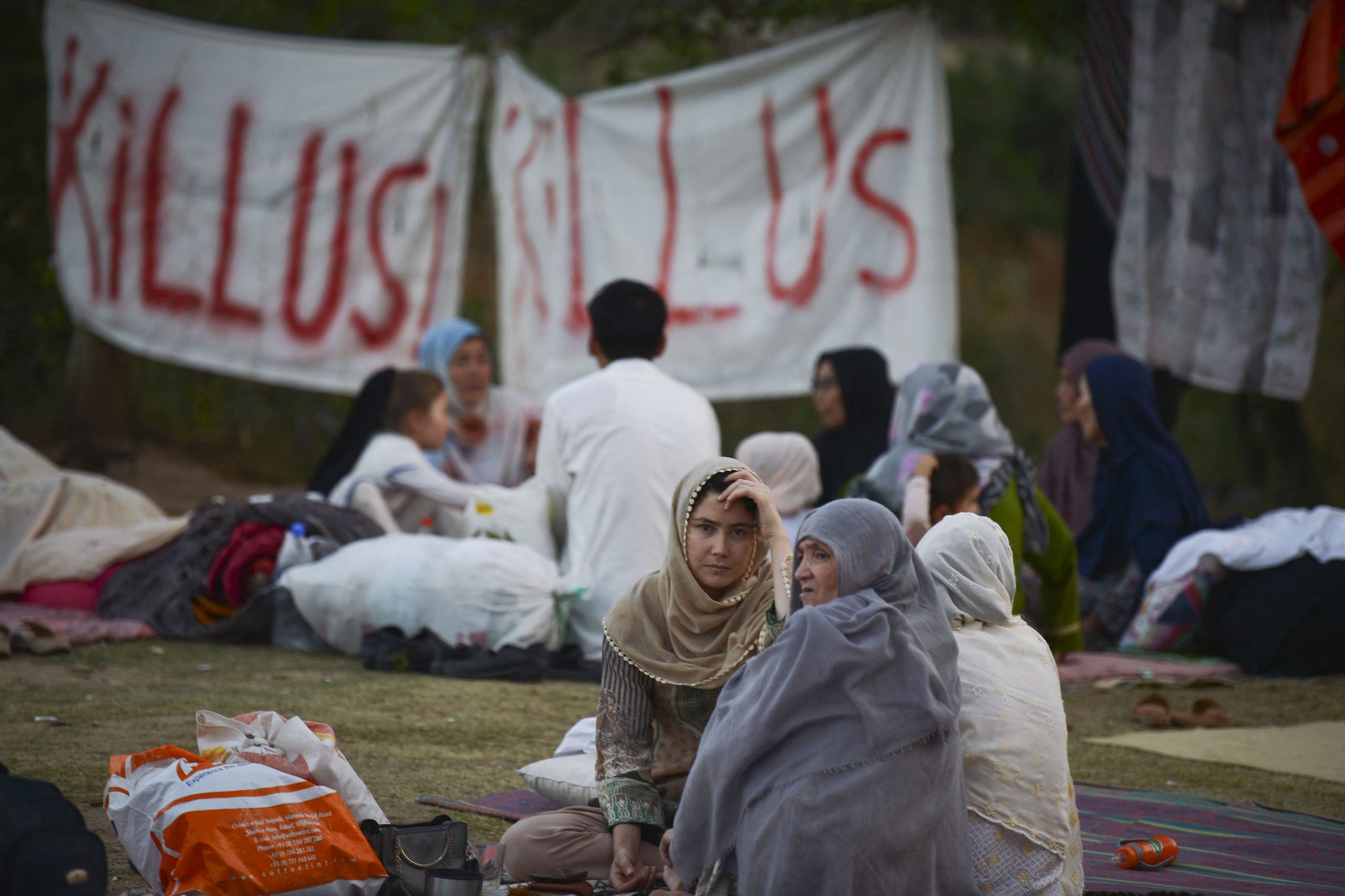 Children of Afghan refugees in Pakistan read from the Quran near Lahore on June 19, 2022. As the second anniversary of the Taliban's rise to power approaches, Afghan journalists in Pakistan face significant issues in finding secure housing, finding employment, and accessing healthcare and other essential services. Credit: Arif Ali / AFP 
A group of UN human rights experts including Irene Khan, Special Rapporteur on the promotion and protection of the right to freedom of expression, called on all States "to provide urgent protection to Afghan journalists and media workers who fear for their lives and are seeking safety abroad." 
In the weeks that followed the Taliban takeover, the International Federation of Journalists (IFJ) received scores of demands from journalists and media workers with estimates that up to 1,000 journalists had fled Afghanistan. The IFJ launched a special appeal to support Afghan journalists which raised more than 80,000 euros in support via individual and group pledges. The IFJ's Safety Fund was in high demand both in the country and the surrounding regions and managed to aid over 1,000 journalists before the funds were exhausted. These funds have helped save lives, either by supporting those fleeing the country for passport applications and relocation to safe areas or by providing essential basic food and medicines for those who remained. But the demand remains and the fallout for Afghanistan's journalists continues.
Coordinating with governments and international organisations, the IFJ assisted where it could in the process of visas, relocation and resettlement of Afghan journalists in Europe, Asia-Pacific and North America – in most cases working together with its global affiliates – and working with coalitions such as the Journalists for Human Rights in Canada in a bid to smooth the process of relocation.
In addition to assistance provided by the Safety Fund during the Afghanistan appeal, IFJ affiliates around the world also offered various kinds of support, ranging from raising funds, providing humanitarian assistance, lobbying governments for emergency visas and resettlement, supporting evacuations, providing safe shelter and food, and providing solidarity and assistance when those seeking refuge reached other countries. Like other international support agencies and media development groups, the IFJ struggled under the pressure of the enormous outflow. Avenues for support or relocation soon disappeared despite this and the situation for support globally was further impacted with the onset of the conflict in Ukraine which sadly shifted international focus and support.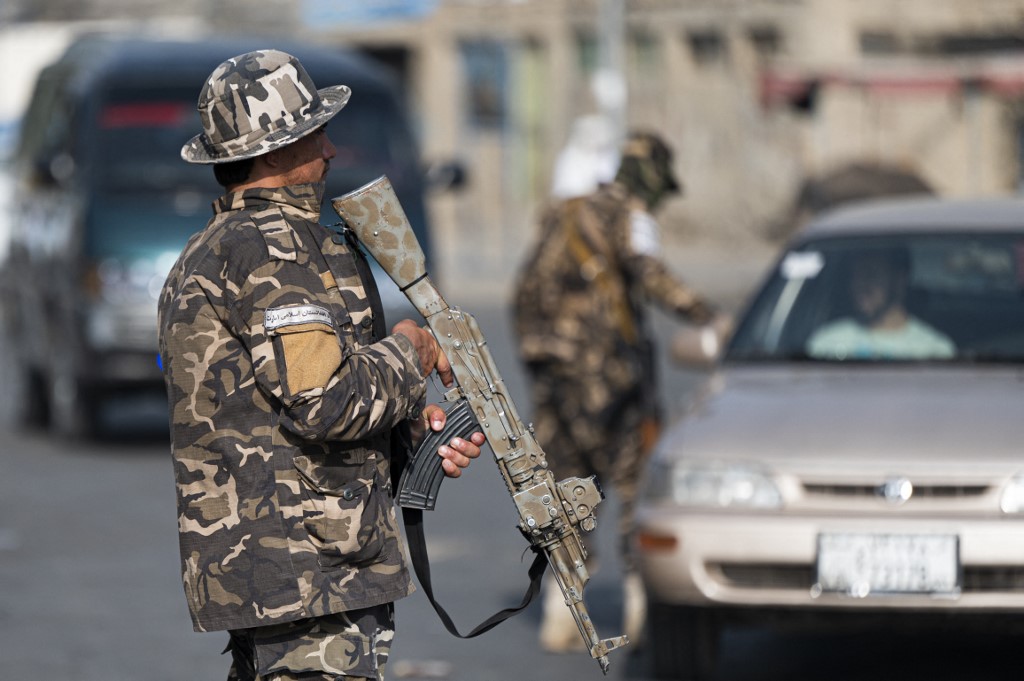 Taliban soldiers approach and search vehicles at a road checkpoint in Kabul on July 9, 2022. As Pakistan is not a party to conventions protecting refugees from deportation to their original countries, over 331 Afghans in Pakistan have been forced to return to Afghanistan. Credit: Wakil Kohsar / AFP
Responding to the crisis in its neighbourhood, the Pakistan Federal Union of Journalists (PFUJ) provided support to Afghan journalists evacuated to Pakistan and was able to facilitate the stay of some journalists in Pakistan while they awaited relocation to Europe and North America. The PFUJ coordinated with the Pakistan Information Ministry to expedite approval of Pakistani visas for around 50 Afghan journalists.
Working with its affiliate the Rawalpindi Islamabad Union of Journalists, the union also rented a building to provide Afghan journalists and their families with accommodation, food and other support during interim stay, including practical help like ferrying them to and from airports. Both PFUJ and IFJ also collaborated to provide financial support to Afghan journalists who opted to live with their relatives in Islamabad.
Regional solidarity was an important component of support efforts. On August 15, 2022, a year on from the Taliban takeover, the South Asia Media Solidarity Network (SAMSN) a network of 12 media unions and associations in the region, called on governments and international agencies to "increase humanitarian emergency visa programs, ease visa requirements, expand resources for handling asylum applications and provide further support and resources for resettlement schemes for Afghan journalists and media workers."
According to an update presented on March 28, 2023 to the UK Parliament, 24,500 vulnerable people were relocated to the UK from Afghanistan, the numbers of journalists is not specified.
Mounting frustration
On February 26, 2023, hundreds of Afghan refugees protested outside the National Press Club in Islamabad to highlight the inordinate delays in granting of US visas. The protest was prompted after the stalling of the US government's Priority 1 and Priority 2, known as P1 and P2 refugee programs to fast-track relocation of "at-risk" Afghans, including journalists and rights activists facing persecution from the Taliban. Eligibility criteria included: previous work for the US government, a US-based media organisation or NGO in Afghanistan, and a referral by a US-based employer.
Delays of more than a year and a half, have left applicants in a limbo in Pakistan, without access to basic services, and in fear of deportation.
Critically, Pakistan is not a party to the 1951 Convention relating to the Status of Refugees/1967 Protocol which offers refugees protection against deportation to their country of origin where they face threats to life and freedom. Nor has the country enacted any national legislation for the protection of refugees nor established procedures to determine the refugee status of persons who are seeking international protection within its territory. Such persons are therefore treated in accordance with the provisions of the Foreigners Act, 1946.
On March 18, 2023, the Taliban regime's Refugees and Repatriation department, said that 1,851 Afghan refugees from Iran and 331 others from Pakistan had been returned to Afghanistan. Of 331 refugees from Pakistan, 70 were released and brought from Pakistani prisons in Pakistan through the Spin Boldak border crossing. At least four Afghan refugees have reportedly died in Pakistani prisons.
In March 2023, a coalition of press freedom and free expression organisations, including Index on Censorship, the National Union of Journalists, PEN International and English PEN, demanded to know the details of the next phase of UK's flagship resettlement program, the Afghan citizens' resettlement scheme (ACRS). Hundreds of journalists remain stranded in Afghanistan in difficult circumstances, even as the updated entry criteria for the scheme are unclear.
On February 26, 2023, hundreds of Afghan refugees protested outside the National Press Club in Islamabad to highlight the inordinate delays in granting of US visas.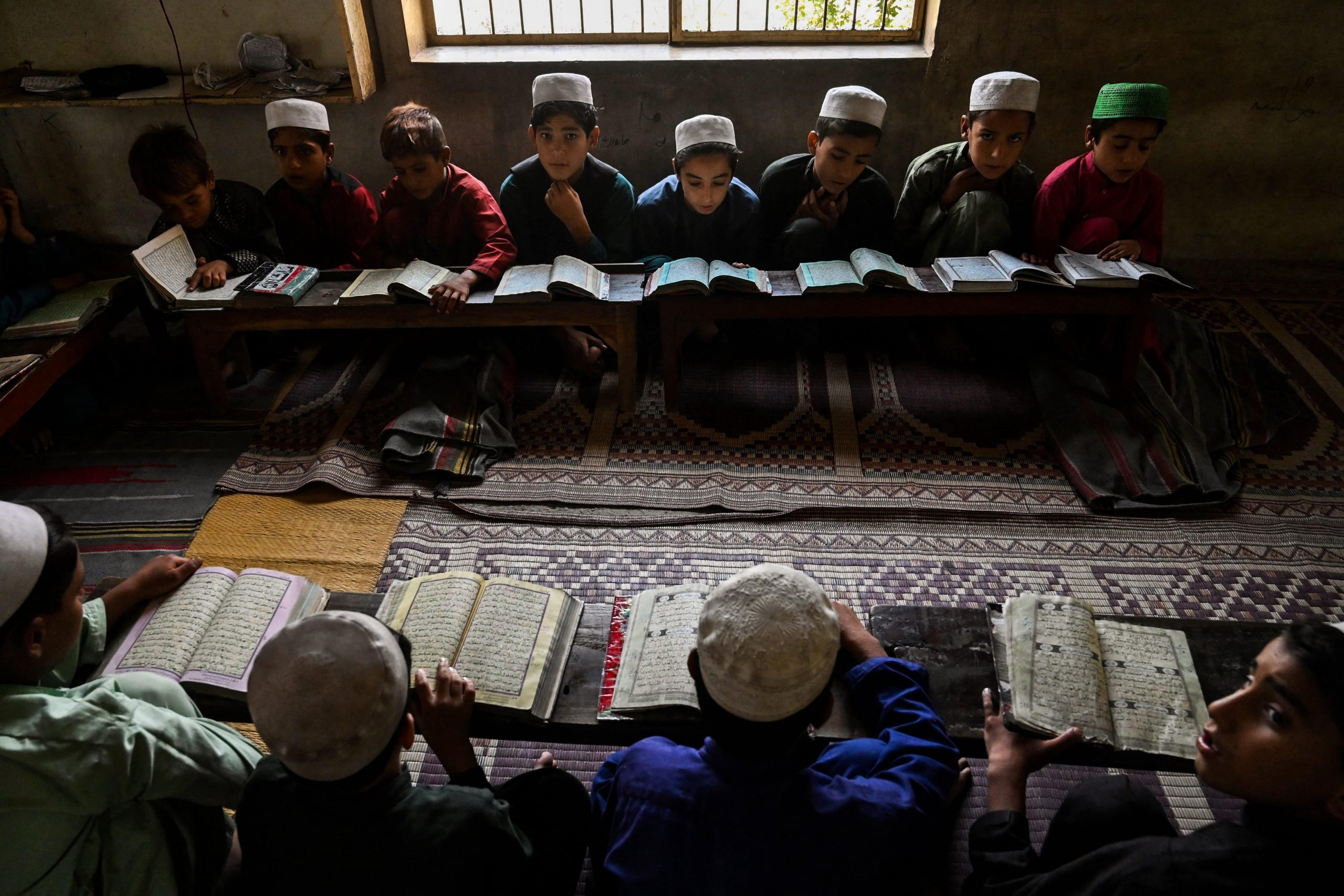 Afghan refugees offer Eid al-Adha prayers at a mosque near Peshawar on July 9, 2022. An estimated 3.7 million Afghans fled to Pakistan in the wake of the Taliban's ascension in August 2021, of which over 500 are confirmed journalists. Credit: Abdul Majed / AFP
Displacement and despair
It is currently estimated that more than 600,000 Afghans fled to neighbouring Pakistan since the Taliban came to power in August 2021, many over land borders. The number of Afghan refugees in Pakistan is now 3.7 million, only 1.32 million of whom are registered with the UN's refugee agency, UNHCR, the only agency that grants legal refugee status or Proof of Registration (PoR) documents allowing them to stay in Pakistan. A flood of applications and backlogs in granting appointments for interviews has left many applicants in the lurch.
Of the approximately 500 journalists living in Pakistan in 2022, some managed to get legal documents to travel to a Western country. According to recent estimates, more than 200 Afghan journalists are currently refugees in Pakistan, 40 per cent of whom are female.
These journalists and media workers say that the international community and journalists' support agencies have not paid proper attention to them. Among them, there are people who have been living in Pakistan for more than a year, waiting for their immigration documents to be processed. Those who escaped across the border to Pakistan are still hoping to relocate to a safe country where they can hopefully start afresh.
Displacement, uncertainty, lack of hope for the future, non-renewal of visas, financial hardships, various health related challenges including affordable healthcare, medicines, access to hospitals and clinics, as well as the risk of deportation to Afghanistan have put a number of these journalists under severe psychological pressure.
These are not the only issues that Afghan journalists living in Pakistan face. There are problems in housing, both long-term and temporary because house rentals require legal contracts. Many of them are forced to rely on their own resources, while a small minority have found support from international NGOs for the short term.  
On January 29, 2023, a group of Afghan journalists living in Pakistan protested in Islamabad over their uncertain future. The protesters called on foreign countries and organisations supporting journalists to process their asylum applications. They drew attention of the international community to their precarity and urged for their applications to be processed quickly.  
Journalist Muzlifa Kakar also participated in this protest. "We have knocked on all doors in search of help but they refuse to support us, they are telling us that we were not working in a conflict zone and that we won't be granted support," she said. Kakar worked for various media organisations, including the Afghan Parliament House (Wolesi Jirga) TV. The channel, which received government funding, was generally critical of the Taliban and it is impossible for her to return, she said, amid fear of deportation.
The exiled journalists say that the support organisations told them that they could only help journalists who face "real threats". For Afghan journalists who worked under tremendous threat, promoted freedom of speech and raised the voice of people and connected them to the world, this seems somewhat of a betrayal.
Uncertain future
The children of Afghan journalists in exile in Pakistan have no access to education, they face communication issues, and a high risk of arrest as undocumented refugees. Children cannot be sent to school because they require IDs. "It's important to educate our children; if we can't educate them now, they will be a severe danger for the society in the future. And the responsibility would be squarely on the international community and the organisations who brought us here and forgot us," said a journalist in exile who preferred to remain anonymous.
Mina Akbari worked for more than five years with various media networks in Afghanistan before she was evacuated to Pakistan by an NGO. She lives in uncertainty. "Fleeing to Pakistan didn't address our concerns. We thought we would get to a safe country soon but did not realise that it would take so long."  
Afghan journalists in Pakistan also face security threats. Many of their visas have expired, and most cannot afford to renew them. Pakistan's Ministry of Interior announced a visa amnesty until December 31, 2022, during which time authorities did not charge anyone who had overstayed their visa by up to a year. Now, violators could face up to three years in prison.
The number of Afghan refugees in Pakistan is now 3.7 million, only 1.32 million of whom are registered with the UN's refugee agency, UNHCR.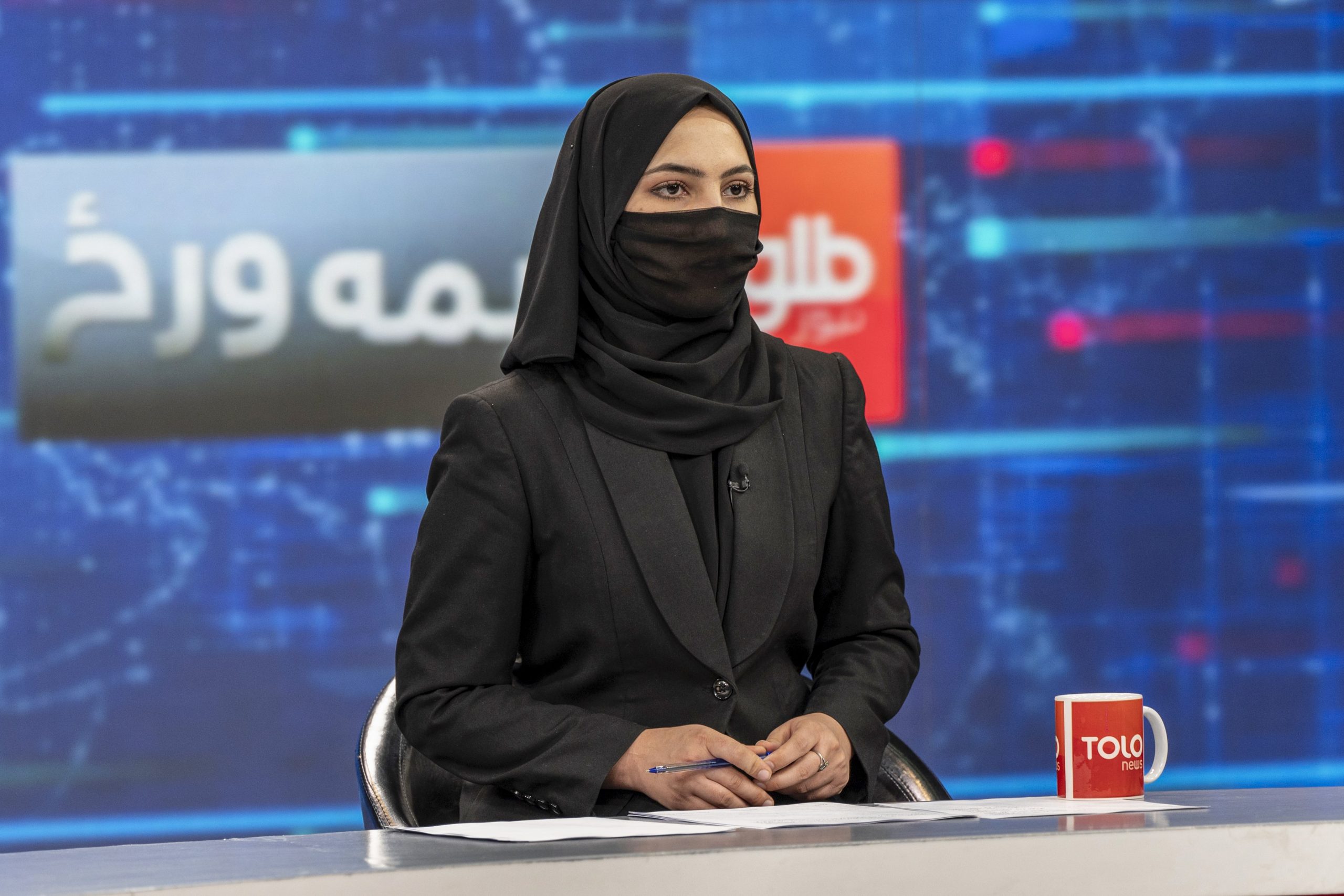 TOLO News Anchor Sonia Niazi covers her face while broadcasting on May 22, 2022. Afghan women in journalism have faced a dramatic increase in harassment and repression since August 2021, with Taliban measures limiting their mobility and mandating strict dress codes. Credit: Wakil Kohsar / AFP
Hand-to-mouth
Dire poverty stares the exiles in the face. Many of the desperate journalists are ready to sell their belongings, one even his kidney. Sami Jahesh left Afghanistan following the Taliban takeover. He took to Twitter to announce: "I have no money, no food to eat, no other option, but to sell my kidney". Jahesh used to work for Ariana News, a private broadcasting channel in Afghanistan. Like other Afghan journalists and human rights activists, he expected to be relocated to a country accepting refugees, but still lives in limbo in Pakistan, struggling to overcome critical economic challenges.
There are few work opportunities. Only a few journalists have managed to get work online with some media outlets. It is particularly difficult for single female journalists or those who are caretakers of their families.
Voice of freedom
Afghan journalists in exile are not merely worried about their current situation; they are worried about the future of freedom of speech in Afghanistan. The international community must keep alive efforts to sustain Afghan media and freedom of speech. Female journalists are now almost completely erased from the media.
Similar issues plague Afghan refugees in Iran, where more than a hundred journalists are trying to get asylum or visas for a developed country. A group of Afghan journalists and media workers in Iran said that the international organisations that support journalists have forgotten them.
In both Iran and Pakistan, the main challenges include non-extension of visas; fear of being deported to Afghanistan; access to healthcare and education; and economic and administrative issues.
The United Nations High Commissioner for Refugees (UNHCR) has called on host countries not to turn away those Afghans whose lives would be at risk. The organisation has issued advisories and requested all countries not to repatriate Afghans especially journalists and activists whose lives might be at stake and has urged the international community to support them.
Journalist unions and support groups have been continuing to shine a light on the persisting – and worsening – situation of Afghan journalists in exile. Governments and international media support groups must work in tandem to alleviate their suffering and facilitate the achievement of a life of dignity and return to their professional lives.
In both Iran and Pakistan, the main challenges include non-extension of visas; fear of being deported to Afghanistan; access to healthcare and education; and economic and administrative issues.