Press Statement
Justice breakthrough in Bangladesh: more blogger killers arrested
04 Sep, 2015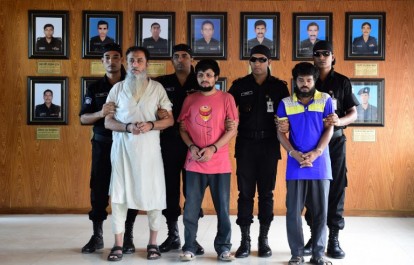 The International Federation of Journalists (IFJ) welcomes the arrest and charging of a number people in connection to the horrific spate of blogger and journalist machete murders in Bangladesh this year. The IFJ urges the Bangladeshi government to expedite legal procedures following the most recent arrests to ensure justice is delivered and to ensure every investment is made to ensure the others at large are captured and charged.
On September 1, the Bangladesh Police charged five militants of an al-Qaeda-linked banned Islamist group, the Ansarullah Bangla Team (ABT), with the machete hacking murder of Md Oyasiqur Rahman Babu. Oyasiqur, a 26-year-old atheist blogger killed on March 30 in Dhaka, was well-known for his secular writings.
The charge sheet filed at a Dhaka magistrates court listed Zikrullah alias Hasan, 19; Ariful Islam, 19; Saiful Islam alias Mansur, 23; Junayed alias Taher, 30; and Abdullah alias Akram Hossain, 26 in connection with the murder. Zikrullah and Ariful were caught by locals immediately following the murder and handed over to police. However, Taher and Abdullah remain on the run and at large.
In other developments, on August 29, Dhaka Police arrested Kausar Hossain Khan, 29, and Kamal Hossain Sardar, 29, for the murder of Niladri Chottopadhay Niloy, who was hacked to death in another machete murder on August 7. The suspects are reported to be also members of the ABT. Two others, Saad-al-Nahin and Masud Rana, were arrested two weeks earlier for their suspected involvement in Niloy's death.
On August 18, Bangladeshi police arrested Bangladeshi-British man, 58-year-old Touhidur Rahman, and two others suspects Sadek Ali and Aminul Mollick, for the killing US-Bangladeshi blogger and author Avijit Roy. Roy was killed during a visit to Dhaka in February this year, when he and his wife were attacked with machetes on a public street. Roy's wife survived the attack. A Dhaka Court rejected bail on September 3 for the three accused, two of whom are also members of the ABT. They are currently awaiting trial in jail. According to the BBC and The Guardian, these three men have also been linked to the murder of Ananta Bijoy Das, killed in May this year.
The recent decent into violence and attacks on bloggers and journalists in Bangladesh had its origins in the so-called Shahbag Protests of 2013, when thousands of people joined in protests demanding capital punishment for war criminals and the banning of institutions formed by or supporting those accused of war crimes during Bangladesh's independence war in 1971. With citizen journalists and bloggers playing a role reporting and informing on the public protests, many have since found themselves as targets on a widely-circulated kill list targeting perceived secular and atheist writers launched by Islamic extremists. In February 2013, secular blogger Ahmed Rajib Haider, also known as Thaba Baba, was killed by assailants wielding machetes outside his home in Dhaka. Haider's brother said after his death that his brother had been targeted by the Islami Chhatra Shibir–the student wing of the Jamaat-e-Islami party–for his "online activities".
The IFJ understands after the murder of Haider in December 2013, a number of bloggers fled the country. On May 21, 2015, the Hefazat-e-Islam threatened to kill 10 eminent Bangladeshis including blogger Imran H Sarkar terming them as atheist and anti-Islam. Copies of the letter were mailed to home addresses with a warning reading: "Must you will prepare for dead."
The IFJ, which has been campaigning for action following the murders, welcomes the arrests and applauds the work of the Bangladeshi police in capturing the perpetrators.
"These arrests and charges bring hope for some justice, which is critical for the future of freedom of expression and democracy in Bangladesh itself," the IFJ said.
"For the sake of those who have already lost their lives in the most heinous way, this killing season must be stopped. The Bangladesh government now has a critical responsibility to all Bangladeshis to send a clear message that these machete murders of journalists, bloggers and media workers will not be tolerated and those responsible will meet the punished. Justice must be strong; it must say freedom of expression cannot be silenced by fear, intimidation and the spectre of murder."
The IFJ calls for every effort to be made to bring the remaining perpetrators at large to justice.
Photo: Bangladeshi Rapid Action Battalion personnel accompany suspects Touhidur Rahman, (2L), Sadek Ali (C) and Aminul Mallick (2R), who have been arrested for the murder of two prominent Bangladeshi bloggers Avijit Roy and Ananta Bijoy Das. Credit: MUNIR UZ ZAMAN/AFP
Written By

IFJ Asia-Pacific
The IFJ represents more than 600,000 journalists in 140 countries.
For further information contact IFJ Asia-Pacific on +61 2 9333 0946
Find the IFJ on Twitter: @ifjasiapacific
Find the IFJ on Facebook: www.facebook.com/IFJAsiaPacific
Comments